More priests ordained to serve the 450,000+ Catholics in the Archdiocese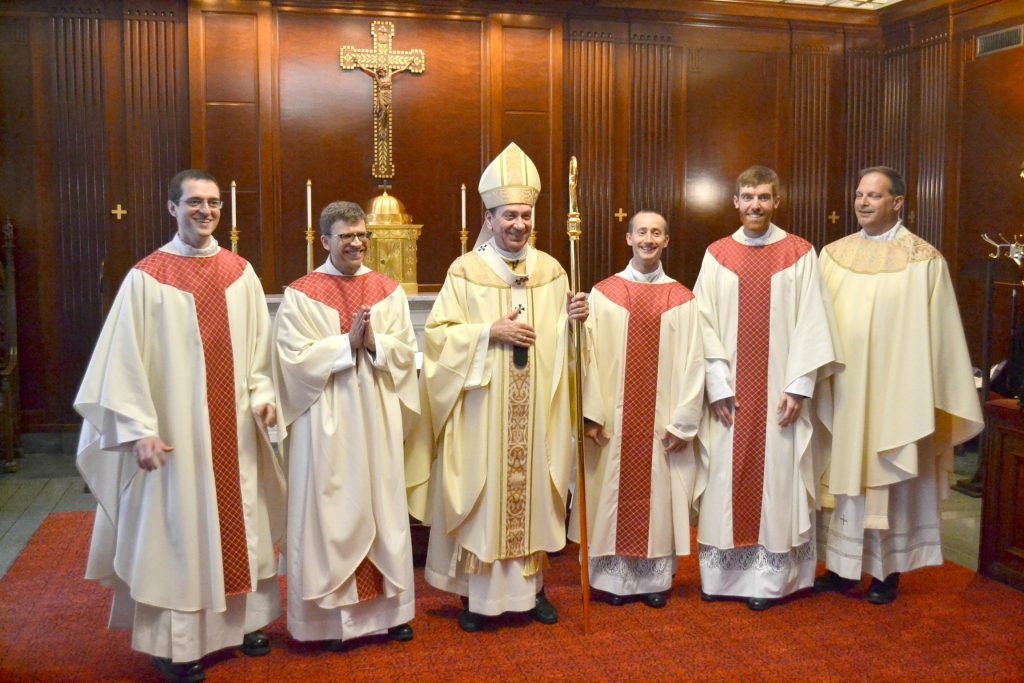 The Archdiocese of Cincinnati celebrated four men being ordained to the priesthood for service to God and the Church on Saturday May 19th. The ordination Mass was open to the public, and the Cathedral of St. Peter in Chains was packed to capacity. Archbishop Dennis M. Schnurr celebrated  the Mass. Bishop Joseph R. Binzer concelebrated the Mass. The liturgy included the archbishop exercising the rite of ordination, the authority given by Christ to the apostles to make new priests.
The four priests  served as transitional deacons for the last year. Their ministry included baptizing, assisting in marriages, and preaching at Mass. Parish assignments for the new priests were announced at the ordination. The men graduated on May 13th of this year from The Athenaeum of Ohio, Mount St. Mary's Seminary, after at least seven years of formation for the priesthood.
The four men have varied backgrounds but all discerned a vocation to the priesthood.
Rev. Craig Best attended St. Mary School in Hyde Park and Purcell Marian High School before earning a bachelor's degree in communications from Xavier University. His assignment July 1, 2018 is St. Francis deSales in Lebanon and St. Philip in Morrow.
Rev. Jacob Willig's home parish is St. Antoninus in Cincinnati. His brother is also in the seminary and his late uncle was a priest as well. Rev. Willig has been assigned the Eastside Pastoral Region of St. Cecilia and St. Margaret St. John Parish effective July 1, 2018.
Rev. Andrew Smith is a former Air Force Officer and holds an MBA from the University of Dayton. Rev. Smith's assignment is Incarnation Parish in Centerville.
Rev. Jarred Kohn worked as a welder after high school before going into the seminary. Rev. Kohn has been assigned to the Petersburg Region which comprises of St. John the Evangelist, Fryburg, St. Joseph, Wapakooneta, Immaculate Conception, Botkins, and St. Lawrence, Rhine effective July 1, 2018.
The four new priests will contribute to the growing trend of men being ordained priests over the last decade. According to an annual survey at Georgetown University, there were 590 men ordained to the priesthood in the U.S. in 2017 – an increase of 47% over the 401 men ordained in 2008.
The Roman Catholic Archdiocese of Cincinnati is the 44th largest Catholic diocese in the country, with more than 450,000 Catholics, and has the fifth largest Catholic school system in terms of enrollment with more than 40,000 students. The 19-county territory includes 211 parishes and 111 Catholic primary and secondary schools.