Rose Von Erden: Mount Notre Dame Senior's Passion for Pro-Life Ministry
by Regan Meyer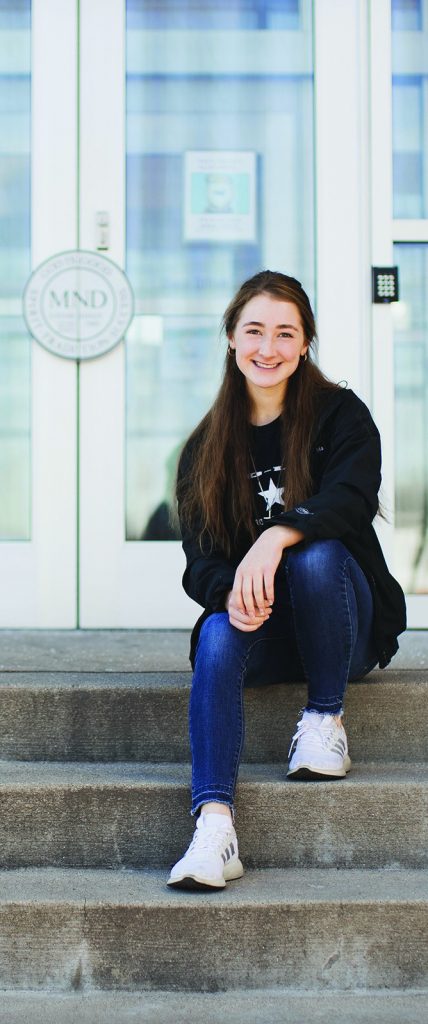 Rose Von Erden does a lot at Mount Notre Dame High School (MND). She's on the field hockey team, involved in multiple honors societies and serves through the Society of St. Vincent de Paul. She's has multiple AP and honors classes to her credit, and is currently at the top of her class.
By all accounts, she's a typical, highly-accomplished high school student. But what sets her apart is her passion for the pro-life movement. Von Erden serves as president of MND's Respect for Life service program.
"Pro-life is being a voice of the voiceless," Von Erden said. "It's cliche within the pro-life movement, but you realize that these babies don't have a voice. People have separated this ball of tissue from the life that it is. It makes me so sad that people are in such denial. We're living in a culture of death and convenience."
Von Erden started going to Respect for Life meetings her freshman year. At the time, just six or seven students attended each meeting.
Now, in her third year as president, attendance has climbed to more than 50 students.
"Certainly, some of that is the enthusiasm that Rose has spread," club moderator Sharon Bohlen said. "Part of it might be cultural, as well. Our nation today is hostile to life. So our pro-life club is a safe place for girls to come and support the pro-life movement."
Bohlen said that another reason for the newfound enthusiasm is the club is now a recognized service program under MND's service umbrella.
"We're under the umbrella of campus ministry. Because of that, the girls are required to attend meetings if they want to go to March for Life. It provides some accountability," Bohlen said.
The program sends a contingent to the March for Life in Washington, D.C., every year. MND sent about 40 girls to D.C. for the march this year, the largest number in recent memory.
As much as the Respect for Life service program focuses on the abortion issue, it has a "womb to tomb" philosophy. Presentations at meetings vary from information about euthanasia to the foster care system. Students also participate in service projects like writing cards to mothers who choose life, or elderly people quarantined in care facilities.
This year, Von Erden focused on sharing the pro-life message with the rest of MND. Students put up pro-life signs throughout the school. End-of-year plans include a school-wide "baby drive."
Von Erden will graduate in May, and she hopes to turn her passion for pro-life causes into a career.
"I want to go to law school. I've learned more about pro-bono lawyers who work on cases that people are afraid to take because they pertain to life issues. I'd like to work on cases like that," Von Erden said.
This article appeared in the January 2020 edition of The Catholic Telegraph Magazine. For your complimentary subscription, click here.