Mount St. Joseph honors Hinze with Seton Medal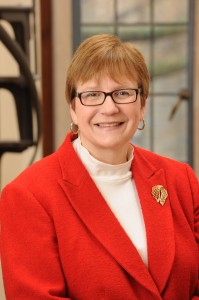 Press Release
The College of Mount St. Joseph will honor Christine Firer Hinze, Ph.D., with the St. Elizabeth Seton Medal on Wednesday, October 16, in the Mater Dei Chapel at noon. Hinze will then present a lecture titled "In Pursuit of Our Common Good: Educating for Solidarity and Participation as Urgent Work for 21st Century Catholics." A reception will be held immediately following the lecture in the Chapel lobby. The event is free and open to the public.  
Hinze is a professor of theology and director of the Francis and Ann Curran Center for American Catholic Studies at Fordham University. She holds a B.A. in religion and a M.A. in theology from the Catholic University of America, and a Ph.D. in Christian social ethics from the University of Chicago. Her teaching and research focus on foundational and applied issues in Christian social ethics with special emphasis on U.S Catholic social thought, work justice, women, and families
The St. Elizabeth Seton Medal is named in honor of St. Elizabeth Ann Seton, foundress of the Sisters of Charity, the congregation that established the College in 1920 and today continues to sponsor it. The Seton Medal recognizes distinguished women in theology.
The College of Mount St. Joseph is an undergraduate and graduate Catholic college that provides an interdisciplinary liberal arts and professional curriculum emphasizing values, service and social responsibility.