Music ministry challenges ever ancient, ever new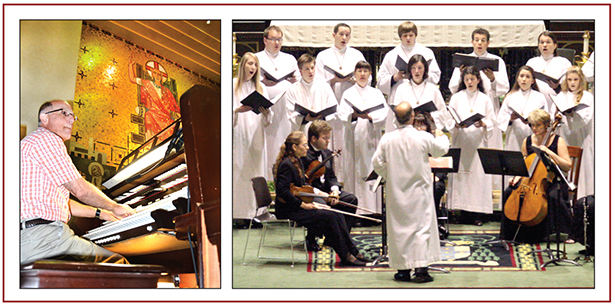 By John Stegeman
The Catholic Telegraph 
Aside from the pastor, the parish music director can be the most public face of a parish. At nearly every Mass, wedding or funeral, he or she is there.
The largest national organization for Catholic musicians, the National Association of Pastoral Musicians (NPM), will host its 37th annual convention in St. Louis July 14-18. One of hundreds of topics on the agenda will be "Pastoral Musicians in a time of change."
The July edition of The Catholic Telegraph also included a series on musicians with family connections in Catholic music.


Couple's path brings them from secular clubs, to church music

Kinzig's family ties stretch back to early 1900s

Music director loves leading people to the Lord
Mass attendance has dipped in many places and the musical preferences continue to change. Finding volunteers to fill out the choir, continual training, getting a congregation to sing along, and pleasing the wide array of musical tastes present in any given parish is no easy task.
Participation and style
The NPM's goal, and a goal shared by many pastoral musicians themselves, is encouraging the full, conscious and active participation of the laity in the Mass.
Anthony DiCello, director of music at the Cathedral of St. Peter in Chains in downtown Cincinnati, said achieving that goal is a challenge.
"Some participation in the liturgy is certainly a high priority," he said. "The success of that is a number of things. It's the leadership of the musicians and how they understand how to do that, and if they have the skills to really foster sung participation. It is also the model and example that clergy give to it. The third factor might be the kind of musical repertoire that is chosen, things people find enjoyable and easy to sing."
DiCello noted that the quality of instruments and even the acoustics can play a role in congregational participation.
Another challenge is playing to the crowd. Music directors often plan hymns that fit the readings of the day. The catechism instructs them to choose music based on the "beauty expressive of prayer, the unanimous participation of the assembly at the designated moments, and the solemn character of the celebration." Music ministers balance that with some parishioners who want nothing but Gregorian Chant (which is the official music of the church) and others who want the Mass to be accompanied by Contemporary Christian music as seen in many non-denominational communities.
"(That is something Catholic pastoral musicians) compete with, yes, and to try and understand what of that fits into Catholic worship," Gordon Truitt, senior editor for publications and interim coordinator of the NPM said. "In a sense, a lot of that music is short acclamations drawn from the scriptures that gets repeated. That's actually a part of our tradition, it is litany form. But is the music appropriate? How does it fit?"
One way the NPM helps musicians answer those questions is with specific interest groups. One interest group within  NPM is the Ensemble group, which includes guitar groups and other more contemporary arrangements.
"They're the ones exploring that kind of music and asking the question, 'Is it appropriate for Roman Catholic worship? Or does it fit better in the World Youth Day gathering or things like that, which are not an actual Mass but are opportunities for prayer and praise," Truitt said. "Maybe there's a place for that type of music within the Catholic experience but not maybe in Mass."
Turning back the clock?
Truitt said the church could be at the beginning of a trend that sees Mass in the United States return to singing the prescribed antiphons instead of hymns, and singing more Gregorian chant. Locally, DiCello echoed that position.
"I like to say the ground is shifting again," DiCello said. "Since the introduction of the new Roman Missal, there has been a lot more emphasis on more traditional expressions of the liturgy and following the texts given in there like the entrance antiphon, communion antiphon and those kinds of things. For the last 50 years or so, we've been substituting other kinds of music for them, which is certainly still allowed. But there seems to be a growing interest in those new texts in the missal and for composers to compose music for those or to return to singing in Gregorian chant.
"Young people too,  and I'm finding this very much at the seminary as more and more younger men come in there, are more interested and gravitate to more traditional expressions of the liturgy," he added. "They like looking at the Mass as it was celebrated before the Second Vatican Council, what we call the Extraordinary Form of the Mass today, as a more solid expression of the liturgy. I wouldn't say they don't like contemporary music, but I think they're gravitating more and more back to more traditional forms."
DiCello said if that trend picks up, many music directors will have to grow their skills to learn how to sing and perform the chant, and how to approach liturgy in older ways. To young people, he added, these traditional forms of music are "new to them" and present a positive challenge.
"I think they also like the challenge of it," he said. "It isn't the kind of thing that you hear once and sing back. It's the type of thing that you work on."
Crunching the numbers 
Budget crunches in certain places limit some parishes to having a part-time, or in some parts of the country, even volunteer music directors.
"The vast majority at this point are part time," said Truitt. "(In much of the country) it's only the larger parishes and cathedrals that can pay the salary for a full time pastoral musician."
Of the 213 parishes of the Archdiocese of Cincinnati, it isn't clear how many employ a full-time music minister. Neither the Worship Office or the local NPM chapters track such information. A survey of 25 bulletins sent in to The Catholic Telegraph in early June showed that all those parishes that list staff do name someone in charge of music. Truitt, however, noted that this archdiocese has a good reputation for realizing the importance of pastoral musicians.
"Cincinnati is one of the places that has worked hard probably since the 40s on liturgical renewal," he said. "They have a good track record. That support and encouragement is there. That's true at a number of centers around the United States in places that have been part of the whole 20th century liturgical renewal."
Kevin Samblanet, director of music at Incarnation parish and president of the Dayton branch of the NPM said part-time musicians face the same challenges as their full-time counterparts, but have less time to do the job.
"They all struggle to, or are expected to have, a choir," Samblanet said. "But that choir could be six people. Its a lot of dedicated time given to the ministry and you kind of take what you can get. Sports are so rampant and everyone has kids scheduled like crazy and that effects choirs. People say, 'I'd love to be there but I'm going to miss everything for my kids' sports.'"
DiCello added that a talented person can be a capable music director regardless of how many hours a week they're allowed to work. He also noted that the NPM has some training and certification for musicians, but that locally there aren't many collegiate options for a church musician. He said the Athenaeum is in the early discussion stages about a possible program, but nothing has been finalized.
"The issue is more the quality of the person and their skill," he said. "A person can do a part-time job, if they're a very good musician, with the same quality as someone would do who is full-time. They just can't do as much… The challenge is always getting musicians trained, skillful and continuing to improve their musicianship. That serves our parishes better than anything."
Ministry
Unlike a priest, where Mass cannot occur without one present, Mass can go on if a music director calls in sick. Still, it doesn't happen often on Sundays as a silent organ would raise eyebrows. Music ministers share a dedication and a love for what they do. For most, it is far more than a job.
"It has to be a ministry," DiCello said. "If that part of it is missing and you're simply looking at it as a job, I think you're going to be disappointed and unhappy eventually. The pay for most church musicians isn't the highest of professions. Money is important, but the results that you get from ministry are important as well."
DiCello, who has been at the Cathedral of St. Peter in Chains for 20 years, said he doesn't see any massive change in the situations of pastoral musicians in the near future.
"I can't foresee that changing too much," he said. "You always hope that things are going to get better and better. I've been a church musician since I was in the eighth grade and things have pretty much gone that way in my career. I hope that things have gotten better and better and better as the years progressed, but certainly it isn't without challenges."
This article originally appeared in the July 2014 print edition of The Catholic Telegraph.