Nativity Parish celebrates a century of faith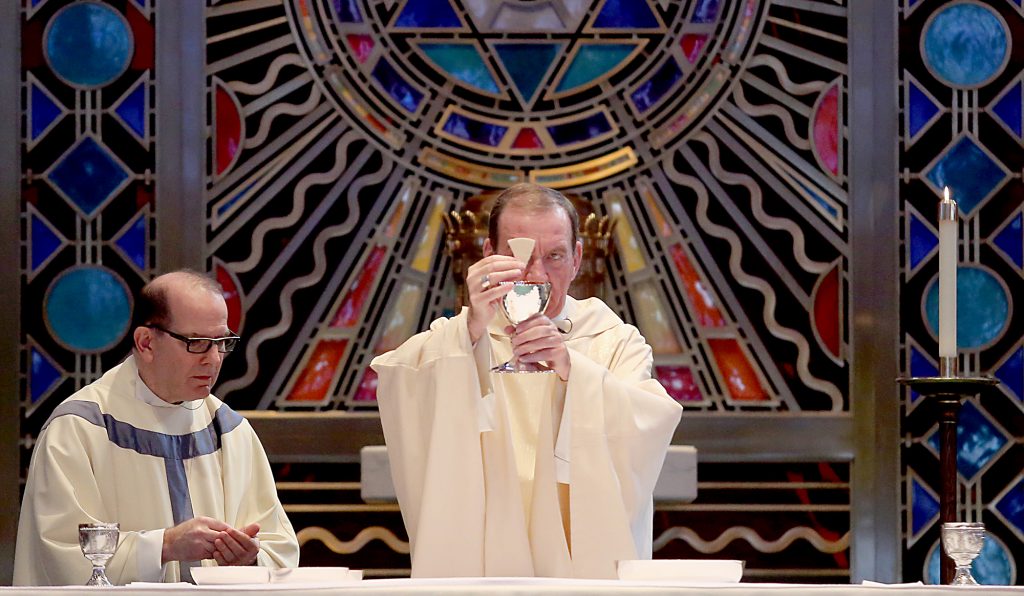 By Walt Schaefer
As Nativity of Our Lord Parish in Pleasant Ridge celebrates a century of proclaiming the faith, lifetime parishioners celebrate a place where their Catholic roots were planted.
The parish at the corners of Ridge Avenue and Woodford Road marked its 100th year with a centennial Mass in February celebrated by Archbishop Dennis M. Schnurr with Father Paul DeLuca concelebrating.
"These occasions give us a time to reflect on the past with gratitude, to assess our current opportunities, and process toward a future of faith, hope and love," said Father DeLuca, "Nativity is a vibrant parish and a major anchor for the secular community, We continue working humbly in service to the Lord. On the occasion of our centennial, the pastoral staff and people of Nativity are grateful for our first 100 years and are abundantly blessed to begin a new century of life in Christ. How good is the good God!"
Founded in 1917, Nativity now draws parishioners from Pleasant Ridge, Kennedy Heights, Amberley Village, Golf Manor, and parts of Columbia Township. But its roots date to 1891, when the Village of Pleasant Ridge was incorporated. In 1912, Cincinnati annexed Pleasant Ridge and in 1917, Archbishop Henry Moeller carved Nativity's boundaries from the northern limits of Sts. Peter and Paul in Norwood and the southern boundary of St. John the Evangelist in Deer Park. Father William Egan was appointed the first pastor and the first Mass was celebrated at Pleasant Ridge Town Hall that March.
Known for their dedication to the surrounding communities as well as Pleasant Ridge, parish members have invested hundreds of thousands of dollars into maintaining campus facilities since the 1990s, adding a gym and undertaking church, school, and technology upgrades.
The school has grown and improved along with the parish. With a current enrollment of 400 Nativity provides quality academics with an emphasis on global education, arts and technology, parent-teacher partnerships, and a focus on the Gospel.
Nativity has been Mary Anne Phalen's faith home for life. "My parents, George and Helen Imwalle, were members when I was born, so I've been at Nativity ever since," she said. "I went to school there and my five children went to Nativity. We actually lived in three different places in Pleasant Ridge. I really think the school is the strength of the parish."
Phelan married her husband, Tom, at Nativity and nowadays, the Phalens serve Mass every Friday. "What I like, is that the parish takes you through your life," she said. "Nativity has sustained me. It has been a lifetime connection and that's very powerful."
Angela Davis, 79, of Kennedy Heights, is a Nativity School graduate, as are her children and a grandchild, and other grandchildren currently attend.
"I hold it dear because it has changed tremendously since I have been there," she said. "Nativity is welcoming. It is open to parishioner involvement. I distribute Communion and I am involved in Aftercare, focusing on people who have lost loved ones. I also take Communion to the sick and I'm involved in a prayer ministry for all of the people who are sick in our parish. "These are not ministries we had 20 years ago. I developed them. The parish is so open in so many ways."
Centennial celebrations will continue all year. Upcoming events include: A Centennial Celebration, 7 p.m., June 3 with a beer-brewing competition, buffet and live music; and the Centennial Circus at noon, Nov. 5, with circus entertainment, games, face painting, a photo booth and other family-friendly activities. The parish will release a history book, stage a history exhibit, and complete "100 Acts of kindness" with students at the school.