New Permanent Deacon Class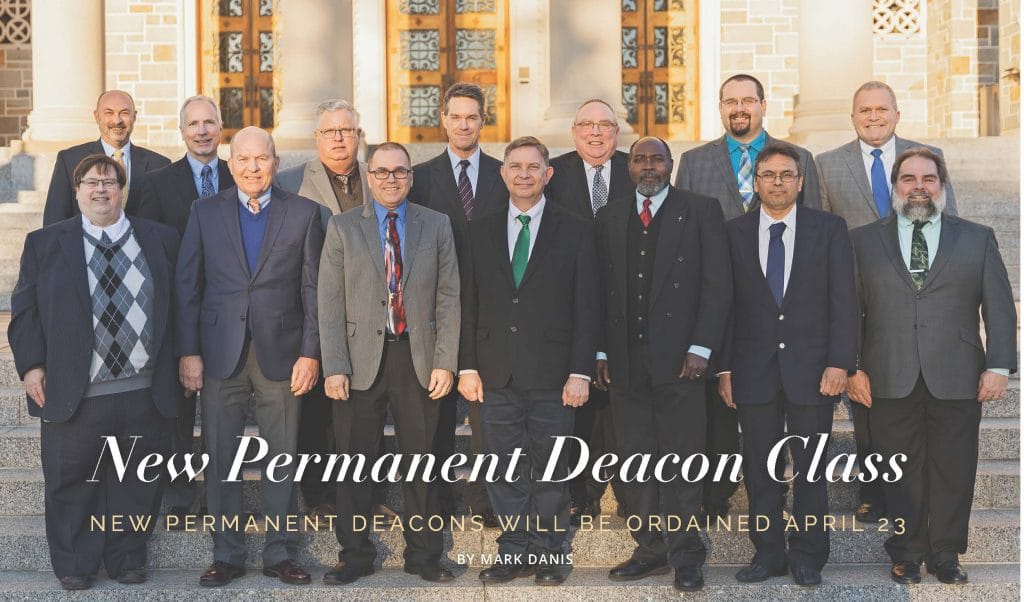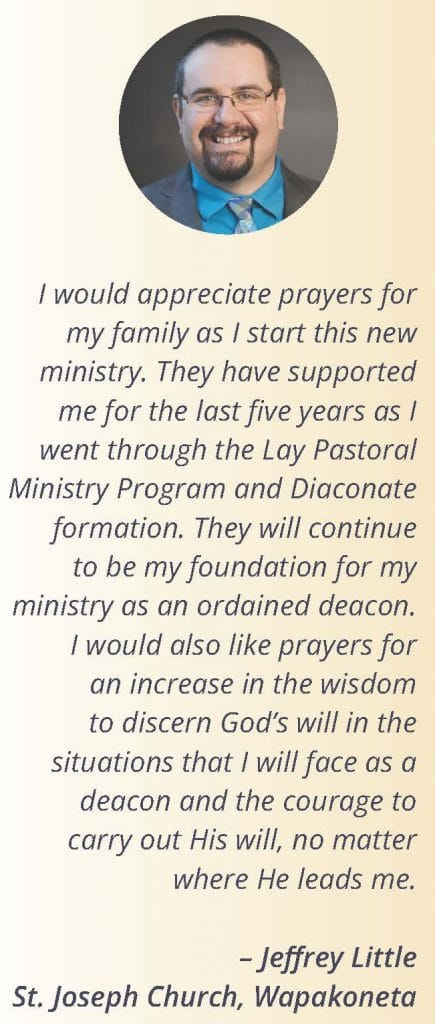 The new permanent deacon class will be ordained on April 23 at the Cathedral Basilica of St. Peter in Chains in downtown Cincinnati. As a one of the 14 men in this class (and four others from the Diocese of Covington), I know the reasons that called each of us into this ministry are as varied as our sponsoring parishes. However, after three years of formation and seminary studies, many hours of community prayer and a great deal of reflection, there is one word that defines our future role in the Church: service.
The title "deacon" derives from the Greek term diakonia, which means "to serve." Everything in our preparation for future ministry centers on rendering service to our parishes and to the entire Body of Christ – the Church.
The journey to diaconal ordination is not an easy path; formation requires commitment and sacrifice. We willingly chose to give up, or at least suspend, activities we valued and embrace a rigorous curriculum, something candidates may not have experienced since college. In our first year, we dedicated our time and energy to philosophy classes, understanding that this discipline is the critical foundation for later theological studies. We made it through other classes by learning to rely on one another, acknowledging our shortcomings and asking for help, and by relying on the continuous support of our remarkable spouses and families.
Throughout the three years of formation, we spend two weekends of every month at the seminary studying sacred scripture, Canon Law, spirituality, preaching and sacramental, moral and liturgical theology. Those unfamiliar with praying the Divine Office are instructed in these daily prayers of the Church. Deacon candidates pray, and periodically lead in community, both the morning and evening hours of these prayers and pray the Rosary together in the evenings. Prayer, we understand, is essential.
We must demonstrate our ability to serve as deacon at Mass, witness marriages, perform baptisms and preside over funerals and burial services. Because deacons are radically dependent on prayer, candidates should be able to lead the faithful in Eucharistic adoration and benediction.
However, not all formation occurs in the classroom or the chapel. We live, eat and socialize together at the seminary, with meals providing a wonderful opportunity to share our struggles, our opinions and a good deal of humor.
As we prepare for ordination, we are each aware of the profound commitment we are making for the rest of our lives. The sacrament of ordination, like those of baptism and confirmation, leaves an indelible mark on the human soul; it is something that can never be removed. Once a deacon, always a servant.
As we complete formation, each candidate is asked to reflect both on his experience and his vision for ministry as a deacon. From our studies and reflection, we know the deacon's unique role is to serve, but in a particular way – we are to seek out the wounded, lost and forsaken in our Church and in our world. In modeling Christ, the Servant, our lives must echo the words of Isaiah 6:8. When the Lord asks, "Whom shall I send, and who will go for us?" our response will be, "Here we are Lord, Send us."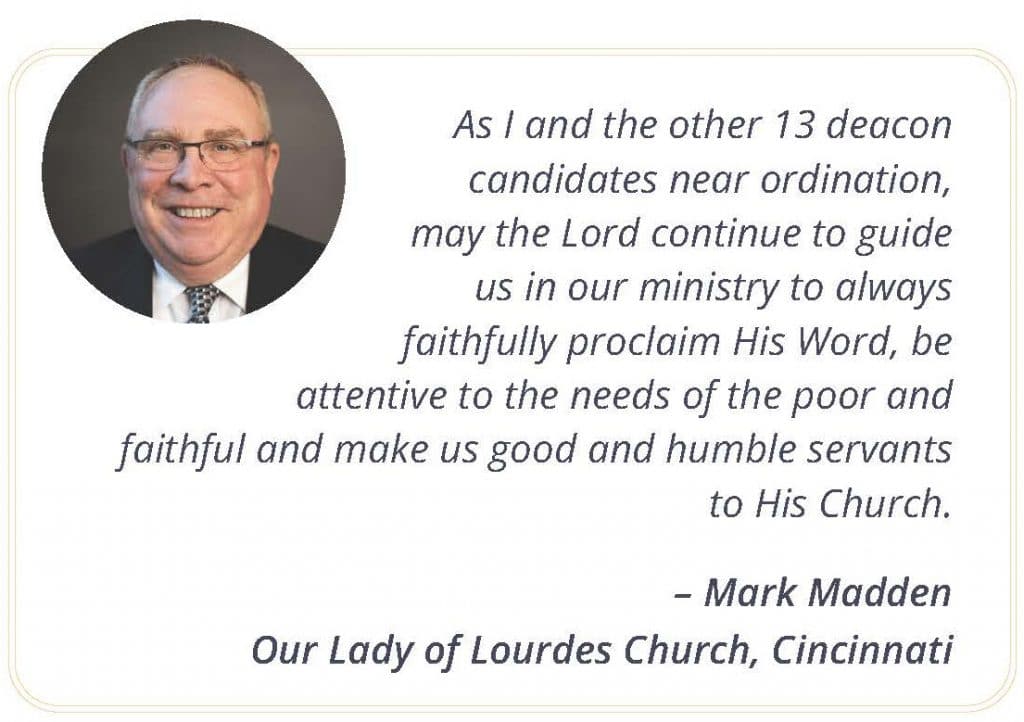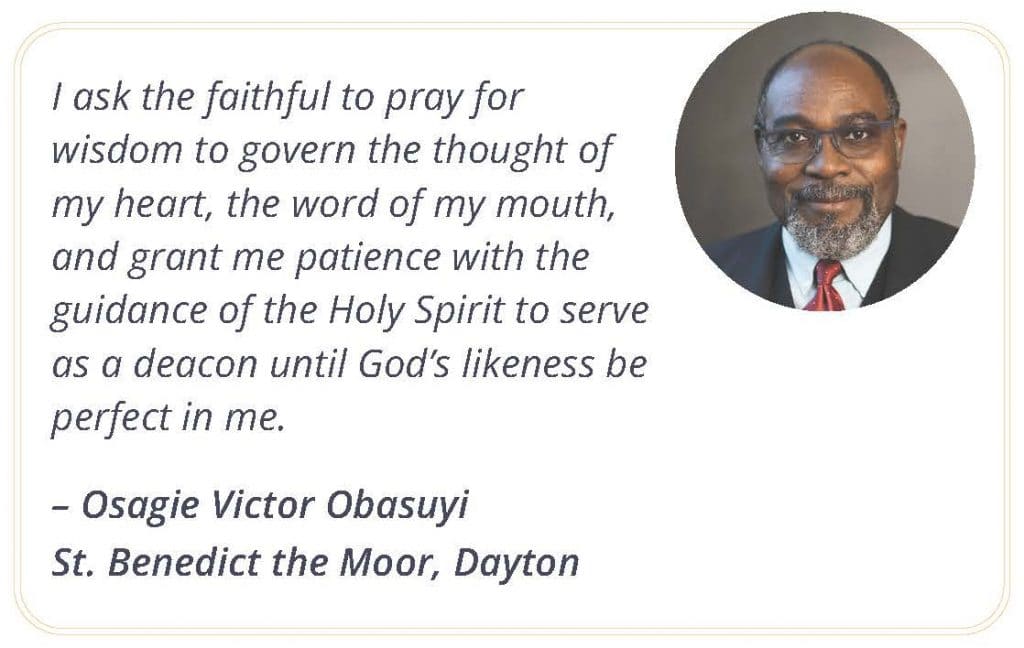 This article appeared in the April 2022 edition of The Catholic Telegraph Magazine. For your complimentary subscription, click here.