Newark priest resigns after banned contact with minors discovered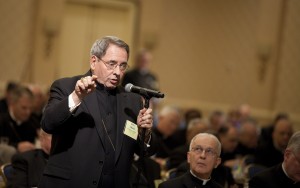 By Catholic News Service
NEWARK, N.J. (CNS) — A priest of the Archdiocese of Newark resigned from active ministry May 2 after reports surfaced of his being with minors in apparent violation of a court's memorandum of understanding that forbids him from contact with underage people.
The resignation of Father Michael Fugee, 53, was accepted by Archbishop John J. Myers of Newark. Calls have continued for Archbishop Myers to resign for having allowed Father Fugee to return to active ministry in 2009 despite his past.
Father Fugee had been convicted in 2003 of criminal sexual contact. He was accused of inappropriate contact with a boy four times in 1999 and 2000 while engaging in wrestling sessions in the boy's home.
The priest appealed the conviction, saying he had lied to investigators about inappropriately touching the teen in order to return home more quickly. The conviction was vacated on other grounds, but the memo of understanding calls for Father Fugee not to have any unsupervised contact with children as long as he remained a priest. The memorandum arose from a court-ordered sex offender program he underwent to avoid retrial.
"For the good of the church and for my peace, I have requested permission to leave public exercise of my priestly ministry," Father Fugee said in his resignation letter.
"In conscience, I feel it necessary to make clear to all that my actions described in recent news stories were outside of my assigned ministry within the archdiocese. The leadership of the Archdiocese of Newark, especially Archbishop John Myers, did not know or approve of my actions. My failure to request the required permissions to engage in those ministry activities is my fault, my fault alone."
Archbishop Myers appointed Father Fugee last October as co-director of the archdiocese's Office of Continuing Education and Ongoing Formation of Priests, which sparked criticism from advocates for victims of clerical sexual abuse. Archbishop Myers had earlier appointed Father Fugee as director of the Office of the Propagation of the Faith, a position he also held until his resignation.
But when the Newark Star-Ledger in April unearthed evidence that showed Father Fugee in apparent violation of the memorandum, the controversy was generated anew, leading to the priest's resignation. Photos surfaced showing Father Fugee on several retreats with teenagers.
While the archdiocese had said Father Fugee was working under supervision, it later acknowledged the priest had not asked permission to be part of the retreats.
"The activities written about in recent news stories were not part of his assigned ministry. Had the archdiocese known about them at the time, permission to undertake them would not have been granted," said a May 3 statement from the archdiocese.
Even before Father Fugee resigned, Bishop David M. O'Connell of Trenton barred him from any future activities in that diocese, according to the Bergen County Record.
The National Catholic Reporter, in a May 6 account, said that on May 4, letters were read at weekend Masses at St. Mary Church in Colts Neck, N.J., about the resignation of pastor Father Thomas Triggs and parish youth ministers Amy and Mike Lenehan. The Lenehans knew Father Fugee and invited him to be part of the retreats in question. The priest and the youth ministers added they did not know of Father Fugee's ministerial restrictions.
Under the terms of Father Fugee's resignation, archdiocesan spokesman Jim Goodness told the Star-Ledger, Father Fugee no longer has authority to celebrate Mass, perform sacramental ministry or represent himself as an active priest.
The Bergen County Prosecutor's Office launched an investigation after the Star-Ledger alerted the agency. Assistant Prosecutor Demetra Maurice, who authored the agreement, told the newspaper that Father Fugee could face civil penalties, criminal charges or both.
Among those calling for Archbishop Myers to resign were state Sen. Barbara Buono, a Democrat, considered a potential candidate for New Jersey governor, and Mark Crawford, New Jersey director of the Survivors Network of those Abused by Priests.