Obituaries: May 2017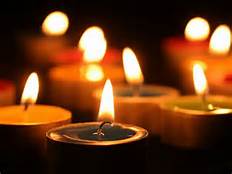 Father Simeon Cleves
A Mass of Christian Burial for Franciscan Father Simeon Cleves was celebrated March 28 at St. Margaret Hall Chapel. Father Cleves died March 24.
A native of Covington, KY, Father Cleves studied briefly at St. Francis Seminary in Cincinnati before entering the novitiate in 1946. After ordination in 1955, Father Cleves served as assistant pastor in Kansas City, MO, and Lake Village, AR, before being named pastor of Sacred Heart in Gallup, NM. He ministered as pastor or assistant pastor in Missouri, Kansas, New Orleans, Ft. Wayne and Louisville before moving into hospital chaplaincy in Baton Rouge and at The Christ Hospital in Cincinnati, where he ministered for 17 years.
Father Simeon is survived by his brothers, Edgar and Charles, and his sister, Sister of Notre Dame M. Jeanne Frances. Interment was at St. Mary Cemetery in St. Bernard.
Sister Ann Carolyn Blackburn
A Mass of Christian Burial for Sister of Notre Dame de Namur Ann Carolyn Blackburn was celebrated April 18 at Mount Notre Dame Health Center. Sister Ann Carolyn, 89, died April 10 in her 72nd year of religious life.
A Chicago native, Sister Ann Carolyn began her educational ministry at Summit Country Day School in Cincinnati. She went on to train in Montessori education, doing her practice teaching in Cincinnati. Sister Ann Carolyn also taught professionals assigned to Head Start programs in Ohio, Indiana and Illinois. In 1991, she became involved with the Foster Grandparent program at Corryville Catholic, while also serving at Cincinnati Children's Hospital Medical Center. Sister Ann Carolyn retired in 2008.
Interment was at the convent cemetery.
Sister Henri de la Croix
A Mass of Christian Burial for Little Sister of the Poor Henri de la Croix (Cecile Fournier) was celebrated April 17 at the Archbishop Leibold home for Aged in Cincinnati. Sister Henri died April 12.
A native of Montreal, Sister Henri made her first profession of vows on May 31, 1944, and perpetual vows on Dec. 8, 1949. Sister Henri dedicated herself to God's service and the elderly in need in various homes of the Little Sisters of the Poor in the United States, including St. Louis, Milwaukee, and Mobile. She arrived in Cincinnati in 1978, and quietly served God's eldest children for almost 40 years.
Interment was at Calvary Cemetery in Evanston.
Sister Mary Clare Windholtz
A Mass Christian Burial for Sister of Mercy Mary Clare Windholtz was celebrated April 20 St. Clare Church in Cincinnati. Sister Mary Clare, 86, died April 15. She was a Sister of Mercy for 67 years.
Sister Mary Clare served at the following schools in the archdiocese throughout her ministry: Mother of Mercy Academy, St. Margaret of Cortona, St Cecilia, St Boniface, St. Ignatius and Stephen in Hamilton. She also spent many years ministering in Kentucky.
She is survived by her sisters, Irene Joesting, Florence Knoepfler, Evelyn Neiheisel, and brother, Richard. Interment was at St. Joseph (New) Cemetery.
Father James Brooks
A Mass of Christian Burial for Father James Brooks was celebrated April 27 at St. Margaret of York Church in Loveland. Archbishop Dennis M. Schnurr presided. Father Brooks, 39, died April 22 after an illness.
A Dayton native, Father Brooks studied classical humanities at the Legion of Christ College of Humanities and Novitiate in Cheshire, CT. He received a licentiate degree in philosophy and moral theology from the Ateneo Pontificio Regina Apostolorum in Rome. He was ordained a priest for the Legionaries of Christ on Dec. 12, 2009, by Msgr. Brian Farrell at St. Paul's Basilica in Rome.
Beginning in October 2011, Father Brooks resided at St. Margaret of York Parish in Loveland, with faculties for the Archdiocese of Cincinnati granted by Archbishop Schnurr. He was incardinated into (made a priest of) the archdiocese on Feb. 2, 2015, and appointed parochial vicar of St. Margaret of York Parish. He became pastor of St. Margaret of York on July 1, 2016.
Father Brooks is survived by his parents, Phillip and Louise, and siblings, Anne Marie, Greg, Sister Mary Therese (Sherry Brooks) and Mary Beth. Interment was at Gate of Heaven Cemetery in Montgomery.
Brother Xavier Gedeon
A Mass of Christian Burial for Franciscan Brother Xavier Gedeon was celebrated April 26 at St. Margaret Hall Chapel. Brother Xavier died April 23.
A Cleveland native, he was accepted into the Franciscan (Hungarian) Custody of St. John Capistran on April 24, 1964. He pronounced his solemn vows with the friars in 1970 after transferring to the Custody of the Most Holy Savior in Pittsburgh. Brother Xavier transferred to the Cincinnati-based St. John the Baptist in 1980. In the archdiocese, he shared his maintenance skills at St. Clement and St. Anthony friaries. He retired in 2014.
Interment was at St. Mary Cemetery in St. Bernard.