Obituary: Glenmary Father Richard Kreimer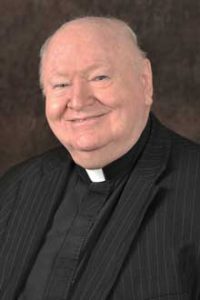 CINCINNATI, Ohio (Dec. 15, 2017) – Father Richard Kreimer, a native of Cincinnati and a 60-year member of the Glenmary Home Missioners, died Dec. 15 at Heartland of Woodridge in Cincinnati. He just turned 80 on Dec. 9.
Known for his sense of humor and talent in the kitchen, Father Richard worked throughout the United States as a religious brother and priest. The son of a grocery owner, Father Richard began his career cutting meat for his father's deli in Westwood.
After hearing the late Father Joseph O'Donnell passionately speak about his work in rural America, Father Richard joined the Glenmary Home Missioners. He was captivated by the idea of serving in priestless counties in Appalachia and the South and personally connecting with Catholics in the small chapels scattered throughout Glenmary's mission areas.
"Father Richard was a very dedicated priest," said Glenmary president Father Chet Artysiewicz. "He was terribly disappointed when he could no longer maintain a regular schedule assisting in various local parishes. Even as his own health issues created limitations, he was still able to celebrate Mass and anoint the sick at Heartland of Woodridge."
Originally a Glenmary Brother, Father Richard took the name Brother Roger when he joined in 1955. For the first 10 years of his service, Father Richard manned the kitchens in the novitiate house in Aurora, Ind., and Glenmary's lodge in Buck Creek, N.C. Among his many tasks as cook and maintenance man at Buck Creek Lodge was preparing the building for Glenmary meetings and the annual summer camp Glenmary hosted for children in the area.
After studying nutrition at Good Samaritan Hospital, Father Richard began running the Glenmary kitchen, where he served as kitchen manager for three years before joining the late Father George Mathis in St. Louis, Mo., who directed the Glenmary House of Studies.
But, Father Richard wanted to deepen his faith. An avid scholar of American history, he knew the rich culture and history of the South and longed to serve in a different capacity.
On May 19, 1979, he was ordained a Glenmary priest and began his assignment as an associate pastor in Jefferson, N.C., followed by stints as the associate director of the Mission Office in Cincinnati and a pastoral assignment in West Union, Ohio
In addition to cooking, Father Richard enjoyed stamp collecting. He also loved to learn. Originally told not to pursue high school because he was dyslexic, Father Richard discovered during his Glenmary studies and service that he had a high IQ. He spent much of his free time poring over history books and studying for his nutrition certificate at Good Samaritan Hospital, bachelor's of humanities at St. Louis University and clinical pastoral education certificate at Andover Newton Theological Institute. He did his theological studies at Washington Theological Union.
The eldest of 10 children, Father Richard is survived by brothers, Lawrence Kreimer, Leroy Kreimer and David (Julie) Kreimer, all of Cincinnati; sisters, Lois Nickels (Charles), Karen (Edward) Menkhaus, Linda (the late Alfred) Stoffran, Mary Kay (William) Espelage and Diane Meyer, all of Cincinnati; and many nieces, nephews, fellow missioners and friends. He was preceded in death by his parents, Richard and Dorothy Kreimer and brother, Steven Kreimer.
Reception of the body will take place at 4:30 p.m. Tuesday, Dec. 19, at St. Matthias Catholic Church, 1050 W. Kemper Road, Cincinnati, Ohio. Visitation will follow until 7 p.m., at which time the wake service begins.
Mass of Christian Burial will be at 10 a.m. Wednesday, Dec. 20, at St. Matthias Catholic Church, 1050 W. Kemper Road, Cincinnati, Ohio, with interment following at Gate of Heaven Cemetery, 11000 Montgomery Road, Cincinnati, Ohio.
Memorials may be made to Glenmary Home Missioners, P.O. Box 465618, Cincinnati, Ohio 45246. Newcomer Funeral Home is assisting with arrangements.
About Glenmary Home Missioners
Glenmary Home Missioners (aka the Home Missioners of America) are a Catholic society of priests and brothers who, along with coworkers, are dedicated to serving the spiritual and material needs of people living in mission counties throughout Appalachia and the South.