Obituary: Sister Louise Akers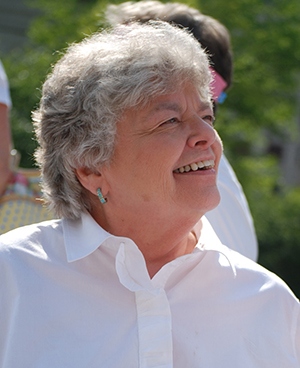 Mount Saint Joseph – Sister Louise Akers, S.C., beloved member of the Sisters of Charity, dear sister of the late Robert Akers and Sharon Gates, survived by nieces and nephews. Departed Wednesday, February 7, 2018 at the age of 75. The Sisters of Charity and family received guests in the Motherhouse Chapel at Mount Saint Joseph on Saturday, February 17, 2018 and a Memorial Mass was held. Sister Louise Burial of cremains took place Monday, February 19 in the Motherhouse Cemetery.
Sr. Louise was born on Dec. 9, 1942, to William F. and Mary H. (McCann) Akers in Charleston, West Virginia. She was one of three children.
Sr. Louise attended public schools in Gallipolis, Ohio, until a family move to Springfield, Ohio. She met the Sisters of Charity as a student at Catholic Central High School, and felt a calling to religious life in her senior year. Following graduation in 1960, S. Louise entered the Congregation in September; she was a Sister of Charity of Cincinnati for 57 years.
Sr. Louise earned a Bachelor of Arts in History degree from the College of Mount St. Joseph in 1965; she received a Master of Arts in Theology from the University of Dayton in 1974 and a Doctor of Ministry in Liberation Theology from the Episcopal Divinity School, Cambridge, Massachusetts, in 1996.
Sr. Louise's ministries brought her to the classroom and beyond, whether it be the formal high school or university classroom, offices, assemblies, teach-ins or a family home. For the first 14 years she taught high school students at St. Pius X, Albuquerque, New Mexico (1965-'66); Seton, Cincinnati (1966-'69 and 1975-'79); St. Joseph Commercial, Dayton, Ohio (1969-'74); and Archbishop Alter, Kettering, Ohio (1974-'75).
In 1979 she was hired by Archbishop Joseph Bernardin as parish liaison in the Social Action Office of the Archdiocese of Cincinnati, working to promote the newly released peace and economic pastoral letters and helping in the formation of parish social action commissions. In 1985 she founded and served as the coordinator of the Intercommunity Justice and Peace Center (IJPC) in Cincinnati. Their actions included demonstrations, boycotts, educational programs, prayer services and ongoing collaboration with varied organizations; IJPC continues today as a hub for justice activities and events.
In 1992 Sr. Louise became a fulltime student at Episcopal Divinity, Cambridge, Massachusetts. Upon completion of her Doctorate she served as associate director for social concerns for the Leadership Conference of Women Religious (LCWR) in Silver Springs, Maryland, and represented the group at the United Nation's Fourth World Conference on Women in Beijing, China, in 1995. Ever an advocate for justice S. Louise was a frequent presenter, panelist and mentor, locally and nationally. She was able to travel extensively which she saw as a definite means of enriching and deepening her commitment to justice ministry. Her travel experiences included Malawi, Africa, Mexico, Cuba, Central America, China, Eastern and Western Europe.
In 2004 she became the coordinator of the Sisters of Charity Office of Peace, Justice and Integrity of Creation. The Office offered educational programs, local immersion experiences and an awareness of global crises deserving attention. Since 2009 S. Louise has been helping interested individuals and groups to understand current paradigm shifts which influence relationships and roles regarding class, gender and race through her website and presentations; she saw world views shaping a new paradigm, one deserving serious attention.
In 2017 she was presented with the Louis Trivison Award from FutureChurch for her untiring work in advancing women in leadership and ministry inside the Church. In 2012 she was honored with the MUSE Enduring Spirit Award for her actions in the pursuit of peace and justice for all, and for women in particular.