Ohio Council of Churches issues statement on religious freedom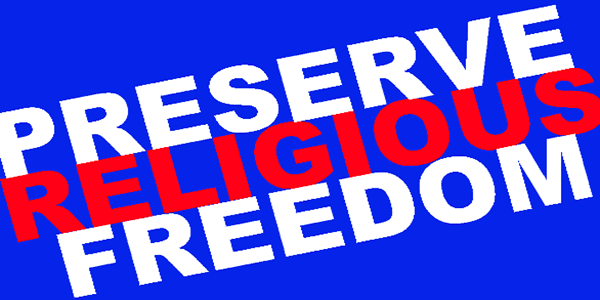 By Steve Trosley
The Catholic Telegraph 
A refreshingly open and candid conversation about the HHS Mandate of the Affordable Care Act of 2010 has brought Ohio's mainstream congregations into solidarity with their Catholic brothers and sisters.
The Ohio Council of Churches, which represents 18 denominations, has issued a statement of concern about the mandate and its effects on the religious freedoms guaranteed by the First Amendment to the U.S. Constitution.
The OCC statement, adopted May 29, makes it clear that the concern is about religious liberty and negative impact of allowing the government to define what constitutes a religious belief and who has a right to that belief by bureaucratic fiat.
"Even the most recent proposal of the mandate still narrowly applies the exemption to only 'churches, their integrated auxiliaries, and conventions or associations of churches, as well as to the exclusively religious activities of any religious order,' to the exclusion of religious charities, hospitals, and universities," the statement read. "According to the mandate, therefore, the government has now defined that these institutions are not religious enough to follow their own religious teachings in certain circumstances. This mandate sets a concerning precedent for any religious institution which may find itself in a position of having values that, within reason, challenge that of the state."
Tony Stieritz, director of the Catholic Social Action office of the Archdiocese of Cincinnati, explained that Catholics began working with the OCC more than a year ago.
"The first draft was rejected because we still needed a dialogue on the core principle involved," Stieritz said.
Stieritz said that the effort to get OCC involved was restrarted in October of 2012. This time, he explained, there was a thorough vetting of the religious liberty principle involved in the opposition to the HHS Mandate.
"This is an exciting breakthrough," he said. "To have mainline Protestant churches in solidarity with Catholics on religious freedom sends a clear and powerful message."
The OCC statement discussed the core principle of religious liberty cites its objections to allowing government define who qualifies as a religious organization with rights of conscience and concludes with two goals. The first is to "actively to pursue changes that would broaden the religious exemption within the current mandate." The other calls for legislation that implements "safeguards in legislation on social issues that will respect and protect religious liberty and the rights of conscience."
"They stood with us," Stieritz said of the OCC membership.
The complete text of the OCC statement follows:
"The Ohio Council of Churches (OCC) is a body of 18 denominations in the State of Ohio from the Protestant, Catholic, and Orthodox Christian traditions.  In our diversity of belief and practice, we nevertheless strive to make visible the unity of our faith in Christ as we discuss the various social issues of the public square. One issue of great concern today in our nation and in the State of Ohio is the importance of health care and its relationship with religious liberty.

The OCC stands with all citizens of our nation and with all people of faith and of good will, including the citizens of Ohio, in its desire for affordable access to health care, especially for the poor and for others who currently are unable to benefit from adequate health care coverage. The OCC prayerfully encourages those who serve in public office on both the state and federal levels to labor to find solutions to the challenges which have long existed in our nation's current systems of health care.

Members of the Ohio Council of Churches are reminded of the Apostle Paul's words in 1 Corinthians 12: 'We need each other; we are interdependent; each part of the body of Christ has a gift to share with others. We are already the body of Christ, so when one part of the body suffers, all suffer; and when one rejoices, we all rejoice.' We seek to express Christian partnership with one another through this statement, particularly as it relates to certain federal regulations that compromise the religious liberty of member judicatories.

Ever since the founding of our country, our nation has entertained a tension between church and state and where the appropriate boundaries between the two spheres should exist.  The First Amendment of the Constitution of the United States protects our right of religious freedom, both in prayer and practice.  Throughout our nation's entire history, our institutions of faith have been providing healthcare, education, and human services, especially to the most poor and vulnerable. People of faith contributed to the common good of the public square by selflessly delivering these services, motivated by their religious convictions, with the freedom to do so within the boundaries of their respective religious beliefs.

To be clear, we do not oppose the implementation of much of the Affordable Care Act, and, in fact, we hope that its promise of expanded access to healthcare will truly come to light.  However, the action by the U.S. Government on the occasion of the Affordable Care Act's Health and Human Services mandate raises some concerns for us all, as it attempts to define the actual nature of a religious institution. While the mandate provides a narrow exemption for those houses of worship which, based upon their religious beliefs, oppose facilitating access to certain services noted in the mandate, many other religious institutions, such as charities, hospitals, and universities, are now considered not religious enough to qualify for the exemption.  Even the most recent proposal of the mandate still narrowly applies the exemption to only "churches, their integrated auxiliaries, and conventions or associations of churches, as well as to the exclusively religious activities of any religious order," to the exclusion of religious charities, hospitals, and universities. According to the mandate, therefore, the government has now defined that these institutions are not religious enough to follow their own religious teachings in certain circumstances. This mandate sets a concerning precedent for any religious institution which may find itself in a position of having values that, within reason, challenge that of the state.

Although many judicatories of the OCC do not object to the specifics of the HHS mandate, we fear that, if the HHS mandate is allowed to be implemented in its current form, then, at a future point, any one of the members of the body of Christ could be faced with a similar crisis of conscience. Together, we raise our united concern about the need for government at all levels to respect the religious liberty of all communities of faith.

Therefore, in light of the concerns raised by the HHS mandate, even with the great diversity to be found in the communities comprising the OCC, we call upon our elected leaders, government officials of all levels, and the religious community, to work for two goals: 1) actively to pursue changes that would broaden the religious exemption within the current mandate, and 2) to propose and implement safeguards in legislation on social issues that will respect and protect religious liberty and the rights of conscience."