On Ash Wednesday, cardinal urges solidarity with persecuted Christians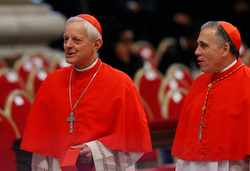 By Richard Szczepanowski Catholic News Service
WASHINGTON (CNS) — Making an impassioned plea at the end of his Feb. 18 Ash Wednesday Mass at the Cathedral of St. Matthew the Apostle, Cardinal Donald W. Wuerl of Washington urged Catholics to offer prayers and speak out for Christians being persecuted throughout the world.
"Lent is a time of prayer — pray for those who are suffering and offer your voice," Cardinal Wuerl told a standing-room-only congregation. "Say, 'This is wrong. There is no political, social, cultural or religious reason for this.'"
Particularly mentioning the suffering and persecution of Christians in Africa, especially in Nigeria, in the Middle East, in parts of Iraq and Syria and in India, Cardinal Wuerl noted that "when we go out the door with ashes on our forehead, we manifest ourselves as practicing Christians, but there are parts of the world where this will be a death sentence."
The cardinal also lamented the recent beheading of 21 Egyptian Christians by Islamic State militants in Libya, and he noted how Pope Francis spoke out after the atrocity.
"People are being slaughtered simply because they believe in Jesus Christ," Cardinal Wuerl said. "We should not have to die, we should not have to pay this extraordinary price no one has to pay because we are followers of Jesus."
He pointed out that persecution against Christians takes many forms: "People have their homes destroyed, their churches burned, they face forced conversion and their children are sold into slavery simply for being a Christian."
He condemned what he called "the silence of the world community at this extraordinary violence against the Gospel of Jesus Christ," and reminded the faithful that "we owe [persecuted Christians] a sense of solidarity and our prayerful support and our voice. We have to say what is so obvious — 'This is wrong. This must be rejected. This cannot be a one-day story.'"
Cardinal Wuerl was the principal celebrant and homilist and distributed ashes during a midday Mass at the Washington cathedral. An overflow, standing-room-only crowd attended the liturgy, receiving on their foreheads ashes in the form of a cross and the admonition to "remember you are dust, and to dust you shall return."
As the faithful spiritually prepare for Lent, Cardinal Wuerl reminded them during the Mass that these 40 days are a time "to purify ourselves more and more of anything that withholds us from God."
He said that the ashes — placed on the forehead in the sign of the cross — are "a sign of humility and exaltation, of death and new life."
"The ashes are a sign of death, the cross a sign of our salvation," the cardinal said. "The cross reminds us that our citizenship is in heaven."
Calling Lent "part of our preparation for heaven," Cardinal Wuerl likened the observance of the 40 days as a journey, "and the end of the journey is glory – the cross is the sign of victory, even over death." He also said this penitential season is a time to "come back (to God) with our hearts open to his mercy."
In his plea for prayers and witness for persecuted Christians, the cardinal called on Catholics to stand in "prayerful solidarity" with our brothers and sisters. "We change the world by changing hearts, beginning with our own," he said.
"When we walk out these doors (of the cathedral) wearing our ashes, let us simply pray for those who can't do that, or do it at the risk of death simply because they believe in Jesus Christ," he said. "We cannot forget them."
In other U.S. Catholic reaction to the beheading of the Coptic Christians, Dallas Bishop Kevin J. Farrell in a Feb. 17 posting on his blog said the killings show that atrocities carried out by ISIS terrorists have "reached a new level of barbarity."
But he also said, "This is not a time for vengeance or retaliation that is contrary to the teaching of Jesus, and only escalates violence. Rather, it is a time for prayerful reflection on the sacrifice of these Coptic brothers who, as the Holy Father noted, only said, 'Jesus help me.'"
New York Cardinal Timothy M. Dolan on his radio show on Sirius XM said that the fact that ISIS and other groups are attacking people because of their religion "is hideous. This is scary."
Like Pope Francis, he called for respect for all religions and urged moderate followers of Islam to denounce ISIS. Cardinal Dolan said the fanaticism carried out by ISIS is as much a threat to the world as Nazism was and he said he hoped the world would soon rise up and say, "Enough of this."
He added, "This cannot go on. This cannot continue. We must call this what it is, and we must do something about it."
Posted February 19, 2015