Ordination coverage and more in June print edition of The Catholic Telegraph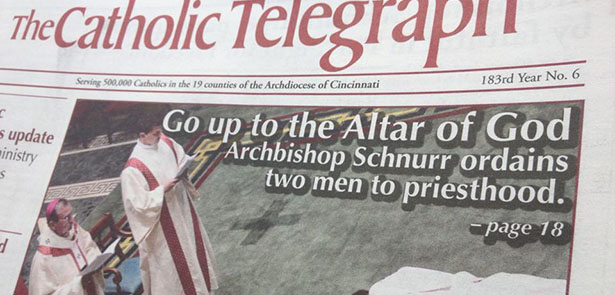 Staff Report
The June edition of The Catholic Telegraph runs 36 pages with complete coverage of the May 17 priest ordinations, a special vocations section, graduation listing and more.
The cover of the June issue features now-Fathers Brian Phelps and James Riehle lying prostrate on the floor of the Cathedral of St. Peter in Chains before Archbishop Dennis M. Schnurr during the Rite of Ordination. Inside on pages 18-19 is a full length story and photo gallery of the day.
The June edition includes a message from Archbishop Schnurr on the coming Fortnight for Freedom as well as looks at the Archdiocese of Cincinnati's new vocation director (Father Dan Schmitmeyer) and new head of the diaconate office (Deacon R. David Profitt).
The Body & Soul feature returns, this time taking a look a the pastor of St. Antoninus, Father Christopher Armstrong, who is a talented chef in his own right. The Everyday Evangelist feature tells of artist Gerardo Arias, a native Nicaraguan who's art now graces the walls of multiple archdiocesan institutions.
The regular lineup of columnists (Michael Daley, Father Kyle Schnippel, Father Earl Fernandes and Jeanne Hunt) is back, but it's the last column for outgoing vocation director Father Schnippel. Reporter John Stegeman has a book review and Editor and General Manager Steve Trosley urges readers to rekindle their fire for religious freedom
The June edition should begin arriving in mailboxes May 28. If you are not a subscriber to The Catholic Telegraph but you live within the 19 county Archdiocese of Cincinnati, you can sign up at no cost by contacting [email protected] or calling him at 513-421-3131 extension 2215.