Ordination profile: Deacon Matt Feist
The men scheduled to be ordained to the priesthood May 21 at the Cathedral of St. Peter in Chains in downtown Cincinnati responded to questions from The Catholic Telegraph to profile their background and journey to the priesthood. TheCatholicTelegraph.com will publish profiles each day this week leading up to ordination.
Deacon Matt Feist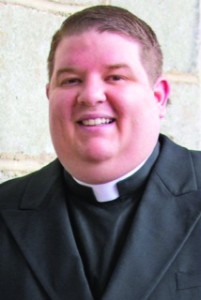 My grandparents, Dottie Feist and Pete and Shirley Suddeth, married 56 years. Parents Steve and Debbie Feist, married 36 years. I'm the oldest of four: Becky, 32, married to Ethan Himes, they have three children Madalyn, 13, Tobin. 4, Anthony 3; Angela, 26, married to Jeff Hucker with his son Jeffery, 7; Christopher, 20, is a sophomore at UC studying criminal justice. I grew up at St. Thomas More in Withamsville. I joined Immaculate Heart of Mary when I became the youth minister there. Education: Amelia Elementary K-5, STM School 6-8, Glen Este High School 1996-2000, UC Clermont for a year and a half, Franciscan University of Steubenville 2002-2005, major was computer information science.
• What was the process that led you to pursue the priesthood?
I always felt God calling me to do something for His church. I just didn't know what it was. During college at Franciscan University of Steubenville, I majored in computer information science, but by graduation I felt called to minister to the youth. I volunteered with several youth groups the first year out of college. Then moved to Arkansas – Subiaco Academy – to be a resident director and teacher of computers and religion at an all boy boarding high school. After that year, I was hired as the youth minister at IHM, where I was volunteering the year prior. During those two years, I began spiritual direction with the new spiritual director at the seminary, Father Michael Davis. He encouraged me to specifically pray about my vocation in life and to go to daily Mass and adoration. I felt an overwhelming call to become a priest. This call was always there I just didn't know what to do with it until I intentionally prayed about my vocation.
• What has the journey been like as you neared ordination? 
I feel confident that this is what God is calling me to do for the rest of my life, but at the same time, I feel unworthy to take on this awesome responsibility as a Priest of Jesus Christ. So many great people have been praying and supporting me throughout my time at seminary. It's such a blessing to have this during this long seven year process.
• Was there a single person who greatly influenced your decision to become a priest?
That's tough to narrow it down to one person. My pastor, Father John Fischer, taught me so much about the Mass and love the liturgies of the Church. My Grandma Suddeth has been praying for my vocation since I was three days old. She said she dedicated me to Mother Mary that I will find my vocation. My parents who gave me my faith and always wanted the best for me. The great men in my household (a Christian Fraternity) at Franciscan, "The Brothers of the Eternal Son," who they taught and challenged me to be a better Christian Man. Ultimately, it was Jesus Christ through adoration in the Blessed Sacrament that gave me the strength to say yes and apply to the seminary.
• What message would you offer to those who want to serve God but do not know how?
Prayer. You can only give what you have. Call on the Holy Spirit to guide you. You don't have to serve in big ways. Every encounter with another person can be an opportunity to serve God.
• How has being a deacon influenced the type of priest that you will be?
Everyone hurts in some way, everyone wants to be understood, and everyone wants to be loved. Having a smile on your face and showing that you care and love them goes a long way. As a priest, I may not be able to fix whatever someone is going through, but I will be able to give them Jesus Christ through the sacraments.
• What are some of your thoughts about beginning priestly life?
I can't wait to be a priest!
• What advice would you offer about discerning a vocation?
Prayer. Stay close to our Blessed Mother. Stay close to her Son through Mass and adoration. Find people that are also discerning and have regular meetings and hang outs to build each other up.
• What will you miss most about your seminary preparation time? What will you value most?
I will definitely miss the fraternity formed here at the seminary. Although I wasn't the best student, I will cherish everything I have learned at the seminary inside and outside the classroom.
• What types of jobs have you had?
In high school, I worked in restaurants and for the 2000 U.S. Census. In college I worked at Kohl's. After college: 2005-2006 substitute teacher, St. Thomas More latchkey, volunteer youth ministry at STM and IHM; 2006-2007 Subiaco Academy; 2007-2009 Youth Minister at IHM.
• What sort of extracurricular activities did you enjoy in college? 
I did a lot with my household. I played intramural sports (mostly to entertain the crowd not necessarily playing the sport that well), started a swing dance club, and SENT (Student Evangelization Networking teams) where we gave retreats to high school students.
Other Profiles (Date published)
Deacon Chris Geiger (May 16)
Deacon Sean Wilson (May 16)
Deacon Timothy Fahey (May 17)
Deacon Jason Williams (May 17)
Deacon Alex McCullough (May 18)
Deacon Eric Roush (May 19)
Deacons Reagan, Bertke and Smith (May 20)