Parishes join to help needy; Christ Child Society challenges poverty one child at a time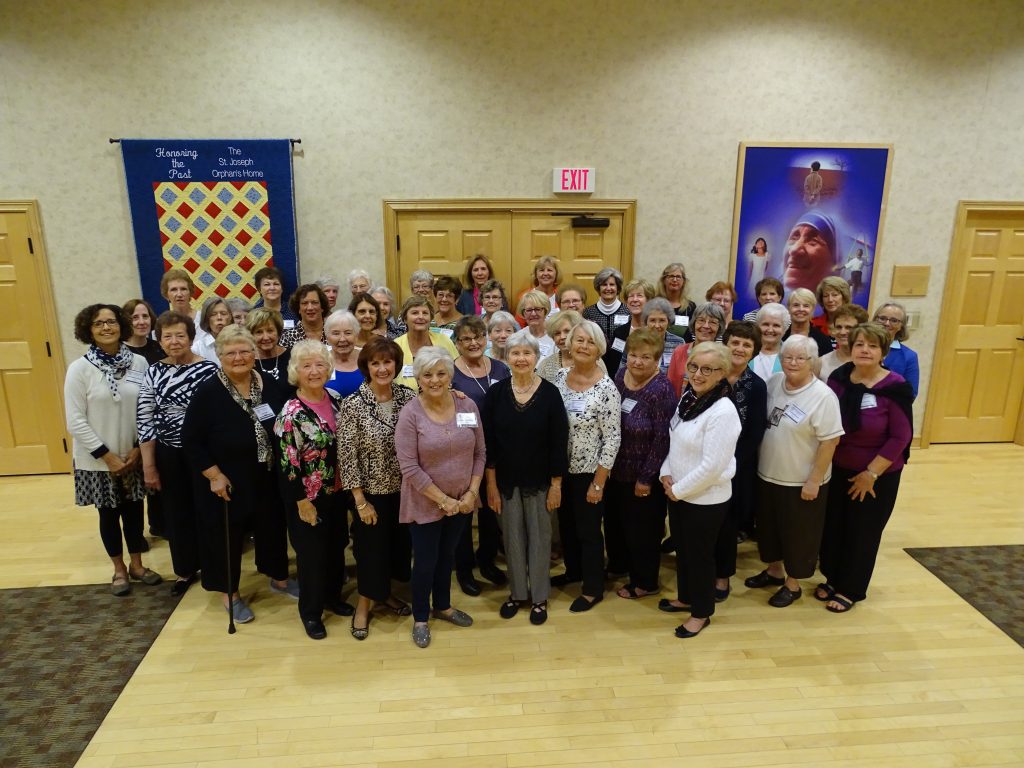 By Sharon Semanie
If it takes a village to raise a child, 15 parishes within the Greater Miami Valley are paying it forward and making a difference in the lives of the young. They represent membership in the Christ Child Society (CCS) of Dayton, a vibrant organization dedicated to serving at-risk children regardless of race or creed.
The non-profit Catholic association, established locally in 1911, is a "rewarding volunteer opportunity," according to President Mary Jean Walter of Miamisburg, who joined CCS in 2004, following the passing of her husband. A self-proclaimed go-getter, the retired custom decorator is the mother of three sons and has eight grandchildren.
"I've been involved in soccer, Boy Scouts and served as a room mother," explained the Julienne High School graduate. Affiliation with CCS, she said, makes "You feel like you're making a difference" in the lives of children, plus having the added benefit of "upbeat and positive" members who represent parishes in Dayton, Vandalia and Beavercreek.
Both Walter and fellow member Joan McGratty of Yankee Trace note the Dayton chapter generates funds to provide 1,234 vouchers for new coats, shoes and school uniforms to children in need through area social service agencies and schools.
"We volunteer at the Dayton Early College Academy (DECA), monitor family visits at Erma's House, a safe place for children to meet with non-custodial parents; and babysit children and support low income single mothers at the Glen of St. Joseph, a safe residential facility," McGratty said.
In addition, the Christ Child Society members distribute more than 1,500 infant layettes — such as blankets and clothes — throughout eight area social service agencies to underprivileged mothers of newborn; serve dinner at the St Vincent de Paul gateway shelter for women and families; and volunteer with the craft and bingo programs at the Maria Joseph Living Care Center.
Society members thrive without the benefit of paid administrative staff. Funds are primarily generated by the chapter's annual Red Wagon Luncheon, grants from the Dayton Foundation or Mathile Family Foundation, a layette support program and membership dues.
Walter said the Red Wagon Luncheon, which generally attracts between 400-500 women, will take place Friday, Nov. 2 at the Presidential Banquet Center. Organizers hope to raise $25,000 through ticket sales, a silent auction, raffle and, of course, the plated lunch and style show featuring Chico fashions. The $50 per person tickets went on sale in mid-September and can be purchased by contacting Walter at [email protected].
With "Challenging Poverty: One Child at a Time" as its mantra, the Dayton chapter is also enriched by spiritual and social activities. The organization meets five times annually at various locations, attends first Friday Mass together, coordinates a Memorial Mass at the Glen at St. Joseph and enjoys a monthly game of Bunco, a movie night/girls night out and the annual Christmas party.
The origin of the Christ Child Society can be attributed to Mary Virginia Merrick, who founded the organization in 1887 in Washington, D.C., as a means of helping children in need. At the time, Merrick was paralyzed as the result of a fall and started her mission of service at age 16 with a gift of handmade clothing to an infant of a needy family.
A century later, there are nearly 6,000 members in 44 communities nationwide. The Dayton chapter was among the first to be established by Helen and Marie Rotterman who invited seven women to their home for the purpose of founding a chapter.
At its initial founding in 1911, Dayton CCS distributed 175 gifts at its first Christmas party, purchased six tons of coal to heat homes for the needy and throughout the next 29 years supplied 3,936 shoes, 88,604 items of clothing and 340 layettes.
The National Christ Child Society has identified six areas for expansion, including Cincinnati. Chapters currently in Ohio include Akron, Cleveland, Columbus, Geauga County, Toledo, Western Reserve and Dayton. This is viewed as a remarkable feat for Merrick, who is a candidate for canonization.
For information on how to get involved in the Christ Child Society, visit the Dayton chapter website ChristChildSocietyofDayton.org, or contact Mary Jean Walter at (937) 859-6776.