Partnership unites parishes in social action
April 30, 2012
Two parishes signed a "Covenant Partnership" on Epiphany Sunday bringing together two unlikely partners, Our Lady of Visitation, a predominately white parish from the west side of Hamilton County, and St. Leo, a small inner city parish whose members include immigrants from Guatemala and Burundi.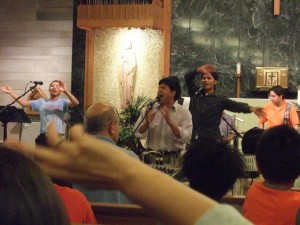 The partnership is an attempt by both parishes to work for unity and solidarity across ethnic and socio-economic boundaries, acknowledging that we are all members of one family of God who recognize the presence of Christ in all.
The partnership was forged over time with the parishes collaborating on a toy drive at Christmas for St. Leo.  They also combined efforts on a concert at Our Lady of the Visitation given by Bill Tonnis, the director of youth and outreach ministries. Tonnis performed original music, as did members of St. Leo's Burundi and Guatemalan communities.
The latest collaboration was a combined parish mission. Father Jim Schutte, pastor of St. Leo teamed up with Tonnis and Mary Wlodarski, pastoral associate at Holy Trinity in Dayton, for a three-day mission March 19 – 21 at Visitation.
"We had very fruitful meetings to discuss our new relationship," Tonnis said. "The chairperson of our Social Action Ministries, Lynn Hensler. Dr. Marc Alexander and I have been having monthly get-togethers with Father Jim and the staff at St. Leo's to build our relationship and to discuss how both parishes can work together."
One of the ways includes St. Leo's parishioners praying for the RCIA candidates at Our Lady of the Visitation. Several parishioners from Visitation have volunteered to tutor Burundian parishioners from St. Leo in English. "We are gathering ideas of how our youth can work together and share their life experiences as well," Tonnis said.
The collaboration fits with the history that parishes and immigrant advocates have of working together. The Advocates for Justice Parish Collaborative, organized by the Catholic Social Action Office archdiocesan, voted to make immigration reform a priority the last five years and formed a task force on immigration reform.
The immigration task force is composed of parish representatives, advocates, agency representatives including Su Casa, and the archdiocesan Offices of Catholic Social Action and Hispanic Ministry.
The Advocates for Justice Collaborative and Catholic Social Action's work was recognized by Justice for Immigrants, a group within the US Catholic Conference of Bishops' Committee on Migration when Cincinnati became one of six dioceses to receive a grant to provide outreach and information to expand the network of parishes and individuals active in immigration reform.
The intention of the Cincinnati Justice for Immigrants' project is to present information to parish pastoral councils about the Catholic Church's teaching on immigration and migration.
Comboni Father Louis Gasparini, director of Hispanic Ministry for the Archdiocese of Cincinnati, sees the presentations as a way of furthering his mission.  "One of my goals is to help the church become more aware of the Hispanic brothers and sisters around us," Father Gasparini said. "The important question is how we make room.  Hospitality has to be part of this.  As a church, we need to welcome the immigrants."
Thus far, the Justice for Immigrant campaign has presented to pastoral councils in 12 archdiocesan parishes. "Restoring Order and Human Dignity," presentations are taken from the theme of Archbishop Dennis M. Schnurr's letter, which called for comprehensive reform that "restores order and human dignity" to the system.
In his Message for World Day for Migrants and Refugees last year, Pope Benedict XVI spoke of the powerful relationship between the Eucharist and all of us as "one human family."
"As faithful Catholics, we are all striving to find more ways to live out the Eucharist in a world of competing values," explained Tony Stieritz, director of the archdiocesan Catholic Social Action Office "As communities throughout the archdiocese become more multi-ethnic and receive newcomers from other lands, Pope Benedict's words carry even greater consequence. Our Lady of the Visitation and St. Leo churches have taken this mystery to heart through their mutual embrace."