Patriarch calls lives of Middle East Christians 'bad' and 'less bad'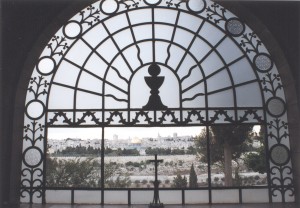 Catholic News Service
JERUSALEM  — Christians in the Middle East are facing difficulties ranging from "bad" to "less bad," said Latin Patriarch Fouad Twal of Jerusalem.
While describing the condition of the Palestinians in the West Bank as "bad," he said their situation is better than the challenges faced by Christians in Syria and Iraq, especially those who have been forced to flee homes in the fact of Islamic State militants.
Patriarch Twal pushed again for an end to hostilities throughout the Holy Land and the Middle East.
"We condemn those who sell (military) arms to help (maintain the war) in Syria," he told Catholic News Service in mid-July. "It is a pity. We have never reached this level of violence. We preach, we hope, we weep. In all of the Middle East it is not a normal life."
Although the patriarch normally calls the Catholic Church in the Holy Land the "church of Calvary," he said he sees the entire Middle East in a similar term because of the massive displacement of Christians from traditional homelands across war-torn countries.
The Catholic Church in Jordan, consisting of 200,000 Christians, has absorbed about 7,000 Christian refugees, he said.
Sounding dejected, Patriarch Twal said he identifies with the humiliations faced by the refugees in Jordan who have lived a placid life in which they attended school, went to work and were able to support themselves to having to depend on others for every morsel of food or piece of clothing they have.
Overall, the refugees' situation is getting worse as people are feeling crestfallen because they realize they will be unable to return to their homes in Iraq or Syria, he added.
"There is no hope, no life, no hope for an end," the patriarch said.
While Christian schools, Jordanian parishioners and agencies such as Caritas Jordan have been doing their best to care for the refugees, they are running short of resources and are finding it difficult to maintain current levels of support, he explained.
"Now everyone is tired," Patriarch Twal said. "The parish priests are tired, the donors are tired, the people are tired and losing their enthusiasm. At the beginning, they were happy to help. But now (they look at) the future (and see no end.) Caritas does not have the resources to give three meals a day to each person."
In yet another kidnapping of a Christian minister in Syria, Franciscan Father Dhiya Aziz, was released unharmed July 10 after having spent a week in captivity. He was abducted after celebrating Mass from the Syrian village of Yacoubieh, in the Orontes Valley, the Franciscan Custody of the Holy Land said.
Father Aziz was the second Franciscan kidnapped in the valley since 2014 and seventh religious in Syria overall to have been abducted since the country's civil war began in 2011. The six others have yet to be located or released.
Posted July 23, 2015