Philadelphia's Thomas named new Bishop of Toledo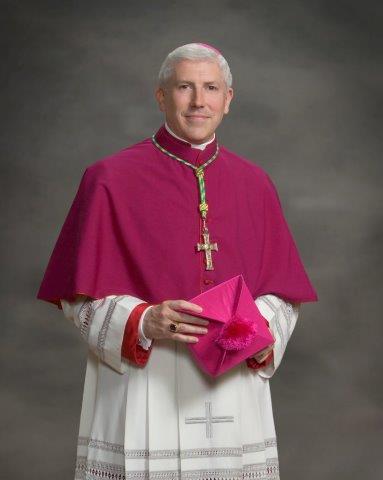 Press Release
TOLEDO — The Holy Father, Pope Francis, today named the Most Reverend Daniel E. Thomas as the eighth Bishop of the Roman Catholic Diocese of Toledo in America.
Bishop Thomas has been serving as an Auxiliary Bishop of the Archdiocese of Philadelphia, Pennsylvania since his Episcopal Ordination on July 26, 2006. He fills the office left vacant by the Most Reverend Leonard P. Blair, who was installed as the Archbishop of Hartford, Connecticut in December 2013.  Since that time the Toledo Diocese has been under the direction of the Reverend Charles Ritter, serving as Diocesan Administrator.
Bishop Thomas will be installed as Bishop of Toledo at a Mass to be celebrated on October 22, 2014, 2 PM at Our Lady, Queen of the Most Holy Rosary Cathedral, 2535 Collingwood Boulevard, Toledo.
Father Ritter welcomes Bishop Thomas to Toledo, "I and the entire diocese are delighted to welcome Bishop Thomas.  We ask for God's blessings for him and for the people of the Diocese of Toledo as he assumes the office of chief shepherd of this local church. We priests especially look forward to getting to know him and working with him as his collaborators in ministry throughout our diocese."
Bishop Thomas comes from an archdiocese with over 1.4 million Catholics, 219 parishes, and 143 Catholic schools. The archdiocese has 870 priests, 286 permanent deacons, 2,543 women religious, and 97 professed men in religious orders and societies of apostolic life.  In comparison, the Catholic population of the Diocese of Toledo is 319, 907, 124 parishes and 79 Catholic schools. The Toledo diocese has 207 priests, 197 permanent deacons, 440 women religious, and 10 professed religious men.
Bishop Thomas was born and raised in Philadelphia, attending Catholic elementary and high schools. He attended Saint Charles Borromeo Seminary in Wynnewood, Pennsylvania where he earned both a Bachelor and Master of Arts degree.  He also earned a licentiate in sacred theology (S.T.L.) in 1989 from the Pontifical Gregorian University in Rome, Italy.
Ordained a priest for the Archdiocese of Philadelphia on May 18, 1985, Bishop Thomas was first assigned as a Parochial Vicar at Saint Joseph Parish in Aston, Pennsylvania. In 1990 he was assigned to serve the Holy See as an Official of the Congregation for Bishops, the section of the Roman Curia primarily charged with coordinating the selection candidates for the episcopacy.  While serving at the Congregation for Bishops, Bishop Thomas also served as an Adjunct Spiritual Director at the Pontifical North American College Seminary in Rome. In 1995 he was named Chaplain to His Holiness (Monsignor) by the late Pope John Paul II, who in 2005 also named him a Prelate of Honor.
In October of the same year, Bishop Thomas returned to Pennsylvania and was appointed Pastor of Our Lady of the Assumption Parish in Stafford. In 2006 he was ordained Auxiliary Bishop of Philadelphia, assisting the Archbishop with pastoral responsibilities and administrative duties at the Archdiocesan Pastoral Center. Bishop Thomas' responsibilities at the Pastoral Center included serving as the Vicar General, in addition to overseeing the Media Affairs Department, the Office for Clergy, and the Archdiocesan Vocations Office.
In addition to his priestly assignments, Bishop Thomas has served on a number of Archdiocesan boards and remains a member of the United States Conference of Catholic Bishops' Committees for Clergy, Consecrated Life and Vocations, the Ad Hoc Committee on Catechism, and the Committee on Divine Worship. He is also a member of the National Advisory Council for the Saint John Vianney Center in Downingtown, Pennsylvania and the Episcopal Advisory Board for the National Conference of Diocesan Vocation Directors.
The Diocese of Toledo, established April 15, 1910 encompasses 8222 square miles in a mixture of urban and rural areas that spans 19 counties across Northwest Ohio, serving 319,907 Catholics in 124 parishes. The diocese includes Allen, Crawford, Defiance, Erie, Fulton, Hancock, Henry, Huron, Lucas, Ottawa, Paulding, Putnam, Richland, Sandusky, Seneca, Van Wert, Williams, Wood and Wyandot counties. 
Posted Aug. 26, 2014