Philippines' farewell to pontiff: 'Pope Francis, we love you'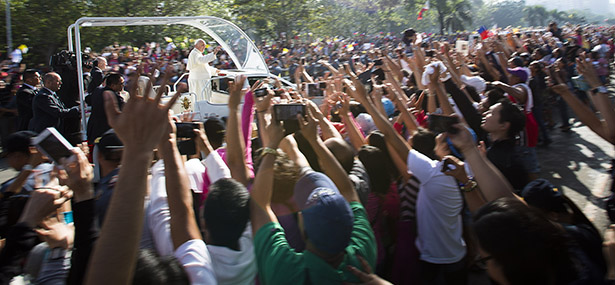 CNA/EWTN News
MANILA, PHILIPPINES — The Pope departed the Philippines Monday morning from Villamor Air Base at a farewell ceremony where over 400 abandoned children from various welfare centers performed songs to bid him farewell.
"Pope Francis, we love you!" they said in a coordinated chant.
The Pope walked along a red carpet to his plane with Philippines president Benigno Aquino, making personal comments to several bishops, officials, and laity.
He also spoke to President Aquino one-on-one.
"I want to thank you, Mr. President, for the warm welcome," the Pope said Jan. 19. "You must have worked some extra hours."
On Sunday a massive crowd of 6 to 7 million gathered for his final Mass at Rizal Park in Manila. The Pope's homily stressed Christians' identity as God's children and called for the protection of the family against "insidious attacks and programs contrary to all that we hold true and sacred, all that is most beautiful and noble in our culture."
Before the Mass, Pope Francis attended a youth rally for tens of thousands of people at the University Santo Tomaso in Manila. He heard the heartbreaking testimony of two formerly homeless young adolescents. He urged everyone present to "learn how to weep" with those who suffer.
"If you don't learn how to cry, you can't be good Christians," he emphasized.
On Saturday Pope Francis celebrated Mass near the Tacloban airport on the major island of Leyte, which suffered heavily in the December 2013 Supertyphoon Haiyan.
He set aside his prepared homily to speak to the congregation, many of whom had lost loved ones and homes in the disaster.
"I'm here to be with you," he said. "A little bit late, I have to say. But I'm here. I've come to tell you that Jesus is Lord. That Jesus never lets us down."
"We have the security of knowing that we are not going to weaken in our faith, because Jesus has been there before us… In his passion, he assumed all our pain," he said.
"So many of you have lost everything… I don't know what to say to you. But the Lord does know what to say to you. Some of you have lost part of your families. All I can do is keep silent."
The Pope's visit to Leyte was cut short due to concerns about an incoming typhoon.
During his welcoming ceremony at the Presidential Palace on Friday the Pope noted that in a few years the country will mark the 500th anniversary of the arrival of Christianity in the Philippines. He voiced hope that the Christian message will show "continuing fruitfulness" and "inspire a society worthy of the goodness, dignity and aspirations of the Filipino people."
At a Friday Mass for clergy, religious and seminarians at Manila's Cathedral of Our Lady of the Immaculate Conception, he stressed the "powerful missionary potential" of the Philippines.
"Filipino culture has, in fact, been shaped by the imagination of faith. Filipinos everywhere are known for their love of God, their fervent piety and their warm devotion to Our Lady and her rosary," he said.
The Pope's Philippines visit and his visit to Sri Lanka lasted from Jan. 12-19. He was scheduled to return to Rome at 5:40 p.m. local time on Monday.
Posted Jan. 20, 2014