Poor Clare Sisters celebrate anniversary of founding
September 2, 2012
By Patricia McGeever
When Chiara di Offreduccio ran away from home to live a life of poverty and prayer, she probably never imagined that her decision would trigger a series of events that would be cause for celebration.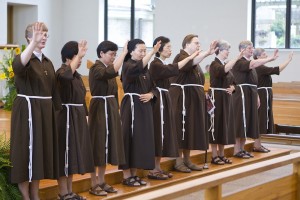 Eight hundred years later, Chiara is better known as St. Clare, the first female follower of St. Francis of Assisi and the foundress of an order of nuns that has come to be known as the Poor Clares.
Around the world, including here in the Archdiocese of Cincinnati, Poor Clares celebrated this anniversary with their Franciscan brothers and sisters. Even after 800 years, the teachings of St. Francis and St. Clare resonate today.
"I believe authentic living of the Gospel and love of Jesus catches fire. It's contagious," says Poor Clare Sister Dianne Short.
"And also we help to spark that in each other and in other people's lives," added Sister Vicki Griner. "How can you go wrong when you follow the Gospel?"
The year-long observance began and ended on Aug. 11, St. Clare's feast day. The Cincinnati Poor Clares closed out their celebration with a Mass and reception at St. Clement Parish in St. Bernard. Though the Poor Clares have been in existence since 1212, they have only been in Cincinnati for 22 years. It is the only contemplative community in the archdiocese. Eight Sisters, plus one visiting Sister from South Korea, live an enclosed life in a monastery in Mount Healthy where they spend most of their day in prayer.
Sister Doris Gerke was the first to arrive. She was working with her order in Guatemala when she says she "felt a calling to complete the Franciscan family here in Cincinnati." There are other Franciscan orders here but there were no Poor Clares. She received permission to visit other monasteries to talk about her calling and gauge interest from others.
Sister Dianne was serving in the Bronx and Sister Anna Marie Covely was in Langhorne, Pa., when they heard Sister Doris speak. After much discernment, each decided to join her in Cincinnati, and in 1990, the Cincinnati Poor Clares were established.
"Each one of us had lived Poor Clare life very differently," explained Sister Dianne. "We came to realize there's no one right way. We had to create our own way. The first thing we did is set up a prayer schedule. And that is what rooted us."
The three women moved into the convent at St. Vivian Parish in Finneytown. In 1996, they were able to break ground on their monastery. It was completed in March of 1998. It's there that they pray for the needs of the church and the world. They don't venture out except for special occasions, but the many needs of the world have come to them via the Internet.
Sister Vickie works at maintaining their website www.poorclarescincinnati.org.  A former lawyer with an MBA, she converted to Catholicism a few years before joining the order in 2008. Since then she says prayer requests have tripled. "We have a Sister assigned to personally respond to each prayer request. And then we forward that email to each of the other Sisters so that they can pray for the person," explained Sister Vickie.  "We believe it is part of our ministry and the call to evangelize, which the pope has asked all of us to do. It's really a way to evangelize by connecting people around the world."
The Sisters estimate they have prayed for petitioners in at least 15 different countries.
At the end of the Mass closing out their year of celebration, the nine Poor Clares stood at the foot of the altar and offered a blessing to those in attendance. With their arms outstretched, they spoke the words of St. Clare asking for God's mercy and abundant graces.
"I really believe that Clare is a guide for women, especially in our world today," said Sister Dianne of their foundress. "She was such a strong woman and such a caring woman that she knew what she was all about."