Pope accepts resignations of St. Paul archbishop, auxiliary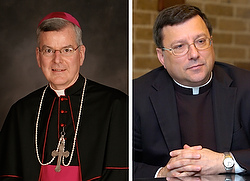 By Cindy Wooden Catholic News Service 
VATICAN CITY — Ten days after the Archdiocese of St. Paul and Minneapolis was criminally charged with failing to protect children, Pope Francis accepted the resignations of Archbishop John C. Nienstedt and Auxiliary Bishop Lee A. Piche.
Pope Francis appointed Coadjutor Archbishop Bernard A. Hebda of Newark, New Jersey, a canon lawyer, to be apostolic administrator of the Minnesota archdiocese.
The resignations were announced by the Vatican June 15; on June 5, the Ramsey County Attorney's Office filed charges against the archdiocese alleging it had contributed to the harm of three minors sexually abused by former priest Curtis Wehmeyer.
The charges, six gross misdemeanors, were three counts of contributing to the need for protection or services for a minor and three counts of contributing to a minor's status as a juvenile petty offender or delinquency.
Archbishop Nienstedt, 68, has led the archdiocese since May 2008. In a statement, he said, "In order to give the archdiocese a new beginning amidst the many challenges we face, I have submitted my resignation."
"The Catholic Church is not our church, but Christ's church, and we are merely stewards for a time," the archbishop said. "My leadership has unfortunately drawn attention away from the good works of his church and those who perform them. Thus, my decision to step down."
Bishop Piche, 57, also issued a statement. He said the people of the archdiocese "need healing and hope. I was getting in the way of that, and so I had to resign."
"I submitted my resignation willingly, after consultation with others in and outside the archdiocese," said the bishop, who had served as an auxiliary in the Twin Cities since 2009.
In his statement, Archbishop Hebda noted that the position of an apostolic administrator is temporary and his role "is not to introduce change, but rather to facilitate the smooth continuation of the ordinary and essential activities of the church, while advancing those positive initiatives to which the archdiocese is already committed."
Still, he said, he hoped to meet as many people as possible in the archdiocese while still fulfilling his responsibilities in Newark.
"As the universal church prepares to embark on a Year of Mercy, I look forward to getting to know this local church and experiencing in a new context the marvelous ways in which the Lord works through his people to make his grace and healing presence known and felt, even in the most challenging of times," Archbishop Hebda said.
Posted June 15, 2015