Pope bids warm farewell to Mexico, heads to Cuba
March 27, 2012
By David Agren, Catholic News Service
SILAO, Mexico (CNS) – Pope Benedict XVI bade Mexico a warm "adios," emphasizing he meant, "Remain with God," concluding a trip marked by outpourings of faith and affection from people in the world's second-most populous Catholic country.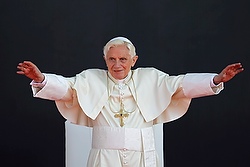 "I leave full of unforgettable experiences, not the least of which are the innumerable courtesies and signs of affection that I've received," Pope Benedict said March 26 in his closing remarks before departing for Cuba.
The pope used his departure remarks to exhort Mexicans "to be good citizens, conscious of their responsibility to be concerned for the good of all, both in their personal lives and throughout society."
"In the name of millions of Mexicans, thank you for a visit we will never forget," Mexican President Felipe Calderon said at the departure ceremony.
During his four-day trip, Pope Benedict received the keys to the cities of Leon and Guanajuato, met with Calderon and celebrated Mass for a crowd that the Guanajuato state government estimated at 640,000. He also greeted Mexicans who lost loved ones to violence.
Pope Benedict recognized the outpourings of affection. The evening of March 25, he emerged from Leon's Miraflores College, where he was staying, to salute the assembled masses and be serenaded by mariachis in bone-white cowboy costumes.
"Never have I been received with such enthusiasm. Now I can say that Mexico is going to always stay in my heart," Pope Benedict said in comments translated by his ambassador to Mexico, Archbishop Christophe Pierre, and broadcast on national TV.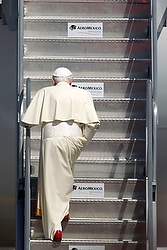 Enthusiastic crowds lined streets in the municipalities of Leon, Silao and Guanajuato for all of Pope Benedict's movements. Many chanted, "Benedict, brother, you're now Mexican," reflecting the grand affection shown for the pope, who Mexican and foreign media outlets surmised in stories was less beloved in the country than his predecessor, Blessed John Paul II.
"This could be the only opportunity" to see the pope, said Benito Urrutia, an engineer working in the footwear industry underpinning the Leon economy. "It's an important event, being close to the representative of Christ."
"We came here for the love of the pope and to receive his blessing," added artisan Irma Palomino, who began traveling at 4 a.m. and walked more than three miles uphill to attend the March 25 Mass.
Mexico's national media gave plenty of coverage to politics during the visit and the "miracle" of uniting the country's three main presidential candidates at the Mass, along with Calderon and his predecessor, President Vicente Fox, a Guanajuato native.
The visit came as Mexico's Catholic population continues a gradual decline, measuring 84 percent in the 2010 survey. Auxiliary Bishop Victor Rodriguez Gomez of Texcoco expressed concern with the trend, but said the nearly 5 percent of Mexicans declaring no religious affiliation should be alarming to all Christians.