Pope Central: Your one stop resource for Pope Francis' visit to the U.S.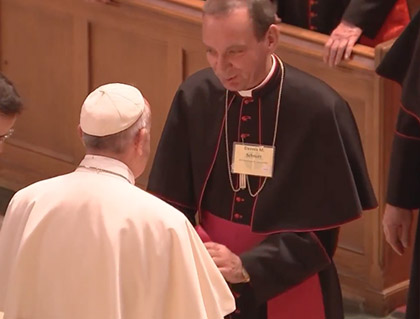 Staff Report
Pope Francis is visiting the United States of America for the first time this week. Check back here daily for the latest news.
Update: On demand video by thUSCCB can be found HERE.
Included below is a central list of all stories related to the papal visit. This page will be refreshed several times daily beginning Tuesday afternoon as Pope Francis arrives in the U.S. from Cuba. The Catholic Telegraph's Twitter feed can be viewed at the bottom of this post.
Local Connections
Pope Francis drawing crowds throughout Archdiocese of Cincinnati
Throwback Thursday: Make a newspaper into a papal miter
Archdiocese meets goal of 1 million food items pledged to welcome Pope Francis
Ohioans can take pride in papal visit
Archdiocese brings Pope Francis to Cincinnati's central gathering space
Washington won't be business as usual after papal visit, local delegation predicts
By train, cramped bus, roundabout routes, pilgrims make it to parkway
Archdiocese was well represented at papal events
Keeping it cool with a Pope Francis 'popesicle'
Archdiocese pilgrims experience a 'day of blessings' in Philadelphia
Pope Francis Calls Forth the Best in Us
A point of view from the Capitol
U.S. leg of the trip
Reaction and Post Script to Pope Francis' Trip to the America's
Memory and motion: Pope Francis shows Americans who he really is
Pope urges U.S. Catholics to keep enthusiasm, welcome newcomers
Dublin to host next World Meeting of Families — in 2018
Argentine family on 13,000-mile road trip to Philadelphia to see pope
Testimonies of keeping the faith during trying times bring many to tears
Serra canonization should awaken mission spirit, says head of Extension
Pope Francis offers us examples of giving just a little respect
People with disabilities 'welcomed, valued' during Pope Francis' visit

Sunday in the U.S
Pope says he left U.S. praying for, impressed by its people
Serve, care for each other, pope tells families at closing Mass
Visiting prison, pope says all people need forgiveness, cleansing
Pope meets with survivors of abuse, says crimes can't be secret
Pope Francis makes unscheduled stop at St. Joseph's University
Saturday in the U.S.
Pope challenges religious to create ministries that inspire young people
Six families to receive Gospel of Luke from pope at Philadelphia Mass
Excitement reigns among laity, religious before Philadelphia papal Mass
'Let freedom ring!' Respect for rights helps society, pope says
Pope delights Philly crowd with spontaneous talk on families
 
Friday in the U.S
Pope at 9/11 Memorial: Violence is never impersonal, always brings tears
People come first, human life is sacred, pope insists at U.N.
Pope brings Gospel of 'encounter' to Madison Square Garden
Pope goes back to school, meets students, community in Harlem
Inconveniences of waiting for pope quickly fade as man of hour appears
Thursday in the U.S.
In New York service, pope offers encouragement to men, women religious
Little Sisters of the Poor get unscheduled visit from Pope Francis
Pope Francis drawing crowds throughout Archdiocese of Cincinnati
Pope to Congress: Stop bickering, world needs your help
Determination, Facebook effort gets Maryknoll sister tickets to see pope
Wednesday in the U.S.
Pope Francis canonizes Saint Junipero Serra
Shouts, waves greet papal motorcade during a brief trip around Ellipse
Be shepherds concerned only for God and others, pope tells U.S. bishops
At White House, Pope tells president he is ready to learn while in U.S.
Vatican flag to fly at United Nations for papal visit
Tuesday in the U.S.
Pope Francis arrives at Joint Base Andrews
Before U.S. arrival, Pope Francis defends social teachings
Obama administration says visit 'chance to continue engagement' with pope
Cuban leg of the trip
Visit to Cuban shrine gives pope quiet time for prayer
Pope visits Fidel Castro before formal meeting with Cuba's president
Pope arrives in Cuba calling for freedom, better U.S.-Cuba relations
Pope to arrive in Cuba as missionary of mercy
Background
Pope Francis' U.N. address comes on the foundation of his predecessors
Papal trip began as World Meeting of Families, grew to be three-city tour
A history of the popemobile
Official schedule of papal visit* times subject to change

The Catholic Telegraph's news editor, Ursuline Sister Eileen Connelly, and a freelance reporter Menachem Wecker, will cover legs of the papal trip in Philadelphia and Washington, D.C. respectively and content from the Catholic News Service and Catholic News Agency will be posted regularly during his trip. We'll also be tracking down local connections to see how residents of the archdiocese are welcoming the Holy Father.
Originally posted Sept. 22, 2015
This post will be updated throughout the papal trip to the United States.