Pope Names Bishop Leonard P. Blair Archbishop of Hartford, accepts resignation of Archbishop Mansell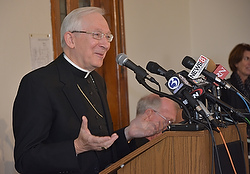 By Catholic News Service
WASHINGTON—Pope Francis has accepted the resignation of Archbishop Henry Mansell, 76, from the pastoral governance of the Archdiocese of Hartford, Connecticut, and named Bishop Leonard Blair, 64, of the Diocese of Toledo, Ohio, to succeed him.
The resignation and appointment were publicized in Washington, October 29, by Archbishop Carlo Maria Viganò, apostolic nuncio to the United States.
Archbishop-designate Leonard P. Blair was born April 12, 1949, in Detroit. He attended Sacred Heart Seminary, Detroit, and the North American College, Rome. He earned a licentiate in sacred theology at the Gregorian University in Rome in 1978 and a doctor of sacred theology in 1997 at the Pontifical University of St. Thomas there.
Ordained a priest of the Archdiocese of Detroit, June 26, 1976, Bishop Blair was appointed titular bishop of Voncariana and auxiliary bishop of Detroit July 9, 1999. He was ordained a bishop August 24, 1999 and was appointed bishop of Toledo in 2003. He chairs the U.S. bishops' Subcommittee on the Catechism and is a member of the Committees on Doctrine and Evangelization and Catechesis.
Henry J. Mansell was born Oct. 10, 1937, in New York City. He was ordained a priest of the Archdiocese of New York on Dec. 19, 1962. He was appointed an auxiliary bishop of New York on November 24, 1992, and ordained a bishop on January 6, 1993. He was appointed bishop of Buffalo on April 18, 1995, and archbishop of Hartford, October 20, 2003.
Hartford was established as a diocese in 1843 and created an archdiocese in 1953. It comprises three counties and 2,288 square miles in the state of Connecticut and has a total population of 1,944,607, of which 591,528, or 30 percent, are Catholic.