Pope names St. Gregory of Narek a doctor of the church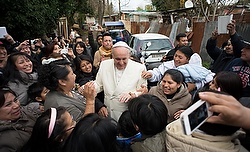 By Laura Ieraci Catholic News Service
VATICAN CITY — A 10th-century Armenian monk has been named among the doctors of the church.
Pope Francis approved the designation for St. Gregory of Narek during a meeting Feb. 21 with Cardinal Angelo Amato, prefect of the Congregation for Saints' Causes.
The church confers this designation on saints whose writings are considered to offer key theological insights for the faith.
St. Gregory of Narek is considered one of the foremost figures of Armenian theology and thought, and many of his prayers are included in the Armenian Divine Liturgy.
He was born in 950 in the Armenian town of Andzevatsik, located in present-day Turkey. He entered a monastery at a young age and was ordained a priest at 25. He lived at the monastery at Narek his whole priestly life and taught at the monastic school.
His best-known writings include a commentary on the Song of Songs and his "Book of Lamentations," more commonly known as "Narek."
"Narek" is considered his masterpiece. It includes 95 prayers and has been translated into more than 30 languages.
St. Gregory died in Narek around 1005.
St. Gregory brings the current number of doctors of the church to 36. His feast day in the Armenian churches is Oct. 13; he is remembered in the Roman Catholic Church Feb. 27.
Posted February 24, 2015