Pope to Swiss Guard: Impress visitors with kindness, not flashy uniform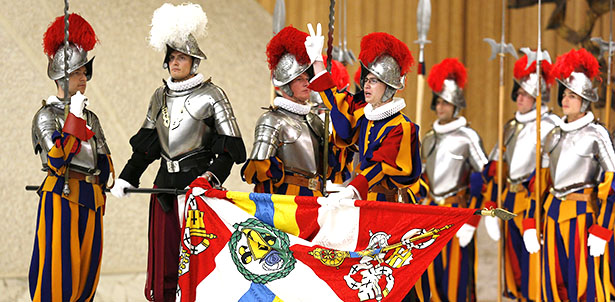 By Carol Glatz Catholic News Service 
VATICAN CITY — Pope Francis told members of the Swiss Guard to impress Vatican visitors with their courtesy, kindness and generosity, not just with their flashy, colorful uniform.
Guardsmen also should extend their Christian charity to one another: reaching out to a fellow soldier in difficulty, offering encouragement and avoiding any behavior that creates "contempt, marginalization or racism," he said.
The pope held a private audience with the Swiss Guard, including new recruits and their family members, May 5, the day before the guard's annual swearing-in ceremony.
New recruits pledge to "faithfully, loyally and honorably" serve and protect the pontiff and, if necessary, sacrifice their lives for him.
The colorful induction ceremony held May 6 every year marks the date in 1527 when 147 Swiss Guards lost their lives defending Pope Clement VII in the Sack of Rome. Only 42 guards survived. Holding the ceremony on the anniversary is meant to remind new guards of the seriousness of their commitment.
Today, the 110 Swiss soldiers are responsible for guarding all entrances into Vatican City State as well as keeping watch over the pope and his residence in the Domus Sanctae Marthae. They also provide security and ceremonial services during liturgical events and visits of heads of state and other dignitaries to the Vatican.
Pope Francis thanked the guards for their commitment to such an "important and demanding task."
The Eternal City has its archaeological and cultural charms, he said, but Rome "is not only a big museum, rather it's a crossroads of tourists and pilgrims who come from all over the world" with their own cultures, languages and needs.
"You are called to offer peaceful and joyous Christian witness to all those who come to the Vatican," he said.
Recognizing the long hours and often difficult circumstances the soldiers find themselves in, the pope encouraged them to "be strong in your faith and generous in charity toward the people you encounter."
He said their gold, red and blue-striped uniform is "recognized around the world" and reflects their "dedication, professionalism and security."
However, "behind every uniform is a real person" with his own unique past, present and future, he said.
While the distinctive uniform, which was designed 100 years ago, attracts people's attention, he said it should be the person wearing the uniform, not the clothes that truly make the man.
"It's not the uniform, but the person who puts it on that should impress others with his kindness, a spirit of welcoming and an attitude of charity toward everyone," he said.
The pope said that same charitable spirit should be lived within the soldiers' own small community in Vatican City.
The guards should value and foster a strong community life, "sharing happy and difficult moments, not ignoring those who find themselves in difficulty and who sometimes need a smile and a sign of encouragement and friendship," he said.
Story posted May 6, 2014