In Profile Annie & John Paul Deddens: Founders of Internationally-Known Pray More Novenas Email Campaign and Online Retreats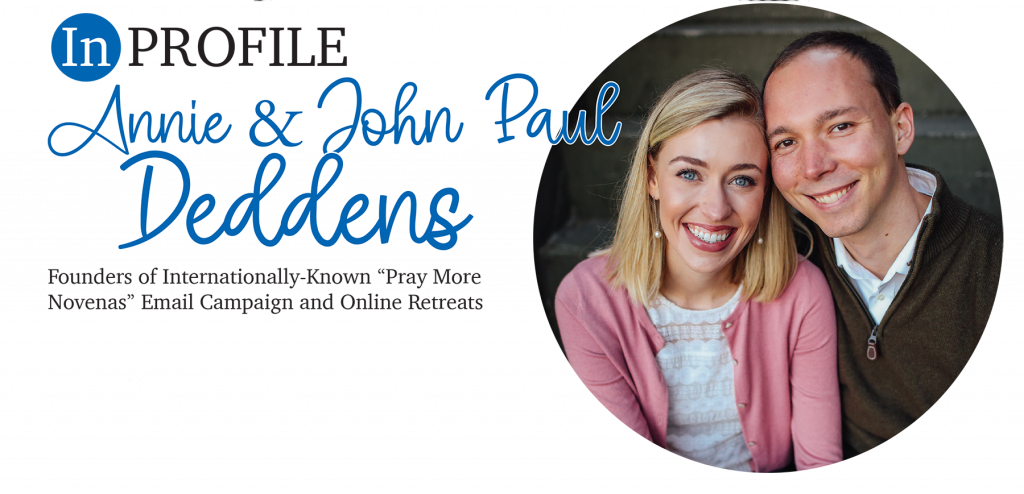 The St. Anne novena was the very first novena Annie Deddens ever prayed. "I lived at a Catholic Newman Center where some of the women were praying to St. Anne to find good, Catholic men." Hoping for a holy relationship herself, Deddens prayed the novena to St. Anne daily during her holy hour; all the while, her future husband prayed in the back of the very same chapel. The two finally met shortly after Deddens finished her novena.
Little did they know that this Catholic tradition would not only bring John Paul and Annie Deddens together, but also become a full-fledged ministry devoted to helping others pray. Their online ministry, Pray More Novenas (PMN), helps email subscribers do just that. New and veteran novena prayers are encouraged and enabled to pray daily with the vast PMN community, which numbers 470,000 internationally.
Pray More Novenas not only has a solution for those of us who start novenas, double-up days and then ultimately give up, but also support from other Catholics who get it.
After all, the beginning of PMN was a personal experience for the Dayton couple. "When we were dating, I asked John Paul to pray a novena with me and he basically told me he wasn't interested," laughed Annie. "He said he wasn't interested because he'd tried it before and never finished, and would feel guilty," a cycle familiar to many of us. Just a few days later, John Paul came back with new resolve, and a new website.
He told me he launched a site called Pray More Novenas because he thought maybe others had the same problem."
What began as a side project to help others increase their personal prayer, bloomed into an international community over the course of 10 years, ultimately allowing husband and wife to part with careers to devote their time fully to PMN.
Though the novenas vary by saint, intention and sometimes liturgical season, the hope and objective of PMN remains the same.
"We try to focus every novena on seeking God's will in any circumstance," said Annie who, along with her husband, receives countless messages with intentions from the faithful. "People share the most intimate details of their lives in prayer intentions, and each person deserves a genuine connection – someone to tell them that we see their intentions and we're praying for them."
The Deddenses may walk away from their computers, but the community stays with them. The couple remembers them in their personal prayer as well as on pilgrimages. Additionally, Masses are often offered for the hundreds of thousands involved in PMN.
Among the flood of heartfelt petitions come hopes for peace in marriage and family, healing from illnesses, freedom from debt and discernment of life changes. PMN subscribers share with the Deddenses the yearnings of their souls. "The majority of people are praying for others over themselves," Deddens said with a smile. "It's beautiful to see how much care there is for others."
Annie likened the duration of a novena to Advent and Lent, both liturgical seasons spent awaiting God's revelation. "A novena can be its own liturgical season, in a way, with fasting, feasting and preparing for God to work, then looking to see what He did while we were preparing."
And what are the results? "People share incredible stories showing us the power of prayer. Even if their intentions weren't answered in the way they hoped for, they tell us that they have more peace about it," said Annie. And that's the point: on this side of heaven, the more openness we have to God's will, the more peace reigns in our lives.
Novenas aren't the only offering at Pray More Novenas; after the Deddenses surveyed the PMN community to determine their spiritual needs, the resounding answer came back: retreats. Now, every Advent, Lent and summer you can register for online retreats to experience at your own pace. Each retreat features four to five religious, lay and scholarly speakers – each offering a series of brief talks on relevant topics. "We make it as close as possible to something they'd get in person."
Ultimately, John Paul and Annie live for others' relationships with Christ. "Whatever we can do to help others remember God's presence in their lives, that's what we want to do."
Registration for the 2019 Advent retreat opens mid-November. Subscribe for ongoing or particular novenas at praymorenovenas.com.