Providing the comfort of home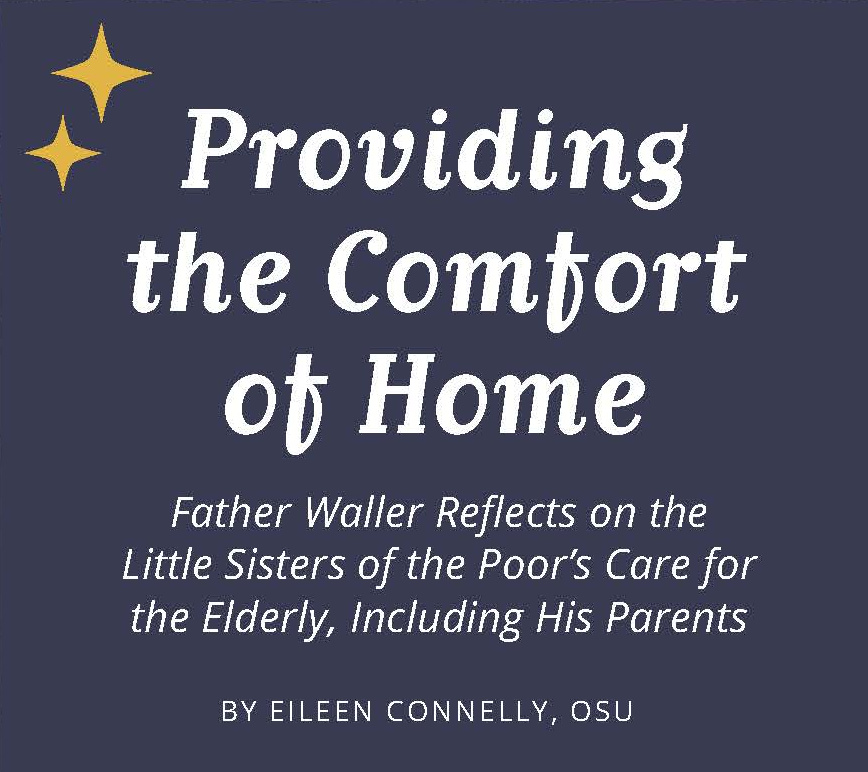 "Everyone gets a Jesus welcome." That's how Father Rob Waller, a retired priest of the archdiocese, describes the way Archbishop Leibold Home for the Aged, operated by the Little Sisters of the Poor, receives residents, their family members and visitors.
"In addition to the three traditional vows of poverty, celibacy and obedience, the Little Sisters take a fourth: the vow of hospitality," Father Waller noted. "They welcome others as they would welcome Christ if he were to walk into the lobby of their home."
Father Waller has a longstanding relationship with the Little Sisters and great affection for the members of the order, who lovingly cared for both of his parents, Roy and Isabelle. As a seminarian, he ministered at the Little Sisters' old home on Riddle Road, and celebrated his first Mass there after his ordination in 1975. Just six months later, Father Waller's father had a stroke. He recalled the reassurance offered by the local mother superior of the Little Sisters, who told him, "We need you to be a priest. We will take care of your dad so that you can be a priest."
Over the 19 years his father was in the Little Sisters' care, Father Waller's family came to know, love and respect them. It was no great surprise, he said, when his mother was ready to move to the Archbishop Leibold Home in 2001. She said simply, "It's time."
While many friends were aghast at her decision to go to a "home," Father Waller said his mother was at peace with it. "The Little Sisters often say, 'People do not come to our home to die. They come here to live, to live fully, until the time when God calls them,'" he said. "The five years that Mom lived under the watchful care and prayer of the Little Sisters were the best five years of her life. She felt safe. That was huge for me and my brothers and sisters."
Isabelle – "Izzy" to her fellow residents and friends – loved her large corner apartment in independent living. Father Waller has fond memories of Sunday afternoon naps on the couch under her apartment's large picture window, while his mother sat nearby, praying the Rosary or doing needlework.
That same window overlooked a local hospital's emergency helicopter landing pad. Whenever she saw a chopper take off, Father Waller said, "Mom prayed until they came back and landed safely. Little did the pilots, medics or injured know that someone in the red brick house on the hill was praying for them. But mom knew, and it gave her life."
The opportunity for daily Mass and prayer, mealtime and laughter with dear friends, the variety of enriching activities and the freedom to come and go as she pleased, also brought Isabelle life. The Little Sisters and staff make it a priority to get to know the needs and preferences of each resident, which contributes to their sense of security and wellbeing, Father Waller explained.
One example was his mother's love for the Cincinnati Reds.
She watched and listened to every game, he said, and "It was not unusual for the morning staff to see on my mother's tightly closed room door a sign left by the night staff: 'Don't wake Isabelle for breakfast. The Reds played on the west coast last night.' They let mom sleep and got her something to eat later, but not until after there was a review of how the team did the night before."
Over time, Isabelle's mind stayed sharp, but she was hospitalized as her body weakened, and they decided to call in Hospice. "The Little Sisters told us, 'she needs to come home,'" Father Waller said. "It's both so sad and lovely to remember that as she was wheeled back into the lobby of the home, Mom cried and said, 'I never thought I'd see home again.'"
Isabelle passed away 14 days later in the presence of family members and three Little Sisters. Yes, three. The Little Sisters take it as part of their mission that, if possible, no resident passes away without a Little Sister present. A sister once told Father Waller, "Besides assuring the person and their family, if they are lucky to have any with them, that they are not alone in this moment, it is such a grace and blessing for the sisters. Imagine: my face might be the last face that they see before they look into the face of God."
Father Waller will always be grateful to the Little Sisters and his relationship with them remains strong. "I still give to the Little Sisters whatever of me they want and serve on their advisory board. Now that I am retired, I can promise them that they will always have a priest for all Christmas week and for all of Holy Week. When I arrive on Christmas Eve or on the eve of Palm Sunday, one of the Little Sisters meets me, hands me a key for my week's stay, and takes me to the guest room on the fifth floor — the apartment that was my mom's, the one with the big picture window under which I napped on Sunday afternoons."
This article appeared in the April 2021 edition of The Catholic Telegraph Magazine. For your complimentary subscription, click here.