Queen of Peace Parish celebrates 75th anniversary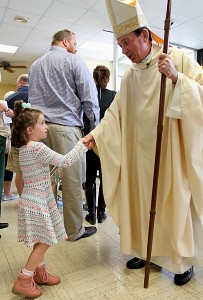 By Walt Schaefer
When the 40 original families built the first Queen of Peace Church in 1941 in the small hamlet of Millville on US 27 between Hamilton and Oxford, there was no indoor plumbing.
These farming families brought out their horses and equipment and erected what long-time parishioner Adela Hoelle described as "a little house with pews in it."
"When I went there we did not have any restrooms. Finally, they put an outhouse up on the hill and that inside plumbing didn't come for a while and don't ask me when. But, when we first started going to church there, you went to the restroom before you left your house. There was nothing wrong with that. A lot of people think that's crazy, but it's the history; it's yesteryear and it is wonderful memory."
Plumbing was added to the old church well before the new and present-day church was built in 1966 "but I really liked that little church. It was comfy. It was more family oriented, more rustic than the other one. The new one's fine because the parish grew and now we have three Sunday Masses," Hoelle said.
The parish of more than 700 families observed its 75th anniversary Oct. 2 with a Mass celebrated by Archbishop Dennis M. Schnurr. At the Mass, the archbishop honored Ray and Mary Conklin on their 68th wedding anniversary.
"We have been parishioners for 43 years of the 75 years of the parish, but I was a parishioner before I was married," said Mary Conklin, 91. Ray is 97. "My Family, my mother and father, were first parishioners of the church — Aloysius and Frances Day. So, I was here as an original parishioner as a young girl.
"In early 1941, requests were made to Father Joseph Urbain by about 30 or 40 Catholic families in Millville to petition Archbishop (John T.) McNicholas to establish a mission church in the Millville area," Mary Conlin said. "The archbishop commissioned Father Urbain to look for a site for the new mission chapel. The Kindred Farm just east of Millville on the Hamilton-Scipio Pike was approved as a good site for the church and that's where it still stands today."
On June 16, 1941, 30 acres of land were purchased at a cost of $4,800. This money was borrowed from the Chancery of the archdiocese. Herman Wuebbold gave an additional $6,000 to the Archbishop to found the mission.
"It was a mission church back in 1941 because Father Urbain lived in Hamilton and it sort of was like a mission to Hamilton. Before this church was formed, folks went to St. Aloysius in Shandon, and there would've been some who went to St. Mary's in Oxford's and then there were others who might have gone to St. Joseph's in Hamilton or another church in Hamilton," Conlin said. "The families wanted something closer and I think that's where Father Urbain saw the need. We became very close to him through the years."
The original church building was followed by a rectory in 1942, and a convent (for the Dayton-based Sisters of the Precious Blood) in 1943. The first school was started and they had eight grades in two classrooms. The school is still active with more than 200 students today.
"When I grew up in the parish it was a farming community and it's a lot different today," Conlin said. "The suburbs grew out this way. Queen Acres subdivision was developed around the parish. Father Urbain bought all of that property and they sold it off into lots and it is all pretty much suburban now. The people work in Hamilton."
Another long-time parishioner, Esther Haubner, said her parents were local farmers when Queen of Peace was built and were part of the groundbreaking. "All of the farmers brought their horses and helped dig and build and everything probably had horses then. We didn't have tractors in those days. I was maybe six years old. I'm 86 now.
"I also remember we moved back in 1965. So, we were there when the new church was built. It was a pleasant place because it was a nice community and our kids went to school there. Everyone got along and there was a big groundbreaking and there were no horses. It was more modern then … and the parish sure needed a bigger church. It was growing. The school brought in young people and young families and they wanted their kids to go to a Catholic school.
Sue Suttmiller, a parish spokeswoman, said Oct. 2 was "a day of jubilation for this little country church." A family-style country dinner followed Mass. "The parishioners endured many hardships and blessings within those 75 years. Any time help was needed, the members of the church steppe up. he small country church grew into a new church in 1966. Our community stepped up with many donations of time and supplies to build the active parish we have today. Our church was founded on prayer, education, and helping others."
Today Queen of Peace shares a priest — Father Jim Wedig — with St. Aloysius Parish near Shandon.