Rally with Thanksgiving theme last-minute plea for immigration order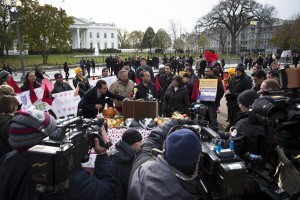 By Patricia Zapor Catholic News Service 
WASHINGTON — A table spread with the components of Thanksgiving dinner, with the White House as a backdrop, set the scene Nov. 19 for what would turn out to be a last-minute pitch to the president to protect some of the nation's 11 million immigrants who are in the country illegally.
Shortly before the White House said President Barack Obama would announce executive actions on immigration Nov. 20, advocates for immigration reform set a folding table in the middle of Pennsylvania Avenue and covered it with vegetables, fruit, bread and two frozen turkeys.
San Juana Marquez, who works in a poultry processing plant in North Carolina, stood at a podium surrounded by the bounty and described how her family would be disrupted if she should be deported to her home state of Guerrero, Mexico.
"You know about the violence there," she began. If she were forced to leave, she would leave her children behind — the youngest ones are U.S. citizens — and they would be sent to foster care. "It would be too dangerous to take them back to Guerrero, where children and the elderly are gunned down in gang violence."
She and other farm and poultry workers from around the country pleaded with Obama to "stop the deportations — let us work and let us keep our children safe."
The speakers, including U.S. Rep. Luis Gutierrez, D-Illinois, and Arturo Rodriguez, president of the United Farm Workers union, focused on the role of immigrants — those with documents and those without — in putting food on Americans' tables.
Rodriguez said the "protracted political debates and the partial solutions offered by House Republicans … ignore the inconvenient truth that America's food will continue to come to our tables through the toil and exploitation of undocumented farmworkers who do the work that no one else is doing."
With a holiday focusing on gratitude approaching, he said, "it's time to give thanks to our Thanksgiving workers by simply extending to them meaningful action that says, 'If you harvest our food, you're welcome at the table.'"
Another farm worker, Maria Martha Acevedo Cardenas, a pumpkin grower from Sunnyside, Washington, said farmworkers need immigration reform to help ensure their fair wages and fair treatment.
"I'm not asking for pity, but I am asking for what's fair," she said. She and other farmworkers "are unable to afford the same fruits and vegetables we picked. One day, I would like to be able to buy my own Thanksgiving turkey."