Record Class of 75 at Mount St. Mary's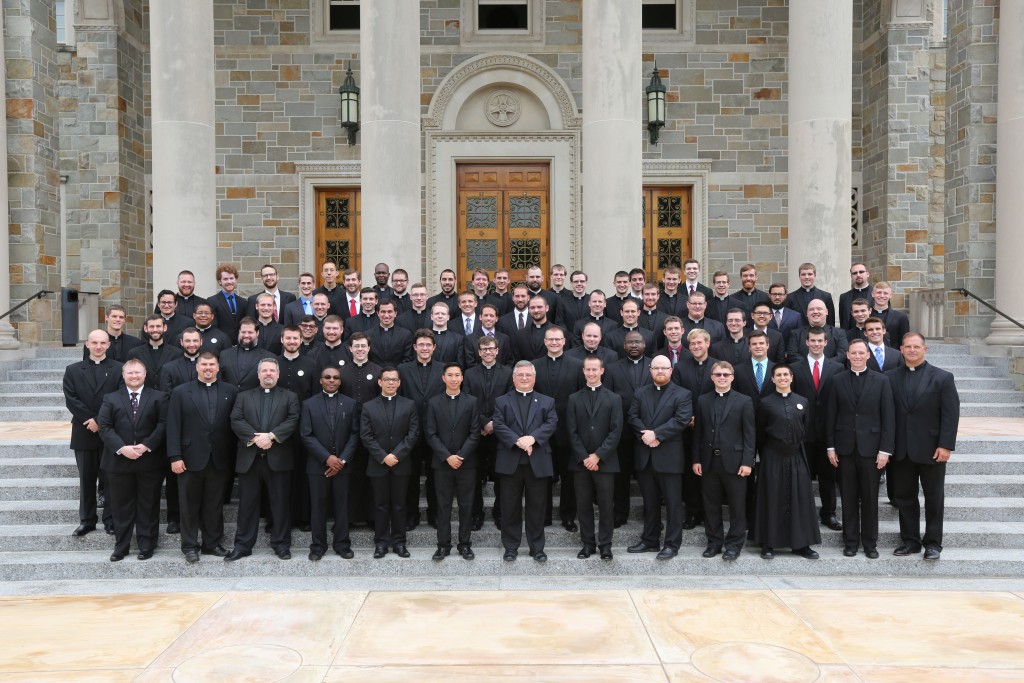 By Gail Deibler Finke
Mount St. Mary's Seminary of the West began the academic year with 75 seminarians, its largest class in 35 years.
Father Benedict O'Cinnsealaigh, the seminary's rector, said that while many of the men come from high schools or colleges, others come from a wide variety of professions. Some have worked as engineers and teachers; others have worked in business, technology, and music; and one seminarian has served several tours of duty in Afghanistan and Iraq.
While 60% hope to be priests for the Archdiocese, others are studying for the dioceses of Youngstown, Toledo, Tulsa, Louisville, and Kansas City; and several are studying for the Fathers of Mercy religious congregation. The seminarians come from Ohio, Kansas, Oklahoma, Kentucky, Mexico, Columbia, Uganda, and Kenya.
A seminary nearly bursting at the seams means more than just a full building. "We are looking forward to a busy year," Fr. O'Cinnsealaigh said. "With so many new faces and lots of energy, the seminary is a very active and vibrant place. As well as study and prayer, seminarians are involved in apostolic works around the city such as prison ministry, hospital ministry, soup kitchens, and pregnancy centers. They help in school programs, and get involved in activities with schools. They also participate in mission trips, and in a seminary exchange program with the seminary in Honduras, and volunteer around the region and around the world during the summer.
In addition to the seminary class, about 25 men will begin the Archdiocese's three-year program for permanent deacons, bringing the total of men preparing for ordination to 100.
"Without the goodwill and financial support of our people this whole project would be impossible," Fr. O'Cinnsealaigh said. "It is an indication of the generosity and great-heartedness of our people that we are able to do so much."
Supporters of the seminary, Fr. O'Cinnsealaigh said, can rest assured that the future of the Church in the Archdiocese is in good hands. "To answer God's call today, a time of negativity toward the Church and the priesthood, that's a profession of faith and that's a hard decision. I'm proud of them and I'm inspired by them," he said. "is an honor to have the opportunity to serve with these young men."