Rector's remarks at seminary groundbreaking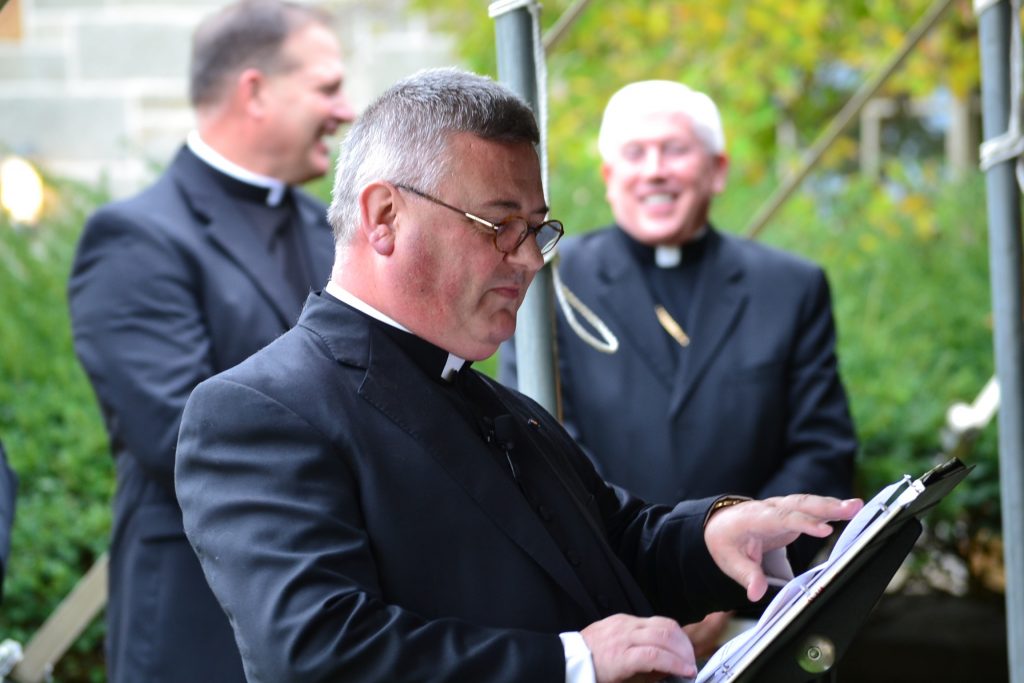 Father Benedict D. O'Cinnsealaigh, President and Rector of the Athenaeum of Ohio/Mount St. Mary's Seminary of the West, delivered the following remarks at the groundbreaking ceremony:
I want to thank His Grace Archbishop Schnurr, Bishop Thomas, Bishop Binzer, Father David Wilton CPM, Monsignors, Fathers, the Board of Trustees, our Vice-President Mr. Eagan, our Vice-Rector Father Brausch, our faculty, staff, seminarians and students, our benefactors and especially those who have given to this particular project, for being here today and for making this day possible.
This new building looks to the future and it is a sign that we take the Lord at His word and that the Lord is generous to those who believe in Him. We have 82 seminarians here at Mount St. Mary's today, from many dioceses and many parts of the world: 82 grace-filled, honorable, courageous men, answering a call and trusting in the Lord. Eighty-two seminarians is the biggest number at Mount St. Mary's of the West in over 30 years. But we all know that 82 seminarians aren't enough and we believe that more men are called and that more will answer that call.
This building is about the future, it's about vision, trust, courage and most of all faith. A priest in every parish, school, hospital, that's the vision and the goal. The proclamation of the gospel, the teaching of the faith, the celebration of the sacraments, the building up of the Kingdom, the vision and grace of Christ sown in every heart, that is the mission.
Settling, adequate, average, mediocrity  — these words are not in our vocabulary, nor in our nature, nor in our character, and so we are building with faith and hope and we are building with confidence. God said "ask and you will receive," and we believe that what God has promised God will do – so let's continue to ask the Lord of the Harvest to send laborers – let's put out even further into the deep, let's cast those nets.
For God's sake let's believe in ourselves, let's believe in our mission, our future and our God – and let's make things happen – let's make a difference – let's build a better future. Let's actually build the Kingdom we like to talk about.