Seek the Lord by Archbishop Dennis M. Schnurr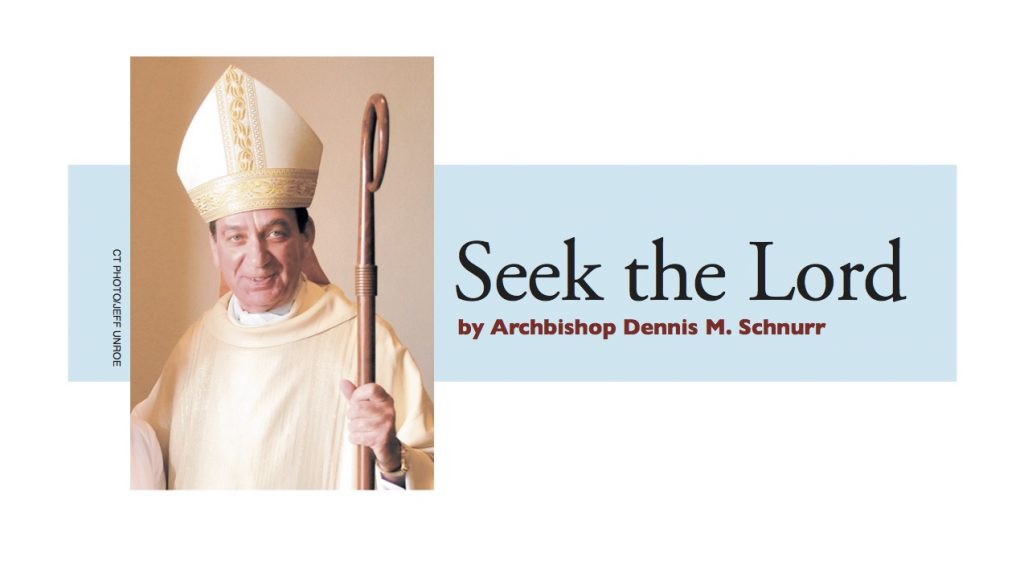 For many Catholics, 2018 will be remembered with pain and anger because of the new revelations that emerged about the sexual abuse of minors. There is reason to hope, however, that 2019 will be a watershed year in dealing with this evil around the world.
My brother bishops and I have expressed our sincere sorrow for the suffering of sexual abuse survivors and for the resulting shame that all Catholics feel; however, words are not enough. Leaders of the Church need to take concrete actions. That is the goal of a meeting Feb. 21-24 in Rome with Pope Francis and representatives of the world's bishops.
While we cannot know for certain what will result from this exceptional gathering, Cardinal Daniel N. DiNardo, president of the U.S. Conference of Catholic Bishops, will present several recommendations from American bishops. The recommended steps are designed to increase the accountability of bishops and, therefore, the safety of minors involved with our schools, parishes, and other ministries. They include:
A process for investigating complaints against bishops by a single national commission of lay people;
Standards of accountability for bishops;
Protocol for removed bishops;
Completion of the various investigations into the situation surrounding Archbishop Theodore E. McCarrick and publication of their results;
National guidelines for publishing the names of clerics facing substantiated claims of abuse. (The names and status of all Archdiocese of Cincinnati priests credibly accused of abusing minors have been listed on our website for more than a decade.)
Most of these recommendations involve dealing with bishops who either themselves offended against children or failed to appropriately deal with priests who did. It would seem that accountability standards for bishops should not be necessary,
but unfortunately we know from hard experience that they are.
Indeed, the current crisis is largely a bishop accountability crisis.
One of the gravest responsibilities a bishop has today is to protect children. The Archdiocese of Cincinnati has had policies and procedures, called the Decree on Child Protection, in place to do so since 1993. The decree stipulates that all employees and volunteers who work with children – including bishops, priests, and deacons – are subject to:
Fingerprinting and complete background checks;
Ongoing training on recognizing the signs of abuse of children and vulnerable adults;
Immediate reporting of abuse to the appropriate civil authorities;
A lay-dominated Child Protection Review Board, currently including an abuse survivor, which reviews and advises the Archbishop on all child abuse allegations;
An active Ministry to the Survivors of Abuse, working to bring hope and healing to those who have been hurt.
There are no active cases of clerical abuse of minors anywhere in the Archdiocese of Cincinnati as of this writing.
I pledge to remain vigilant in protecting children, young people, and vulnerable adults. I also ask for your help. Please report suspected abuse on the part of any agent of the Archdiocese to the appropriate civil authorities. Also, contact the Coordinator of Ministry to Survivors of Abuse in the Archdiocese at 513-263-6623 or 1-800-686-2724 ext. 6623. If you are a survivor and have never come forward, please do so. We have resources available to help you heal.
To learn more about our efforts to protect children, I urge you to click on the "Protecting Our Children" link at the upper right of http://www.catholiccincinnati.org.
Please join me in praying for the survivors of child abuse, for the good and holy priests whose reputations have been tarnished by the evil deeds of others, and for the success of this month's meeting in Rome under the guidance of the Holy Spirit.