Seek the Lord by Archbishop Dennis M. Schnurr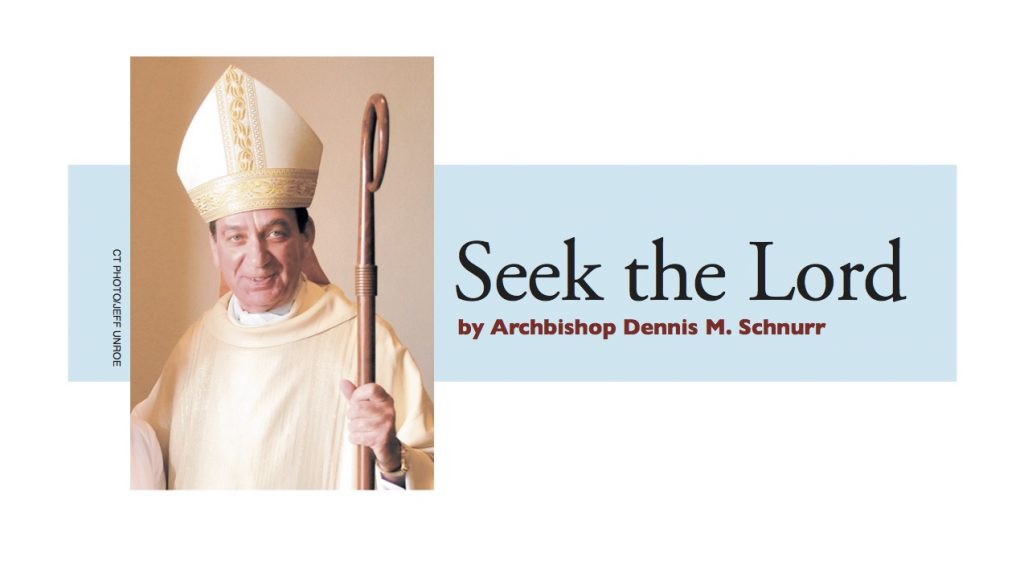 June marks the end of the school year and the beginning of the vacation season. This summer, I invite you to do something on vacation that may be new to you – go to church, and not for the liturgy alone.
It is, of course, an important precept of the Church that Catholics have a serious obligation to participate in the Holy Sacrifice of the Mass every Saturday afternoon or Sunday. Legitimate exceptions include illness, severe weather, physical incapacity, or a travel situation that makes access to Mass impossible. Vacation, of itself, is not an exception. Rather, it is an opportunity.
Worshiping away from home allows us to encounter our faith from a new perspective. Spend some time noticing the art and architecture and you will see that most Catholic churches reflect what we believe in beautiful and unique ways. They are designed to help us pray. For this reason – although Mass can be celebrated anywhere – the worship space matters.
We were all reminded of this recently by the tragic fire at Notre Dame Cathedral in Paris. The near loss of the Cathedral called attention to the soaring architecture, beautiful stained glass windows, statues, Stations of the Cross, and relics that make Notre Dame a blessing to the Church, to France, and to the world. We continue to ask Our Blessed Mother to guide those who contemplate the future of this iconic house of worship.
The Notre Dame fire is being investigated as an accident. Just a few weeks before, however, three small, historically black churches in Louisiana were burned down in an apparent hate crime. And on Easter Sunday in Sri Lanka, two weeks after the Notre Dame fire, terrorist bombings of three churches claimed more than 290 lives.
These tragedies remind us that participating in the Eucharist is not only an obligation for Catholics, but also both a privilege and right that come from God. The Eucharist is the source and summit of who we are as Catholics (CCC 1324). Destruction of a church and the murder of people at worship inside evoke in us a special horror.
In the United States, freedom of worship is taken for granted. However religious liberty involves much more than that. It is also the freedom to live out our faith in the public square as we serve the community in faithful citizenship. That is what the First Amendment to the U.S. Constitution protects in its very first words: "Congress shall make no law respecting an establishment of religion, or prohibiting the free exercise thereof."
Today, however, Catholic hospitals, schools, and charitable services (such as adoption and foster care) are under attack for upholding Catholic teaching about marriage and sexuality. New federal legislation introduced in the House of Representatives, deceptively called the "Equality Act," would force such institutions to choose between operating according to our faith and shutting down. This is the latest in a series of threats to religious freedom over the past decade.
The Catholic Church in the United States will highlight these challenges later this month with its annual observance of Religious Freedom Week. The week begins with the Feasts of St. Thomas More and St. John Fisher on June 22 and ends with the Feast of Sts. Peter and Paul on June 29. All those saints were martyred for living their faith – the faith we share as Catholics.
This summer, please practice your faith and explore its riches in the churches you visit. Learn more about Religious Freedom Week at the U.S. Conference of Catholic Bishops website (www.usccb.org/issues-and-action/religious-liberty). And please pray the Prayer for the Protection of Religious Liberty that you will find below.
Have a safe, rejuvenating, and blessed vacation season!
Prayer for the Protection of Religious Liberty
O God our Creator,
from your provident hand we have received
our right to life, liberty, and the pursuit of happiness.
You have called us as your people and given us
the right and the duty to worship you, the only true God, and your Son, Jesus Christ.
Through the power and working of your Holy Spirit,
you call us to live out our faith in the midst of the world, bringing the light and the saving truth of the Gospel
to every corner of society.
We ask you to bless us
in our vigilance for the gift of religious liberty.
Give us the strength of mind and heart
to readily defend our freedoms when they are threatened; give us courage in making our voices heard
on behalf of the rights of your Church
and the freedom of conscience of all people of faith. Grant, we pray, O heavenly Father,
a clear and united voice to all your sons and daughters gathered in your Church
in this decisive hour in the history of our nation,
so that, with every trial withstood
and every danger overcome—
for the sake of our children, our grandchildren,
and all who come after us—
this great land will always be "one nation, under God, indivisible, with liberty and justice for all."
We ask this through Christ our Lord.
Amen.