Service, faith, academics, activities: Meet Purcell Marian Graduate Jordan Wright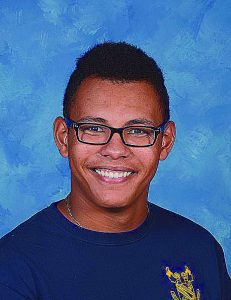 Among the life lessons Jordan Wright's parents, Michelle and Lavel, passed on to him is "always leave a place better than you found it."
Wright took that to heart during his four years at Purcell Marian, supporting his school and his classmates in a variety of ways. He attended Nativity of Lord in Pleasant Ridge for grade school, and when the time came to choose a high school, Purcell Marian was the natural choice.
"My older brother, Allen, went there four years before I did. It just made sense to stick with what I knew," Wright explained. "I decided coming in that I wanted to be active in the school and really make a difference."
What stands out for Wright amid his extensive list of high school activities is serving as a student ambassador and Kairos retreat leader. "Being a student ambassador enabled me to part of open houses, leaderships conferences and big events to show off Purcell Marian and really helped me make a mark on our school," he said. "As a Kairos leader, I felt I was able to help break down social barriers and really help students get to know each other on an in depth, personal level as we listened to each other and shared our stories and our faith."
"Jordan has embraced community service and leadership in a very standout way," said Tammy Reasoner, marketing communications manager at Purcell Marian.
"With it being a smaller school, everyone gets to know each other," Wright said. "We laugh together and grow up together. I was at Purcell Marian for my education, but there was so much else to be excited about, too — the life around me, the spirit of the school, the opportunity to connect with people."
Through the advanced classes Wright has taken, he has already earned nine college credits at the University of Cincinnati and was awarded a full scholarship there. He plans to major in psychology, pursue a master's degree in counseling, and hopes to one day open a clinic that specializes in teen therapy.
The role of caretaker comes naturally for Wright, who has helped care for his disabled father since the age of eight. He was also drawn to caring for his fellow Purcell Marian students. "I've had classmates who had issues with anxiety, depression and self-harming. It was hard seeing that," Wright said. "I took care of them casually at school, but I want to be able to do more for teens who are struggling. That's my passion."