Sister of Charity of Cincinnati Mary Alberta Bodde dies at age 96
DELHI TOWNSHIP, OHIO – Jan. 3, 2020 – Sister of Charity of Cincinnati Mary Alberta Bodde died Dec. 21, 2019 at the age of 96 in Mother Margaret Hall, the nursing facility of the Sisters of Charity. Sister Mary Alberta was born Charlotte Adelaide Bodde on May 9, 1923 to Albert F. and Ethelynn (Ohlert) Bodde in Goodells, Michigan. She was raised on a poultry farm, the oldest of five children. She was a Sister of Charity for 74 years. Sister Mary was named for her aunt, Sister of Charity Marie Adelaide Bodde with whom she developed a close relationship.
Sister Mary grew up in the Detroit, Michigan area. She attended Our Lady of Mt. Carmel School in Emmett, Michigan, and after the family moved to Marine City she went to Holy Cross and graduated from Holy Cross High School in 1941. After high school she received a scholarship to the College of Mount St. Joseph. She attended on a wartime accelerated program, graduating in three years. This allowed Sister Mary to get a teaching job in a one-room school near her home. She then entered the Sisters of Charity on Oct. 2, 1945. She felt she was born with a religious vocation and it was the inspiring SC faculty at the Mount which sealed her original intention. "I rated their 'humanness' as their most attractive quality; they were always interested in all the dimensions of the lives of their students," Sister Mary stated in her autobiography.
Sister Mary earned a Bachelor of Arts degree in Latin from the College of Mount St. Joseph in 1944 and a Master of Arts degree in English from the University of Notre Dame, South Bend, Indiana, in 1959. She did additional work at Oxford University, Oxford, England, in the Linacre Graduate College.
Sister Mary's ministries span more than 65 years in education (secondary and college), pastoral ministry, campus ministry and Congregational leadership. Beginning in 1947 she taught journalism and English at St. Mary, Jackson, Michigan. In 1953 she came to St. Mary, Marion, Ohio, and then served as SC formation director for one year (1954-'55). She taught at Bishop Fenwick, Middletown, Ohio (1958-'63) before going to Oxford, England as a full-time student. In 1965 she returned to the classroom as English teacher at Shrine High, Royal Oak, Michigan (1965-'66) before coming to the College of Mount St. Joseph as English professor (1966-'73). She was then asked by her Sisters to become provincial of the Detroit Province where she remained until 1979. Following a semester sabbatical at St. John's Seminary, Plymouth, Michigan, she was hired there as director of programming and promotion. Sister Mary developed summer courses for priests to earn their M. Div. degrees, opening the classes to the laity as well; she also offered spiritual direction to the priests of the area. After five years she looked to campus ministry at Oakland University from St. John Fisher parish, Auburn Hills, Michigan. She would say that this experience offered her the greatest satisfaction, especially in exposing college students to different cultural and economic situations in the annual service retreats in eastern Kentucky. After 14 years she retired from this ministry, but remained in the Greater Detroit area, serving as a reporter for the SC Communications Office as well as editing publications for her parish and enjoying golf, writing, reading and spending time with friends.
In her retirement years she remained ever active. Sister Mary moved to the Motherhouse in 2005 with renewed energy and found a 'best fit' in the SC Communications Office, serving as a resident volunteer until 2015. She wrote articles for Intercom, offered her wisdom and insights, always with her ear out for possible story ideas to pursue. Her work was always done with care, research and thought.
Sister of Charity friend Noreen Ellison recalled, "Mary was a gracious, prayerful and intelligent woman who exemplified the virtues of simplicity, humility and charity. I was privileged to live and work closely with Mary for six special years when we served as a provincial team. Mary, may you now experience the perfect peace and joy of the ultimate reunion of heaven's love!"
Sister Mary Alberta Bodde is survived by one brother, R. Frank Bodde, as well as nieces and nephews. She was preceded in death by her sister, Agnes Griffor, and brothers Rev. Fredrick and John Bodde.
Sisters and friends will greet visitors in the Heritage Room of the Sisters of Charity from 2-3 p.m. on Friday, Jan. 10, 2020. Mass of Christian Burial will follow at 3 p.m. in the Motherhouse chapel. The Mass will also be live-streamed for those unable to attend in person. Sister Mary has chosen to donate her body to science so her burial will occur at a later date.
Memorials can be made in Sister Mary Alberta Bodde's name to the Sisters of Charity of Cincinnati Retirement Fund, 5900 Delhi Rd., Mount St. Joseph, Ohio 45051.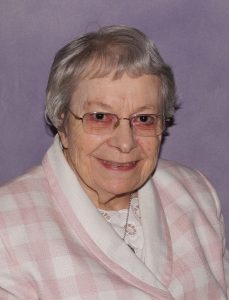 ---
The Sisters of Charity of Cincinnati, whose Motherhouse is located in Delhi Township, a western suburb of Cincinnati, is an apostolic Catholic women's religious community that exists to carry out the Gospel of Jesus Christ through service and prayer in the world. Sisters, using their professional talents as ministers of education, health care, pastoral and social services, as well as caring for all creation, currently live and minister in 17 U.S. states, in Guatemala, Mexico and the West Indies. They also sponsor institutions to address education, health care and social service needs, with particular concern for direct service to the poor.
The Sisters of Charity of Cincinnati are joined in mission by 208 Associates.
Visit the Sisters of Charity Web site at www.srcharitycinti.org