Sisters help circus community find faith center ring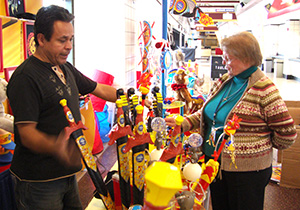 By Patricia McGeever
For The Catholic Telegraph 
When the Ringling Brothers and Barnum and Bailey circus pulls into town as it did in March, 120 performers, 40 crew members, 60 souvenir and concessions salespeople, 93 animals and two nuns come with it. More precisely, two Missionary Sisters of the Sacred Heart.
Sisters Dorothy Fabritze and Bernard Overkamp have been traveling with and ministering to the circus community for about 14 years. The two women travel from city to city in an extended cab, four-wheel drive Chevy Silverado that pulls a 30-foot camping trailer that they call home. They average about 25,000 miles a year and have traveled cross country about 10 times.
"The main purpose we have the trailer is that we want to live with and among the circus people," explains Sister Dorothy. "We want to be the living, breathing presence of the heart of God, which for us is love."
The Sisters have traveled with different circuses and over the years and held various jobs as circus employees. Among Sister Dorothy's duties were helping to erect the circus tent, pulling the show curtain during performances, working on the props crew and taking tickets. Sister Bernard cooked for everyone, also took tickets, worked in wardrobe fixing shoes and jewelry and helped with the load in and load out of all the equipment. All this was in addition to their ministry work.
The Sisters work among the employees teaching religion, tutoring other classes when asked, and just being friendly faces on the tour and someone in whom employees can confide. Right now, Sister Dorothy, 65, is preparing three little girls for their first reconciliation and first Communion. There are six other children taking other religious classes. Sister Bernard, 69, makes the rounds among the concessions workers regardless of their religious affiliation, checking in on them, asking about their families and reassuring them that if they need someone to talk to, she's there.
"I just go in and ask them how they are doing, how business was. And usually out of that starts a conversation," Sister Bernard said of her ministry.
How these two religious women ended up with "The Greatest Show on Earth" starts with each of them spending time doing missionary work in one of the poorest places on earth. Sister Dorothy and Sister Bernard spent 16 and 25 years respectively in Papua New Guinea. When each was called back to the United States they went to different convents. Sister Dorothy was assigned as development director, raising money for her congregation. The job didn't suit her and she asked permission to look for something else. After a long search she confided in her provincial superior that she'd found her calling with the circus.
The circus ministry operates out of a Cultural Diversity Office under the U.S. Conference of Catholic Bishops. They have a Boston-based chaplain, Father Jerry Hogan. The provincial superior gave her blessing and Sister Dorothy set out to find someone to work with her.
Her first few attempts at convincing Sister Bernard to sign on didn't work. Sister Bernard didn't like all the noise.
"After the show she says, 'do you think you could do this work with me?'" Sister Bernard recalled Sister Dorothy asking her.
"I said, 'I don't think so.'"
But Sister Dorothy didn't give up. A few months later, she called again to invite her to a show in Hershey, Pa.
"She said, 'I called up there and Father Hogan agreed to have a clown show us around," Sister Bernard said of her conversation with Sister Dorothy.
After this visit, Sister Bernard began to feel more comfortable.
"Once you see the people, work with them, you fall in love with them," she said.
She committed to one year, and 14 years later she's very much at home with the circus.
"We have special Vatican (permission) to have the Eucharist on the road," said Sister Dorothy. "That permission includes being able to have Communion services with the circus people when asked. We get to Mass every Sunday faithfully, unless we're having Mass in the building."
The Sisters no longer hold down circus jobs for income. They survive on grant money and donations. They've formed SPEC, Show People's Evangelization of Catechists, an organization to develop lay leaders among the circus population. Last year they trained eight new catechists.
On April 1, there will be 10 baptisms, three first communions and one person entering the Catholic Church, all taking place in Center Ring. Proof that faith can take root among God's people on the move.