Social media growth continues for The Catholic Telegraph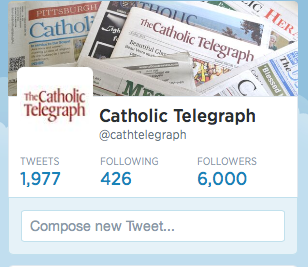 Staff Report
Heeding the call to a New Evangelization, The Catholic Telegraph has been active on social media sites Facebook and Twitter for several years. On July 23, 2014 the newspaper's official Twitter feed, @cathtelegraph, picked up its 6,000th follower.
The official news source of the Archdiocese of Cincinnati, The Catholic Telegraph, joined Twitter in March of 2009. The first tweet was simple; "First Tweet … hello everybody."
Since then, The Catholic Telegraph has used Twitter to keep readers abreast of breaking news like the resignation of Pope Benedict XVI and the election of Pope Francis, as well as to share links to local stories posted at www.thecatholictelegraph.com.
Hitting the 6,000 follower milestone garnered recognition from other Catholic publications that use Twitter.

Dating back to Jan. 4, 2013, @cathtelegraph has picked up an average of five new followers per day. In March of 2013, @cathtelegraph sent out its 1,000th tweet. At last count, @cathtelegraph had 6,001 followers while The Catholic Telegraph's Facebook page had 895 "likes."
The Catholic Telegraph joined Twitter days before the launch of www.thecatholictelegraph.com. In the five years since, the website has become one of the most visited Catholic news sites in the area.
Follow us on Twitter here
Like us on Facebook here
 Posted July 23, 2014