Special Fatima Events this Weekend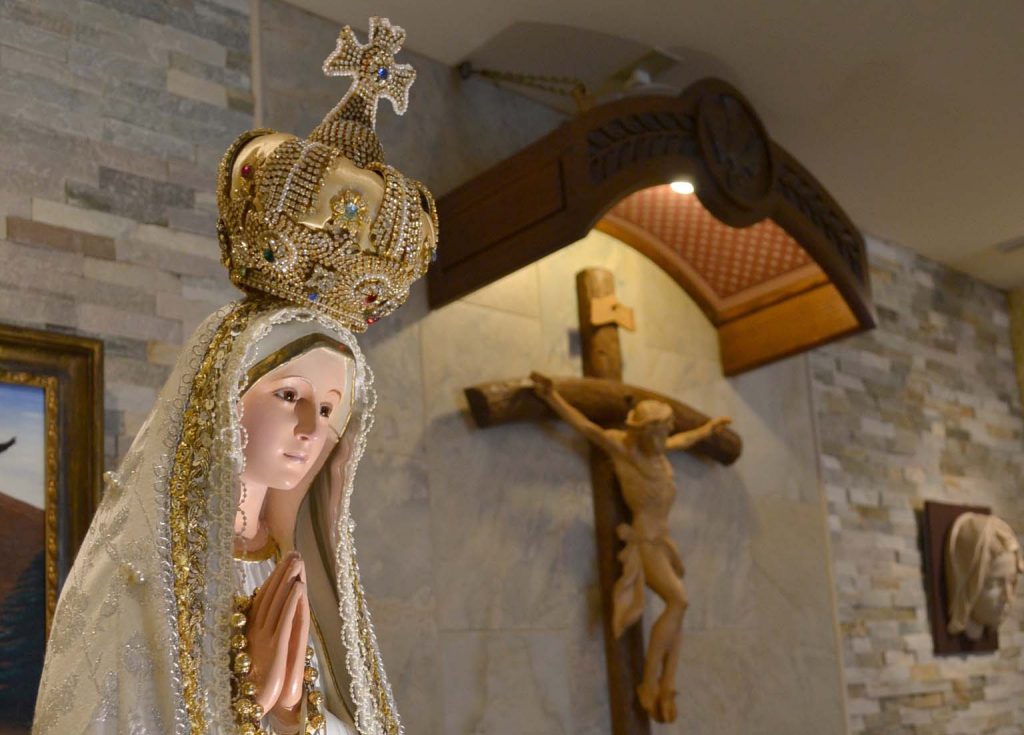 A variety of events for the final day of the Fatima Centennial are scheduled around the archdiocese on Friday (the 100th anniversary of the final apparition) and Saturday. Here are those we know about:
FRIDAY:
8 a.m.: Worldwide Eucharistic Children's Holy Hour
Parishes and schools around the world will participate in the 15th annual Worldwide Children's Eucharistic Holy Hour. More information can be found at childrenoftheeucharist.org/.
4 p.m.: Fatima Retreat with Imaculee Ilibagiza in Beavercreek Begins
Oct. 13 and 14. Immaculee Ilibagiza, Rwanda genocide survivor and motivational speaker, will return to St. Luke Parish in Beaver Creek for a retreat commemorating the centennial of Fatima and the Miracle of the Sun. To register visit immaculee.com (click on the upcoming retreat tab and look for the Dayton retreat).
St. Luke Parish is at 1440 N Fairfield Ave., Beavercreek 45432
5:30 p.m.:  Fatima Centennial celebration at Our Lady of the Holy Spirit Center (Norwood)

Film The 13th Day will show at Father Smith Hall beginning at 5:30; at 7 p.m. a new Our Lady of Fatima statue given to the Center by Fr. DiGiorgio will be dedicated on the front lawn, followed by the rosary and an outdoor procession with the statue  to song (bring a handkerchief to wave). Mass at 8 p.m. followed by refreshments at 8:45 and the viewing of a clip of the Miracle of the Sun from the film shown earlier.
6:30 p.m. Fatima English/Spanish Mass and Procession at St. Mary's (Dayton)
Bi-lingual Mass for the Fatima Centennial will begin at 6:30 with an outdoor procession around the church. All welcome.
St. Mary Parish is at 310 Allen St., Dayton 45410
7 p.m.: Fatima Celebration and Concert at St. Andrew the Apostle (Milford)
An evening of music in honor of the Blessed Mother will feature the choir of the Basilica of the National Shrine of Mary, Queen of the Universe, from Orlando, FL., with four regional choirs: Pastoral Region St. Andrew the Apostle's choir, and the choirs of St. Elizabeth Ann Seton, St. Columban, and St. Veronica; no fee.
St. Andrew Parish is at 552 Main St., Milford 45150
7 p.m.: Fatima Celebration at Queen of Peace (Hamilton)
The parish's final celebration for the Fatima jubilee year will include Mass, outdoor rosary, Marian consecration, and Brown Scapular enrollment. Refreshments will follow. All welcome.
Queen of Peace Parish is at 2550 Millville Ave., Hamilton 45013
7 p.m.: Fatima Centennial Celebration at St. Peter in Chains Cathedral
Archbishop Dennis M. Schnurr will preside at this service, which will include an indoor procession with a statue of Our Lady of Fatima, Marian music sung by the Archdiocesan Adult Choir under the direction of Anthony DiCello, the Rosary in numerous languages, and more. Area pilgrims who returned last week from a retreat to Fatima and Lourdes will attend.
St. Peter in Chains Cathedral, 325 W 8th St., Cincinnati 45202
SATURDAY:
11 a.m.: Our Lady of Fatima Shrine Centennial Celebration (Russels Point)
Celebrate the Centennial of Our Lady of Fatima's appearances in Portugal at Her shrine at Indian Lake in Russel's Point — once the largest statue of Mary in the world. Begins at 11 a.m. with a Eucharistic procession from St. Mary of the Woods.
St. Mary of the Woods Parish is at 464 Madison Rd., Russells Point 43348
Noon: Rosary Rally at Our Lady of Lourdes
Gather at the circular driveway outside of OLL School (Glenway at Muddy Creek) to pray for greater devotion to Our Lady and her rosary, for the end of abortion, for the sanctity of marriage, for families, and for peace within our country and around the world. Chairs will be provided.
Our Lady of Lourdes Parish is at 5835 Glenway Ave., Cincinnati 45238
*** To find directions, simply click on the name of the Parish or
Map:
Find these and many more Catholic events at our website, TheCatholicTelegraph.com, under the "events" tab. Is your event missing? Send it to [email protected].