A Splinter of Faith: New Bremen's Paul Dwenger Inspires Others Through Humble Actions
by Susie Bergman
Many of us fret over our faults and failures. Our imperfections discourage us and our defeats often break our spirits and cause us to give up hope. But when we look at them in a certain way, we can see the experiences that have been imperfect or undesirable, actually contain elements of hope and encouragement hidden within them. Some even reveal physical reminders of how imperfectly perfect we are.
Paul Dwenger of New Bremen is a humble, soft-spoken man who is always looking for ways to help others. For more than 50 years, he has been an active member of Our Lady of Guadalupe parish in Montezuma as an usher, CCD teacher and Eucharistic Minister, and he even earned the nickname "Mr. Mission" for his active work on a well project for their twinning parish in Guatemala. Now that he is retired, he dutifully cares for the building and grounds of his beloved parish.
About a year ago, there was a dead ash tree on the parish grounds that needed to be removed. Dwenger recalled, "At the time, in Coldwater, they were making statues and things out of trees at the park and it kind of inspired me. I thought maybe I could make something of this dead tree instead of just cutting it down."
Dwenger admitted he had never carved anything out of wood before, yet he went forward with the project, knowing it would be less than perfect. He cut the dead wood into the shape of a cross.
"I decided to just go for it. And when it was complete, I really didn't think I did a good job. But Father heard the chainsaw running, so he came out and told me it was wonderful. That was really nice to hear, but I still didn't know what the other parishioners and community members would say of it."
Several days later, Dwenger noticed something under his fingernail. It appeared to be two small splinters in the shape of a cross. "I remember thinking to myself, at that very moment, this was a sign that God must think I did a good job with the cross and that's all that mattered."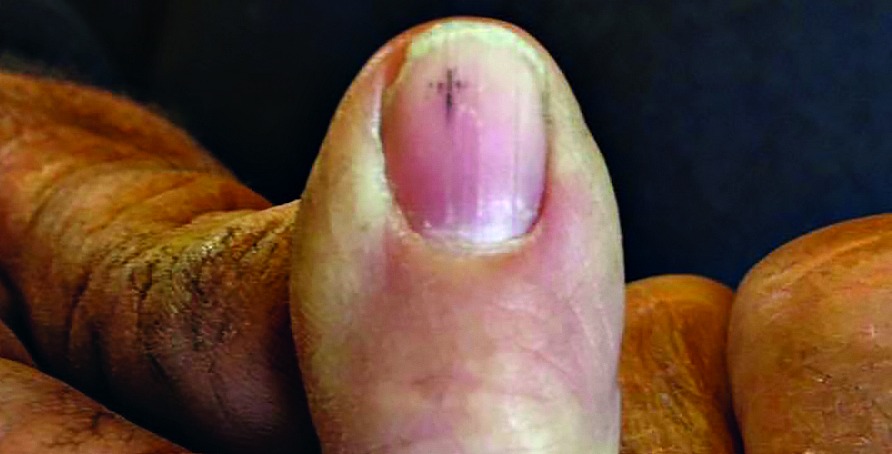 That same day, one of Dwenger's grandchildren, Jordan, stopped by for a visit. She was going through a tough time and knew she could rely on the comforting words of her grandparents to help her get through what was troubling her. Dwenger recalled telling her that sometimes things happen that we cannot explain and we must remain faithful. He then showed her the small cross under his fingernail.
Jordan was so moved by the experience that she took her grandfather's story to social media and wrote, "Miracles are everywhere. And I could not have gotten a bigger sign than if I were to stick my fingers in the palms and side of Jesus Himself. I am so fortunate to live in a community, and especially my family, that teaches and proves this to me daily. I try to thank God for everyone in my life who makes it as wonderful as it is. For my grandpa who embraces the faith so willingly and shows everyone around him how to truly live in the likeness of Jesus."
Life is imperfect, full of splinters and flaws. We often strive too much for perfection and fail to see the beauty in our human limitations, defects and defeats. A splinter is a fragment of a larger parent body that penetrates or is purposely injected into another body. In this case, it's a physical reminder of a God who loves and appreciates the raw imperfections of His creation.
This article appeared in the September edition of The Catholic Telegraph Magazine. For your complimentary subscription, click here.