Sports Report: Roger Bacon underwater hockey teams make waves at nationals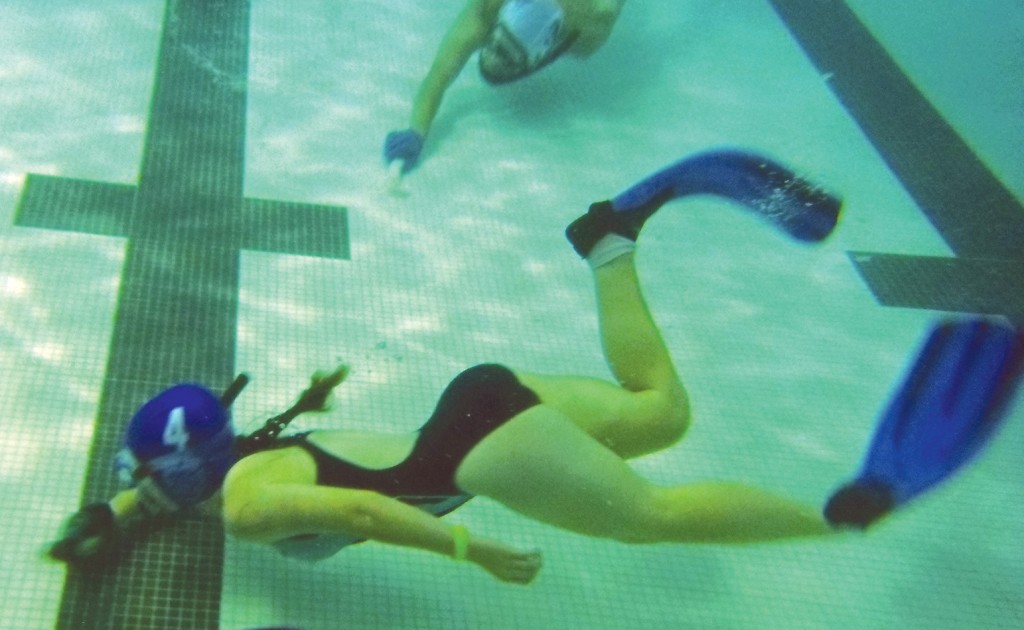 Staff Report
Roger Bacon High School maintains the only high school underwater hockey program in the country, and the Spartans sent a varsity and junior varsity squad to compete in the USA Underwater Hockey 2013 U.S. National Championships in Milwaukee, Wisconsin.
According to its official rules, "underwater hockey is a sport played on the bottom of a swimming pool by two teams of six players, each wearing basic snorkeling equipment, i.e. fins, mask, and snorkel. The object of the match is to use an approved stick to push or pass an approved puck along the bottom of the pool, into the opposing team's goal."
The Roger Bacon varsity went 3-9, placing fourth in the C division. The JV team went 0-11, placing fifth.
The final standings of the "C" Division were:
1.  George Mason University
2.  Michigan State University
3.  Pittsburgh
4.  Roger Bacon Varsity
5.  Roger Bacon Junior Varsity
In addition to the Roger Bacon teams, Team Cincinnati, comprised of Roger Bacon alumni, also competed and went 4-7 to finish sixth in the A division.
The final standings of the "A" Division were:
1.  Washington DC
2.  Los Angeles
3.  San Francisco
4.  University of Florida
5.  Massachusetts
6.  Team Cincinnati
7.  Seattle
8.  Colorado
Catholic schools in flux with addition of Division VII
The addition of a seventh football division by the OHSAA this season meant changes for several Catholic schools in the archdiocese.
Among the Division I schools from last season that remained in Division I are Elder, Moeller and St. Xavier. The only other school remaining was Carroll, which remained in Division III.
La Salle dropped from Division I to Division II.
McNichoals dropped from Division III to IV, as did Alter and Fenwick.
Roger Bacon, Chaminade Julienne and Badin dropped from Division IV to V.
Purcell Marian went from Division V to Division VI along with Summit Country Day.
Last but not least, Lehman Catholic and Springfield Catholic Central went from Division VI to VII.
Hickey named new soccer coach at Badin
Eric Hickey, a 1987 graduate of Badin, has been named the school's new boy's soccer coach for the 2013 season.
Hickey has had major success in recent years turning prep programs around, including a five-year stint with the Talawanda girls and four years with the Edgewood girls. He is the all-time winningest coach in THS girls history, with 46 wins, including a league championship.
"We're very pleased that Eric has taken the helm of our boys soccer program,'' said Badin Athletic Director Geoff Melzer. "He really knows soccer and has a track record of success. We're excited to have him back at Badin."
"The thing you hear about Badin boys soccer is that you can't win,'' said Hickey, who served as a reserve coach at Badin for one season while working on his degree in communications at Miami University in the early 1990s. "I'm more than happy to put that challenge to the test."