SportsLeader releases video of HS football Rosary Rally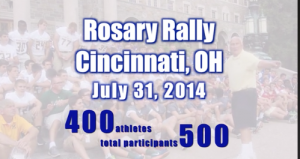 Staff Report
Back on July 31 nearly 500 students, athletes and coaches gathered to adore the the Lord in the Eucharist and to pray the rosary prior to the start of the high school football practice season.
To read the original story, click HERE.
SportsLeader, the organization responsible for organizing the event has released a video with footage from the event, as well as still photos. The video contains parts of remarks by former University of Notre Dame head football coach Gerry Faust as well as by Father Anthony Brausch.
Below video courtesy of SportsLeader.
The professionally-edited video was put together by Sasha Parker-Cochran with footage by Chris Willertz and still photos by John Stegeman of The Catholic Telegraph. For more information about SportsLeader or to view the video on their website, click HERE.
Posted Sept. 10, 2014