St. Ignatius parishioner knows who 'holds her future'
June 7, 2012
By Patricia McGeever
Even before she was born, divine mercy played a role Elizabeth Riesser's life.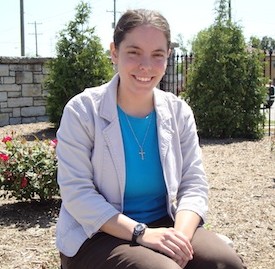 Riesser, 25, is set to return to St. Louis and to the Carmelite Sisters of the Divine Heart of Jesus in June. She re-enters the convent after a year break during which she served as the youth minister at St. Ignatius Parish in Monfort Heights.
"I've been discerning since I was 17," said Riesser, who attended St. James the Greater School in White Oak and Mother of Mercy High School. "Through retreats I'd met some Sisters. A retreat called Youth 2000 was a very, very eye-opening experience for me. They were so normal, they laughed and they were playing games with us. And it was like, wow, this is a real option."
That retreat would be a defining moment in the teenager's life. When it concluded, Riesser said, "I just felt this intense desire to give my life to God."
She wanted to enter the convent immediately, but her parents encouraged her to go to college first. Now, she admitted, "I'm glad I listened to their wisdom." On scholarship at Thomas More College, she graduated with a bachelor's degree in theology and an associate's degree in Spanish. She dated and had boyfriends, but in the back of her mind felt a tug.
As she continued to make retreats, study and read more about her Catholic faith, Riesser said she grew to have a great love of St. Therese of Lisieux. The Little Flower, as she is known, entered a Carmelite order at age 15 and Riesser felt a kind of kinship with her.
"In my mind I wanted to be a Carmelite like St. Therese. I knew I didn't feel a total call to be cloistered and most Carmelites are."
Like any college student doing research, Riesser Googled "Carmelites" to see if there was an option where she wouldn't have to live a cloistered life. Her order was the first to pop up. She contacted the vocations director through the website and started a correspondence.
She visited St. Louis, where her province is based, and went on retreats there. Still, she hesitated. The girl who was so ready to enter the convent at age 17, now had a bit of an internal conflict. She was a college student, dating boys, enjoying life and says it was scary to think about making such a dramatic change.
Some powerful words from a boy she had recently started dating made her realize she had to make a decision.
"He looked me in the eye and said, 'Before you date anybody else you need to figure out your vocation because I see you at Mass, I see you at retreats and I see this total love for God and you have to discern that.'  I was holding my ears saying stop it, stop it. I don't want to be a Sister. I can't do this, I'm not good enough. Then, he took my hands off my ears and put them in my lap and he said, 'Elizabeth, the King of the Universe is on His knee asking you to be His bride and you're telling him no.' And, it was at that moment that I knew I had to regain that focus, that call, that sense of direction that I had in wanting to give my life to Him."
Shortly after that conversation, Riesser became a candidate. After graduation, she became a postulant. She began her two-year novitiate in July of 2010. In March of last year she hit pause and returned home for a year where she worked with St. I's school students.
There, she'd often see her former spiritual advisor, Father Donald McCarthy, in the halls.
"I've known Elizabeth since she was a freshman in high school and followed her spiritual growth and I'm wonderfully pleased how the Spirit is guiding her in her vocation," said Father McCarthy.
St. I's Principal Tim Reilly said she's the perfect person to work with students. "She's something else," he says of Riesser. "She's such a real person and her faith is real and it's totally intertwined. When she's talking to a student she never sounds scripted."
As the parish coordinator for religious education, Kris Schoettmer oversaw Riesser's position.
"She came here in a unique way and she's blossomed. She's very faith-filled, full of enthusiasm and energy. She will remain in our prayers. We trust we will remain in hers," said Schoettmer.
So, in June, Riesser will once again become Sister Mary Elizabeth, a first-year novice on the path to professing vows as a Carmelite Sister of the Divine Heart of Jesus. She'll head back to St. Louis where she'll spend the next year, the first of a two-year novitiate, cloistered. When that period is over, she'll take her first vows and become a junior professed Sister. She'll repeat those vows for five years before taking her final vows.
She is excited about going back, though she'll miss her family and St. Ignatius. "I don't know what my future holds but I know who holds my future. And, whatever He wills, I'm happy with His will."