St. Joseph Pilgrimage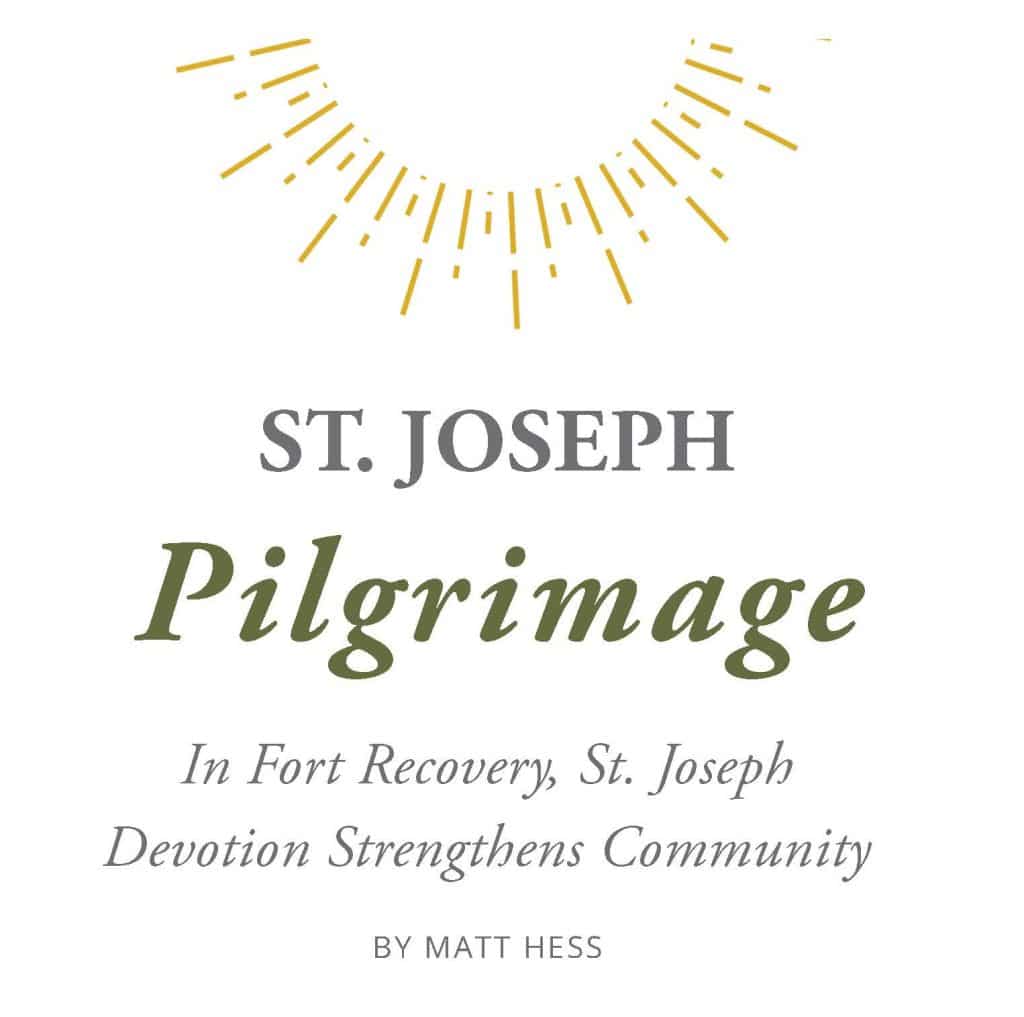 St. Joseph Church, outside Fort Recovery, has witnessed growth and change since its founding in 1839. Through it all the parish held their patron saint in high esteem and rallied around his strong example of faith, continuing the church's care to this day, including its century-old ceiling mural honoring St. Joseph and its beautiful antique stained- glass windows depicting events in Christ's early life with His foster-father.
Moved to prayerful action in response to 2020's pandemic, St. Joseph Church's restless parishioners sought to do something. They landed on the idea of a procession and a new tradition was born – and it continues to grow. It all began when Carl Koesters spoke with Father Ned Brown, pastor of the Fort Recovery Parish Cluster, about a time when J&M Manufacturing, a major area employer, was in a slump. A few employees responded by walking the premises and praying for help, inspired by the Battle of Jericho in the Book of Joshua (6:1-27). The Israelites processed around Jericho for seven days, then the walls of the city fell down.
Gary Steinbrunner, parish manager at St. Joseph for 27 years, sprang into action to coordinate people and spread the word. Fort Recovery Radio offered to bring their equipment so people could easily tune in to hear the prayers and songs from their cars. For people nervous about the future, given the unknowns about COVID-19, this was a call to trust in our Lord's protector, St. Joseph.
Joined by Father Alexander Witt, then parochial vicar at the Coldwater Parish Cluster, Father Brown processed around the church with the Blessed Sacrament seven times, while then-parochial vicar Father Christian Cone-Lombarte prayed the Rosary over the radio. At the service's end, Father Brown blessed the bells he had asked parishioners to bring, stating that bells are an important sacramental because "when you ring a bell it drives the demons away," and St. Joseph is the Terror of Demons.
Including people from surrounding parishes, over 200 cars parked around St. Joseph Church. Reflecting on that first pilgrimage, Father Brown said, "I think it helped a lot of people during a pretty dreary time, we were all united."
The procession at St. Joseph Church strengthened the community's faith during a time of uncertainty, and the event was repeated in 2021, though with changes as restrictions lifted.
This year the church plans to mark the Feast of St. Joseph the Worker, May 1, with a pilgrimage expanded both in distance and community engagement. It will begin at St. Peter Church in Fort Recovery at 3 p.m. before processing to St. Joseph Church. Once there, Father Mike Kapolka, parochial vicar of the Fort Recovery Parish Cluster, will lead Sunday Vespers. This will grow a tradition that the parish hopes to continue in their Family of Parishes for years to come.
While the format evolved, the goal for this year's pilgrimage remains the same. Father Brown believes this procession will "unite people in prayer and keep them strong in their faith," enabling them to persevere in our Lord, no matter the challenges to come. St. Joseph Church has seen many changes over its 183 years, but it continues to unite as a community around its patron saint as a witness to the mighty power of God.
This article appeared in the May 2022 edition of The Catholic Telegraph Magazine. For your complimentary subscription, click here.