St. Joseph School a steadfast presence in Cincinnati's West End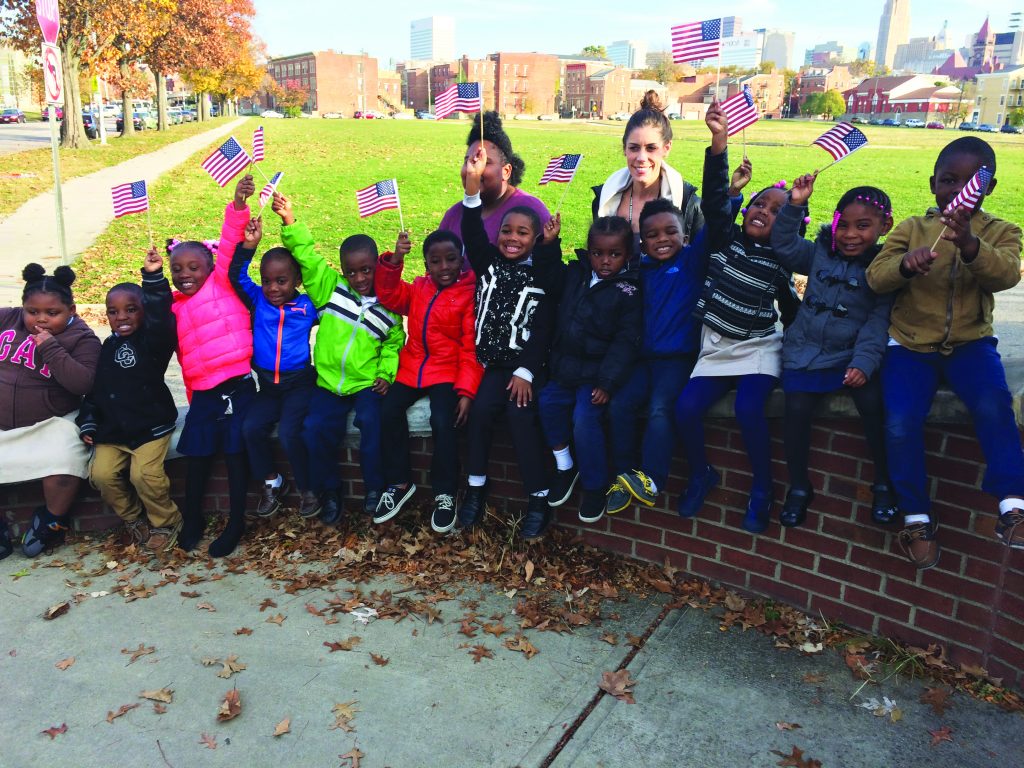 Years ago, a little girl named Rosa, only in the first grade at the time, was hit by a car in a local neighborhood and left seriously injured. Her family, joined by their parish priest, gathered at her bedside. The sisters who taught at her school joined in prayer for her.
"When it happened, we didn't think she would recover," her mother, Gwen Dukes, recalls. "I know it's through God and all the prayers that she did."
For Dukes, this is just one example of how the community at St. Joseph in Cincinnati's West End, has maintained a steadfast presence of faith, education and service for decades. The parish was established in 1846, at the corner of Linn and Laurel streets. The school, the oldest in the Archdiocese of Cincinnati, began a year a later.
"So many generations of my family have been part of the parish and school," said Joan Smith Beason, who graduated from St. Joseph in 1962. "My mother sent her three girls there to get a good Catholic education, and we definitely did."
She has particularly fond memories of the Sisters of St. Francis of Oldenburg, whose instruction and example had a lasting impact on her and her classmates. "The sisters use to remind us all the time to be good to one another. They were hard on us, but also helped us realize that we could do anything and be anything. They were there for us and we knew they loved us."
The legacy of a St. Joseph education continues with Smith Beason's niece, Reganne Edwards, a 2012 graduate. "I remember the lessons from each grade, how all of the teachers wanted us to succeed and wouldn't let us give up. In the eighth grade, they really piled on the homework and said this is how it will be in high school and college," she said.
Her experience at St. Joseph left her well prepared as she continued her education at Purcell Marian High School and currently at Chatfield College. Edwards plans on becoming a social worker. In the meantime, she is back at her alma mater working as teacher's aide.
I just love the kids," she said. "It's humbling to me to be part of bettering the next generation. That's what St. Joseph's is doing. My time there gave me a good foundation in my faith and I want to share that with the kids, too."
Of the 235 children currently enrolled at St. Joseph, approximately 40 are Catholic, noted Barry Williams, principal. The school is part of the Catholic Inner-City Schools (CISE) Fund, which assists in sustaining support for St. Joseph. Parents choose to their children to St. Joseph, regardless of their religious affiliation, seeking the discipline and values that will be instilled in a Catholic school environment, Williams said. "They know that the kids will learn to work hard, that there are consequences and rewards," he explained. "I feel like a lot folks also know that the only way to live is to have faith in their lives, to be able to put trust in Jesus. We all want the kids to know how important that is."
To further set the children up for success, the school community refers to them as scholars, rather than students. "We want them to be lifelong learners, to be scholarly, inquisitive and responsible for themselves, and we tell them that," Williams said. "We help them form critical thinking skills before they leave here, so they can navigate through life better."
Concern for the scholars goes beyond classroom. Many of the children come from "less economically prosperous areas," noted Williams, "so we offer more services, after school programs and tutoring, so no one will fall through the cracks. We have clothes all over the place — socks, hats, underwear. It's possible a kid may show up for school suddenly homeless. We have to be ready for that."
Committed, involved parents, an active alumni association and dedicated volunteers keep St. Joseph going strong. "I do a little bit of everything," said Dukes, who now has grandchildren that attend the school. "I've been a tutor, work in the lunchroom, and helped with the music program. If they need me, I'm there."
"I'm always down there doing some-thing," Smith Beason added. "The alumni are always having fundraisers. My class calls me 'the glue,' since I've made sure we stick together. We just love each other. We treasure our experience at St. Joseph."
Dukes said she has seen the school improve every year under the leadership of longtime former Principal Dionne Partee, and now with Williams at the helm.
At the start of the 2014-15 school year, St. Joseph began working with Seton Education Partners to implement blended learning — the concept of data-driven instruction based on the integration of online learning and traditional teacher-lead instruction — in kindergarten through the eighth grade. As one of the first Catholic schools in the country to commit to integrating online learning into its core curriculum, blended learning at St. Joseph consists of students spending approximately a third of their class time working online and the rest offline.
The benefits of blended learning are obvious, said Ashley Eggers, dean of instruction. "It's something that's interactive for the scholars," she said. "It can be difficult for teachers to identify every child's needs, but this fills in the gaps and is geared toward their specific instruction level."
Father Reynaldo "Rey" Taylor, pastor, describes St. Joseph as "the school that makes a difference," especially in the midst of a neighborhood in transition, where hundreds units of affordable housing have been lost to gentrification in recent years.
"We educate our scholars and remind them what they blessings they are from God. We remind them that it's their responsibility to give back," said Father Taylor, who is a St. Joseph graduate. "The school and our community are interconnected, and the fact that we're still here is a testament that we've responded to the call to use our gifts and talents for the glory of God and the impact the school has had at the urban core."