St. Paul Parish (Sharpsburg) Celebrates 150 Years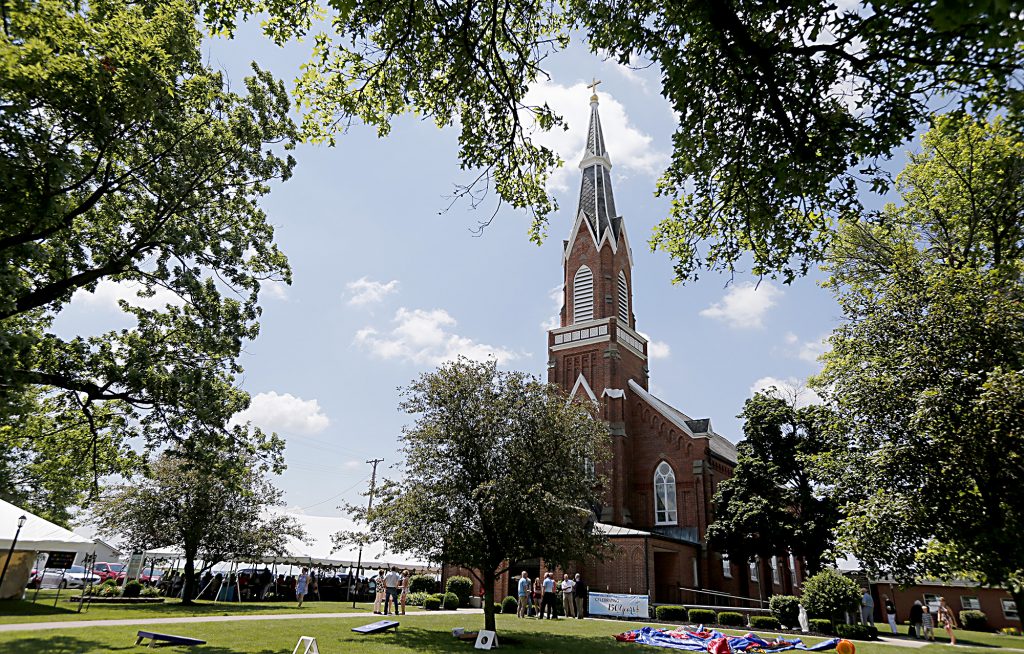 By Sharon Semanie
Families whose names included Timmerman, Essers and Schmitz were among pioneer neighbors in rural Mercer County instrumental in building St. Paul Catholic Church in Sharpsburg, southeast of Fort Recovery. The original wooden-framed church built in 1868 cost $1,000, measured only 30 x 40 sq. ft., was 20 feet high, and featured a tiny tower containing two small bells. 
     Today, parishioners — the majority of German heritage — include descendants of those same families celebrating the 150th anniversary of St. Paul Church, one of three dozen "cross-tipped" churches whose spires peer above nearby barns and silos separated by acres of cornfields and soybeans. With its Gothic-inspired architecture and German stained-glass windows, St. Paul has undergone quite a transformation since its beginnings.
     A Mass held on June 24 celebrated the parish's past and present. Archbishop Dennis M. Schnurr presided, with Father Ned Brown, pastor; Father Matt Feist, parochial vicar; and other priests with ties to the parish concelebrating. A festive picnic and party followed on the parish grounds, with more than 350 parishioners and friends in attendance. 
     A highlight of the day was the unveiling of a historic marker, which gives the history of the church on one side and the history of the village of Sharpsburg and the former Sharpsburg School — once located on church grounds — on
the opposite.
      Asked what makes the parish special, Father Brown replied, "The people and how close they are. What is most edifying to me is the strong pride they have for their church."
     That pride goes back to the church's early days, when increased enrollment forced parishioners to consider building a new structure after a lightning strike on Aug. 18, 1886, destroyed most of the edifice. A new church designed by Anton DeCutins was built on the site at a cost of $8,000, and dedicated three years later. Numerous renovations and additions have included the one-room schoolhouse that eventually expanded to eight rooms before closing,
and the construction of a CCD/Parish Hall in 1973.
     Longtime parishioner Helen (Meiring) LeFevre said the church interior "contains a profusion of lined ribbing, creating large vaulted areas that are highlighted by stained glass windows depicting the life of St Paul, the great apostle, for whom the church was named." 
     Fathers Brown and Feist now oversee the Fort Recovery Cluster, which includes St. Paul, St. Joseph, St. Peter, and Mary Help of Christians parishes. Father Brown, a Minster native, credits St. Paul's 220 families for their tenacity and self-reliance in pulling together to build a vibrant parish and helping where needed, whether involved in various ministries or coming to the aid of a fellow farmer in the aftermath of a tornado. 
     It's not unusual, said Father Brown, to see as many as 25 infants at Sunday Mass, or to witness an average of 150 children attend CCD classes on Wednesday evenings – so many public school students that the no sports or extra-curricular activities are scheduled at that time.
     The parish marked the anniversary in a variety of other ways, including a speaker series and tours. Father David Hoying, director of archives for the Missionaries of the Precious Blood, discussed the German heritage of its forefathers;. Dr. Allen Bernard explored the architecture of the Gothic Revival Church, followed by a tour of the 15 stained glass windows by local historian Mary Ann Olding, who also relayed the history of the "Land of the Cross Tipped Churches." The day concluded with a tour of the cemetery featuring stories of early families in the church as told by Nancy Abels.
     In addition, a 408-page hardbound book published for the occasion details family, school, and village histories, along with many photos and records of the sacraments over the years. 
     St. Paul is one of the Ft. Recovery parishes, each of which celebrate Sunday Mass and on weekday Mass. Sunday Masses at St. Paul are celebrated at 8:30 a.m; during the week, Masses are celebrated on Monday at 7:15 a.m.
     To purchase a parish history book, call Helen LeFevre at (419) 375-2308 or co-author Abels at (419) 375-4659.