St. Vincent de Paul Cincinnati kicks off 2014 campaign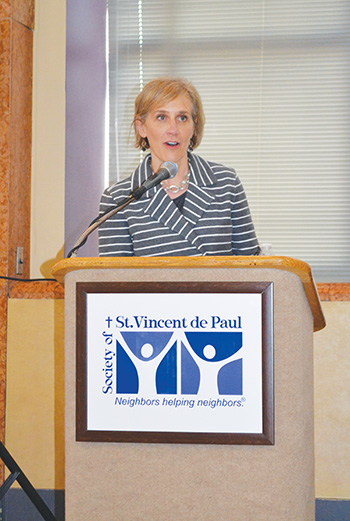 By John Stegeman
The Catholic Telegraph 
From home visits helping with immediate needs to its charitable pharmacy to its thrift stores and more, the Society of St. Vincent de Paul of Cincinnati has a major impact in the Cincinnati region of the archdiocese.
St. Vincent de Paul's services are dependent on the generosity of donors. Toward that end, SVDP Cincinnati kicked off its "Love Grows 2014 Charitable Giving Campaign" with short program and cocktail reception May 6 at the Cincinnati Museum Center.
More than 100 people were on hand for the event. Father David Endres gave the blessing and SVDP Executive Director Liz Carter and SVDP President Andrew Curran shared remarks.
"It is so easy for us to think about poverty as the "other person" or as somebody else's problem, some other neighborhood, family or community," Carter said. "That's just not the case. Our numbers see everyday that the line between those who have and those who don't is so very thin, and so very fragile. It's not really an 'us' and 'them' story, it's an 'us' story."
The 2014 kickoff marked the first time the event was held away from St. Vincent de Paul's West End Outreach Center. Ordinarily SVDP would hold three events there, but those were replaced this year with just one at the Museum Center.
Following a "Love Grows" video, displaying personal stories of those helped by SVDP, Mount Notre Dame student Kate Ducey and home visit volunteers LoAnn and Mike Burke shared their experiences with St. Vincent de Paul. The program concluded after comments from Tom Cody, who along with his wife Mary Ellen was named honorary chair of the event. Tom Cody is the retired vice chairman of Macy's and currently serves on various boards of trustees, including Xavier University. Mary Ellen Cody also serves on several board, including St. Ursula Academy.
While the event was a kickoff for the giving campaign, it was also a giving opportunity. The total pledge count from the event was still being tabulated at press time, but Donor Communications Coordinator Elysa Hamlin said they had already counted 35 percent more in donations than last year.
"We still have a lot of work to do to reach our goal," Hamlin added. "Although the economy seems to be recovering, there are still many middle class families who are being left behind. One in five people in Greater Cincinnati are living in poverty — a number that has increased by 10 percent in the last four years and the number of people living in poverty in the suburbs has increased by more than 83% in the last 10 years."
The Cincinnati District Council is one of five in the Archdiocese of Cincinnati along with Dayton, Hamilton, Springfield and St. Martin.
This story originally appeared in the June 2014 print edition of The Catholic Telegraph.