ST. VINCENT DE PAUL KICKS OFF ANNUAL FAN AND AIR CONDITIONER DRIVE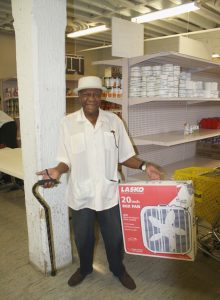 Fans Are Being Distributed to Cincinnati Neighbors in Need on Wednesday, June 13, at Liz Carter Outreach Center, 1125 Bank Street, in the West End
CINCINNATI, June 7, 2018 – Deborah's 9-month-old grandson was sweating and wheezing. The oppressive heat and humidity of Cincinnati's summer weather was making the boy's struggle with health issues that much more difficult. So Graham turned to St. Vincent de Paul – Cincinnati for help. Each year, St. Vincent de Paul distributes fans and air conditioners to Greater Cincinnati residents over the course of the summer, and Deborah was able to secure an air conditioner. And it made an immediate impact. Her grandson was finally able to breathe without any help.
That tradition of helping Greater Cincinnati neighbors in need with proper cooling during the hottest days of the summer is something St. Vincent de Paul has been doing for the last 16 years—and is continuing this year.
The first fan distribution for 2018 takes place on Wednesday, June 13, at 1:00 p.m., at St. Vincent de Paul's Liz Carter Outreach Center, 1125 Bank St., in the West End. All members of media are welcome.
"During visits to the homes of families in need, our volunteers often find sick and elderly neighbors living in dangerously hot apartments with no source of relief from the summer heat," says Mike Dunn, Executive Director of St. Vincent de Paul – Cincinnati. "Many of our elderly neighbors, in particular, have respiratory issues. An air conditioner or fan not only provides relief, but also keeps them healthy and safe as the temperatures climb."
The first 150 families in line on Wednesday receive a fan. Fans are limited to one per household, and families are only eligible to receive a fan every two years.
Individuals needing an air conditioner should contact St. Vincent de Paul at 513-562-8841, ext. 772, to apply. Recipients of air conditioners must provide documentation of medical need. Appointments are scheduled for approved neighbors to pick up an air conditioner. There is a limit of one air conditioner per family, and families are eligible to receive an air conditioner once every three years.
Last year, St. Vincent de Paul distributed 353 air conditioners and 566 fans to neighbors in need, thanks to more than $44,000 that was donated by individuals in the Greater Cincinnati community. Individuals are asked once again this year to help those less fortunate than they are by:
• Making a financial gift by phone at 513-562-8841, ext. 259, online at SVDPcincinnati.org/give, or at any greater Cincinnati Huntington Bank location: $20 provides a fan; $100 provides an air conditioner.
• Donating a new fan or air conditioner at any one of the seven St. Vincent de Paul Thrift Stores. Visit SVDPcincinnati.org/find_us for store locations. According to state law, donated fans and air conditioners must be new.
"We helped over 900 families last summer thanks to the generosity of our local neighbors and community partners," says Dunn. "Many of the neighbors we serve have children or are elderly with chronic health conditions. Having a fan or air conditioner is often the difference between living comfortably and a visit to the emergency room."
The fan and air conditioning drive is in partnership with Huntington Bank, WCPO—9 On Your Side, and Braun Heating & Air Conditioning.
Additional fan distributions are scheduled for Wednesday, July 11, and a date to be determined later in the summer.
---
About St. Vincent de Paul
The Society of St. Vincent de Paul has been providing innovative, practical emergency assistance to Greater Cincinnati and Hamilton County residents in need for 149 years. The organization works personally with those in need, regardless of race or creed, to bridge the spiritual, emotional and material gaps in their lives through home visits provided by neighborhood-based volunteer groups. It also offers groundbreaking initiatives like the Charitable Pharmacy, and a network of nine food pantries and seven thrift stores and donation centers across Cincinnati. The Society of St. Vincent de Paul is recognized as a Torch Award for Marketplace Ethics winner by The Better Business Bureau (BBB), a One Award Finalist, and as the Non-Profit of the Year by The CincinnatiUSA Regional Chamber of Commerce. For more information, visit SVDPcincinnati.org.