Student overcomes personal struggle to help others
January 23, 2012
By Maggie Malach
DAYTON DEANERY — Overcoming a personal struggle is never easy, especially at a young age.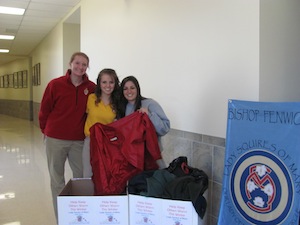 Sarah Marsh was in the fourth grade at Bishop Leibold School in Dayton when she learned she was dyslexic. Dyslexia, a learning disability that hinders a person's ability to interpret language, can be difficult to treat in young adults.
For Marsh, however, this challenge was not a setback, but rather an opportunity to become a stronger person.
At first, she did not know much about the disorder, but was not surprised to learn she had it because she had always had problems studying. She struggled with spelling, reading, writing and anything having to do with English. Her first challenge was learning how to cope with this obstacle.
"I would read something 100 times, but I still couldn't understand it," Marsh recalled. "I had to learn to look for the big details."
Marsh visited a tutor and a speech therapist who helped her learn to take notes and to create games that suited her learning style. Some examples of these methods included crossword puzzles, matching games and Jeopardy-like activites. By the time she reached the eighth grade, Marsh had overcome her dyslexia, but she still continued to use the games to benefit her classroom participation.
Now a senior at Bishop Fenwick High School in Franklin, Marsh has used her own games to help other students. She initially shared her games with a freshman student, but soon she was asked by a teacher to help an entire classroom of freshman. Marsh obliged, noting that not everyone has time to develop games. Using the methods she created to help herself, Marsh imparted creative ways of learning into the class. One way in which she did this was by creating crossword puzzles to help the students learn Latin words.
Although the semester-long class with which she worked is now over, Marsh is still helping one student. She is happy to point out, however, that the students from the class are now creating games for themselves.
Working with the freshmen was something Marsh enjoyed because she realizes the transition from grade school to high school is not an easy one.
"The most rewarding part is knowing I'm helping someone," Marsh said. "I want to do this with my life, to teach kids to overcome something hard."
Marsh, a member of Our Lady of Good Hope Parish in Miamisburg, credits her own success with a support system that always encouraged her to keep working toward her goals. People were willing to help her, something that inspires her to help others, she said, and even when she was told she could not learn something, Marsh refused to be held back.
"'Can't' is not in my vocabulary," she said. "I can do what I want to do. When people tell me I can't do something, I work so much harder to achieve it."
In her spare time, Marsh finds other ways to be involved at Bishop Fenwick. She volunteers in the Admissions and Development offices at the school and is a member of the Latin Club and soccer team. Marsh is also a part of the Lady Squires, an organizationthat she said, "is there to help others."
Looking toward the future, Marsh will be attending the University of Toledo in the school's language pathology program in the fall. She wants to become a speech audiologist, using her own triumph as an inspiration to others.
"I want to show kids you can overcome speech problems," said Marsh. "It can't hold you back."
Her advice to those who struggle with learning is to realize that it takes time to see change. Students should find what method helps them learn the best and stick with it, she said.