Surviving secular college as a Catholic no easy task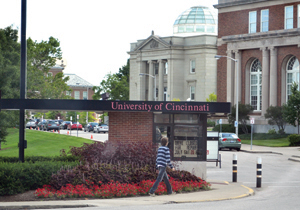 By John Stegeman 
The Catholic Telegraph
Sex, drugs and rock & roll may have once been seen as the primary impediments to living a Catholic life while in college. While no doubt related temptations remain, Catholic students, especially at secular colleges, now must contend with cultural values that oppose church teaching.
While it may seem difficult for young people to stay involved in their Catholic faith, it is far from impossible.
"I think even in the best of circumstances it is going to be difficult," said Father Ed Burns, advisor to Catholic student ministry at Wright State University. "They're at a stage developmentally where their faith is becoming an adult faith. They have to transition at some point from the faith of their parents to their own."
The church offers its support to college students in many ways. Almost all colleges have some form of Catholic campus ministry in the form of a Newman Center or related organization. Joining such organizations is often crucial to a student remaining Catholic.
"Studies show that the first couple weeks of college that you're going to build the social relationships that will stick with you for the duration of college and therefore the next several decades of your life," said Matt Swaim, who co-authored the book Your College Faith: Own it, with his wife Colleen Swaim. "Also you're going to build the relationships with the organizations that you're going to become involved with for the duration of your time on campus and might even give back to for the next several decades of your life."
All college Catholics, and specifically those at a secular college, are likely to encounter challenges from some professors on matters of faith. Andrew Gangidine, vice-president of the University of Cincinnati's Society of St. Paul, said he has encountered professors who were unable or unwilling to hide their disdain for the faith.
"Every now and then their personal opinion will come out in a way that's not exactly professional," Gangidine said. "I've heard some animosity before toward religion in general or specifically Catholics. Its the kind of thing you have to roll your eyes at and keep going."
Matt Swaim said Gangidine's experience is not an isolated incident.
"There are so many factors especially in philosophy classes, history classes and world religion classes that really tend to undermine the faith in a lot of ways," he said. "I think enlightenment rationalism paints the Catholic Church as the big bad wolf very often. You might have seen that in public school text books growing up if that's the background that you had, but you're going to see it full on in a really intense way in a college setting."
Father Burns added that remaining a thriving Catholic in college starts before freshman orientation. The faith must be properly passed on to a young person if they are to retain it through the formative years of college.
"It's absolutely vital (that students have a well developed conscience before college)," Father Burns said. "Parents are the first teachers of their children… They need to teach of course what are the basic values of Jesus. What is the good news proclaimed to us? How do we live that out? It is absolutely vital that that happens, beginning with the parents and strengthened by the parish. In campus ministry we work to help them keep working on that and expand their boundaries sometimes when they come to us."
Not every college is the same, of course. Some secular colleges might be very Catholic-friendly, and others less so. Still, Colleen Swaim there can be benefits to attending a secular university.
"Sometimes when you're in a situation where you're not with a lot of other Catholics, there can be a surprisingly beautiful Catholic culture that arises…" she said. "The thing that can happen sometimes on a Catholic campus, and I think it can even happen at a Catholic high school, is you can sometimes has a malaise. Maybe people are culturally Catholic. They're so used to being around Catholics that they can take it for granted. That's why we always need to remember that our faith is ever old, ever new. We need to keep the fire alive and really make sure that we're being nourished by the sacraments."
At the public University of Cincinnati, students have long had the Newman Center, run through St. Monica-St. George Parish. In addition to that, Gangidine and others recently formed the Society of St. Paul, which has grown from six to nearly 60 members in less than a year. The Society of St. Paul, which hosted Archbishop Dennis M. Schnurr at one of its Sunday brunches, also has a rotating schedule on Wednesdays between hosting a speaker and attending Eucharistic Adoration.
"Contrary to what might be the stereotype of college being this care-free atmosphere, what we found is there are a lot of people that wanted something they can seriously latch onto and a lifestyle they can try to live out," Gangidine said. "I think the important thing for us is just to keep it centered on the Eucharist. If you're truly living your life with the Eucharist at the center, good things will flow from that.  If there is a program you can get involved with or a Newman Center or things like that, then I would suggest you do that. If there is something lacking, you can always try to come up with something on your own like we did."
Top 10 reasons to attend a Catholic university
1. Access to the sacraments. Most Catholic universities will have an on-campus or near campus church with convenient Mass and confession times for college students.
2. The Catholic Church has been in the education business a long time. Catholic higher education dates back to the sixth century.
3. Catholic universities are among America's best. US News & World reports include many catholic colleges in the rankings with two even cracking the top 25.
4. Catholic colleges specialize in everything. The Association of Catholic Colleges and Universities (ACCU) reports that its member schools include "five medical schools, 28 law schools, 25 schools of engineering, 128 schools of nursing, 163 schools of education, 14 women's colleges and two aviation programs."
5. You can still be close to your home and home parish. The Archdiocese of Cincinnati encompasses four Catholic schools of higher education — Chatfield College, University of Dayton, College of Mount St. Joseph, and Xavier University. Nearby as well is Thomas More College in northern Kentucky.
6. Catholic colleges are focused on more than just getting a job after graduation. While they excel in that regard, Catholic higher education focuses on the whole person, mentally and spiritually.
7. Opportunities to explore the relationship between faith and reason are abundant at a Catholic college. Where better to study theology or philosophy than a college connected the church?
8. Catholic identity. From wearing ashes on our head each Ash Wednesday to our propensity for summer festivals, Catholics have a strong spiritual and social identity. At a Catholic college, there are many opportunities to live out that identity.
9. To meet other Catholics. The ACCU reports that an average of 65 percent of undergraduate students at Catholic colleges and universities are Catholic. That's good odds for finding a Catholic spouse, or discerning a vocation to the priesthood.
10. There's a Catholic college for everyone. The National Center for Education Statistics reports there are 262 Catholic institutions of higher learning in the U.S.